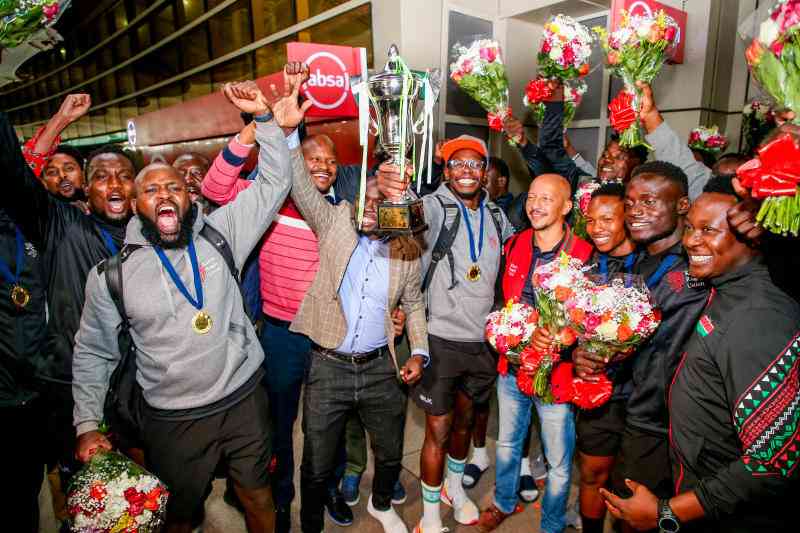 National Sevens rugby team, Shujaa, jetted home to a heroic reception at Jomo Kenyatta International Airport on Monday night after their exploits at the Rugby Africa Sevens Cup in Harare, Zimbabwe.
Just when almost everyone had given up on the team, the new-look tactical, energetic and youthful side restored Kenya's lost glory to reclaim the continental title they last won in 2019.
The events of September 17, 2023 in Harare will forever remain in the memories of this new crop of players. To many it looked like a movie, but for rugby enthusiasts, Kevin Wambua's charges stood tall and delivered when it mattered most.
The Kenyan players not only defied all the odds to beat their perennial rivals South Africa 17-12 in the final, but also sent a huge statement of intent to the rugby world, that they are still a force to reckon with after winning the title with an unbeaten record.
Consequently, the victory earned the youthful side a ticket to the 2024 Paris Olympic Games for the second time in a row.
KCB's Samuel Asati, Menengai Oilers' Beldad Ogeta, Daystar Falcons' Patrick Odongo, Strathmore Leos' Nygel Amaitsa, Festus Shiasi (KCB) and Kabras Sugar's William Mwanji all produced a memorable performance on their Shujaa debut at the Harare Sports Club.
And Patrick Odongo, who was Kenya's joint top try scorer in Harare with seven tries including two in the final, showed resolve to remain with the team even after his mother passed away on September 9, a few days before the tournament.
"We dedicate our victory at the Rugby Africa 7s and subsequent qualification to the Paris 2024 Olympics to the late Sophia Atieno Ogak, who passed away on Saturday 9 September 2023," Kenya Rugby Union said in a statement.
The magnificent display came barely a few months after Kenya Sevens was relegated from the World Rugby Sevens Series for the first time in 20 years. Kenya lost 21-7 to Canada in the relegation play-off at the London Sevens in May.
And being the only surviving member of the team that competed at the Tokyo 2020 Olympics co-captain Vincent Onyala couldn't hide his joy as he heaped praise on the new-look side.
"I'm super happy we had planned for this. The boys had stood out, having six rookies and managing to have such a stellar performance," said Onyala.
Head coach Kevin 'Bling' Wambua was simply lost for words. He never knew he would help to turn around the dwindling fortunes of the team in such a short period after his appointment in August.
Wambua was given the task to rebuild a formidable team alongside former Shujaa captain Andrew Amonde (Strength and Conditioning coach), Lamech Bogonko (Physiotherapist), Steven Sewe (Team Manager) and Chris Brown (Strength and Conditioning Consultant) after the departure of his immediate former boss Damian McGrath.
"I'm lost for words, we had a dream, we worked hard, and we have now achieved it. Coming from being relegated from the HSBC World Rugby 7s series, that shows what we can do as a country and as a team," said Wambua.
But for Wambua, a former Mwamba RFC coach, unity was the secret behind their victory in Harare.
"We did a lot of work for this, but the key was selling the dream to the players, telling them we can do it, working on our game structures and game plans, and building a culture," said Wambua.
Next task for Wambua and company is now to guide the team at the 2024 World Rugby Sevens Challenger series to stand a chance of earning promotion back to the 2024/2025 Series.
Related Topics