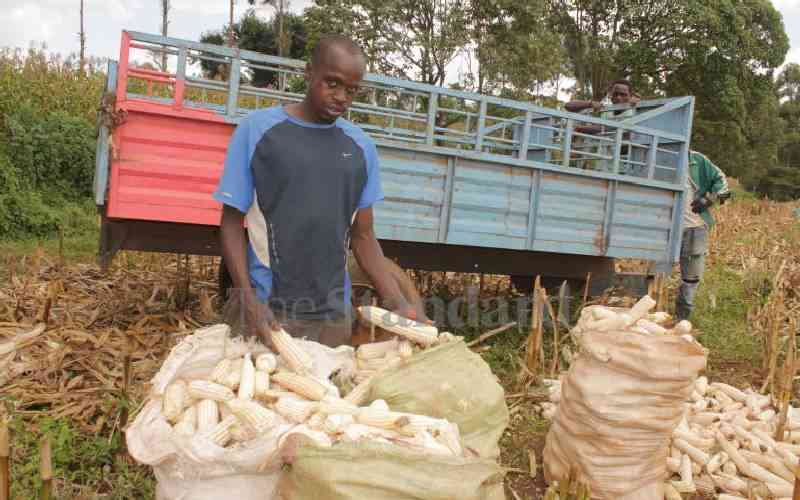 Maize harvesting in parts of the North Rift region has started in earnest with farmers and a section of leaders expressing mixed feelings on whether the State should declare producer prices or not.
Some farmers now want the government to shelve plans of announcing new prices for a 90kg (kilogramme) bag of maize but allow current market forces to prevail.
But a section of leaders want Agriculture Cabinet Secretary (CS) Mithika Linturi to declare prices without further delays and also bar any imports of cereals until farmer's produce is exhausted.
Farmers interviewed expressed fear that by announcing new prices, the State will be limiting producers from marketing their produce at better rates at the farm gate, thus giving room to middlemen to exploit them.
Linturi had during the tour of Trans Nzoia last month said his ministry would soon declare the price for produce being harvested.
Some farmers from North Rift said the prices ought to earn them profits citing the high cost of farm inputs including the recent hike in fuel prices.
They want to sell their produce at Sh5,500 per 90 kg bag. But unlike the previous years, some farmers are against the State's market regulations, arguing that it will stifle the existing free market price for the crop.
They want the State to stop meddling in maize prices, noting that they toiled the entire season with high operational costs and that they should be allowed to sell their produce based on demand and supply.
Paul Kerich, a farmer in Mosop said the government lowered production costs through subsidised fertiliser but increased fuel prices hence escalating the cost of production.
"The government's food security policies are not friendly to the maize farmer in Kenya. We need space to market our produce without interference. We want to sell our produce at prices dictated by market demand so that we can make profits," he said.
During the last harvesting season, the National Cereals and Produce Board (NCPB) opened its stores to procure maize at Sh3,000 per 90 kg bag from farmers but the move was met with protests.
Some farmers later supplied to NCPB at a reviewed price of Sh3,200.
Kerich said the government's price cap in a free market, coupled with existing bureaucracy and hectic conditions make it harder for the farmers to deliver their maize to NCPB silos.
"Due to the bureaucracy, frustrated farmers sell their produce at throw-away prices to the advantage of middlemen," he said.
Thomas Korgoren, a large-scale cereals producer from Uasin Gishu County urged the State to use agricultural extension officers to determine the cost of production by factoring seeds, fertiliser, lease of land, chemicals used, harvesting, transporting, and shelling among others.
"Farming is a business and all costs must be factored and a farmer given a price that will earn him or her a profit. Producer price should not be below 5,500," said Mr Korgoren.
Wilson Korir, also a farmer said he expects a bumper harvest from his three-acre maize plantation. He expects to earn good profits to enable him to educate his children.
"The current market prices range from Sh4,000 and Sh5,500. The government should not set new prices but allow demand and supply trends to determine prices," Korir said.
Peter Kirwa said producer price should be above Sh4,000, noting that the government should consider maize farming as a business.
Speaking on Sunday during a church fundraiser in Nandi County, MPs Abraham Kirwa (Mosop) and Julius Rutto (Kesses) urged the State to stop any importation of maize.
Related Topics