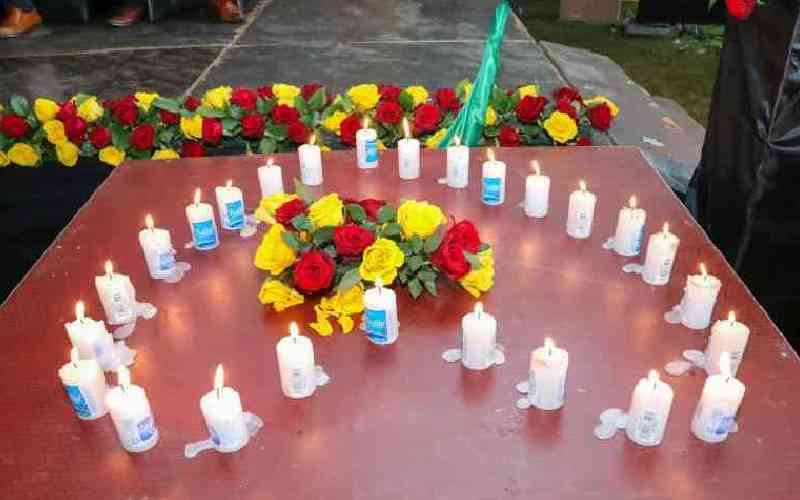 Kericho Deputy Governor Fed Kirui wants all officers implicated in misappropriation of the Londiani crash victims' fund to step aside.
His demand comes days after a bitter exchange with Kericho Governor Eric Mutai over claims of corruption that prompted Deputy President Rigathi Gachagua to broker a truce between them.
"We cannot bury our heads in the sand when some people implicated in the Londiani Saga are still in office. There will be no mediation until those implicated step aside to pave way for investigation," Kirui said.
He said President William Ruto does not condone corruption and is at the forefront of the fight against corruption.
The deputy governor said he will not allow few individuals to ruin the future "of our people."
"Corruption enterprise has to come to an end. We will deal with them firmly," he noted.
He said selfish interests were frustrating development projects and called on the need for prudent use of resources to initiate more development projects aimed at empowering the lives of Kericho people.
"As far as I can tell, it was never the spirit or intent of the people of Kericho to devolve corruption, mismanagement and malpractices to this county," said Kirui.
He regretted that many counties have evolved into notorious epicentres of wanton looting at the expense of essential service delivery.
He cautioned that counties must not become drivers of scandal, incubators of graft or embezzlement hubs, saying the people of Kenya deserve better and must be rid of 'this reckless betrayal.'
"It will not be business as usual here in Kericho, and I am ready to pay any price until those named resign from their position. We must liberate devolution from corruption," he said.
Gachagua said it was shameful for the two leaders to fight at the expense of the locals as the wrangles hurt service delivery.
The DP spoke during the burial of Victor Mutai, the son of Kipkelion East MP Joseph Cherorot, at Masaita village, Londiani ward, after Mutai and Kirui clashed in front of him over misappropriation of Sh14.5 million raised for the Londiani road crash victims by county officers.
While calling for a truce, Gachagua added that the conflict is an embarrassment to President Ruto, and if unresolved, the two leaders would be pushed out.
"You must work together the way you campaigned together. If you continue fighting, you will be removed from office by the people. I will tell the people of Kericho that they made a mistake. We have a responsibility to work for the people of Kericho. The people cannot benefit when there are wrangles between the governor and his deputy," the DP said.
Last month, a committee formed by the county assembly tabled its findings and sought the removal of County Secretary Wesley Bor.
Related Topics