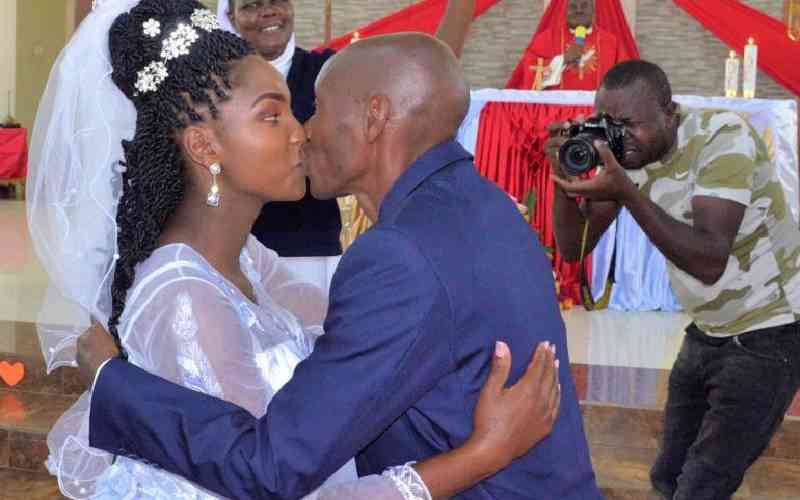 At 16 minutes past noon on Sunday, Jennifer Wanja stepped forward to say one of the vows she had never imagined was possible in her silent world.
Jennifer, 23, held up her hand and shook her wrist as if nodding to say 'I do' in a language she, and her deaf husband, Bethwel Kinyua, understand.
To seal their 'silent vows', Jennifer and Bethwel walked down the aisle at St Francis of Assisi Catholic Church in Kiti. Theirs was a special union.
"He makes me happy. He loves me very much," Jennifer said through her interpreter.
To the outside world, a wedding between two deaf people seemed extraordinary, to the couple, it seemed like a dream.
"I am very happy about these celebrations. I am happy for the vows and support from everyone," Bethwel said.
From instrumentals to songs, every detail that entailed sound was translated into sign language by interpreters, spread across the church.
Unlike other weddings where the bride and groom only have the best couple by their side, Jennifer and Bethwel's wedding had other witnesses -- sign language translators.
Each had a translator during the entire service. Other deaf guests too, had their own translators standing on strategic points to ensure they never missed a single bit of the loud world.
Prayers too, were exceptional. They were conducted in almost nine different local dialects, as well as Vietnamese, perhaps to cater to international guests who were also present to witness the occasion.
"It is like celebrating the birth of a church. We are celebrating a union of a couple who met and fell in love with the many things they share in common. It marks the birth of new beginnings," Padre Vincent Makokha, who presided over the ceremony said.
But it is how the couple met that must have stood out as one of the most asked questions from the curious guests. Most wondered how the 41-year-old Bethwel from Machine in Nakuru met Jennifer, a girl from a village deep in Mukurweini in Nyeri County.
"Bethwel had gone to work in Nyeri, and at some point, they met with Jennifer in the church in 2022, and that is how it all started," Padre Makokha, who seemed to have been reading the minds of the congregation said.
"I am giving out my daughter whom I have protected very much knowing that she is in safe hands," Maina said.
While it might not be easy for parents to let go of a daughter and their only child with special needs, it was not any easier for Erastus Maina, Jennifer's father, who was keen enough to note that someone has been keeping his daughter 'busy' lately.
"Jennifer is one girl who is very disciplined and very social, but she does not spend a lot of time on the phone. However, she started spending more of her time on the phone late at night, and I instantly knew there was something. I knew there was someone who seemed to understand her more, and that is when I asked her," Maina said.
"Interestingly, she seemed happy about it and showed me who she has been talking to through a video call. I told him if he was serious with my daughter, he should come home and express his interest," he added.
Bethwel visited Jennifer's parents, who today, think he is the 'Prince Charming' their daughter has been waiting for.
Mary Nganga, Bethwel's mother, said the family was happy their son was marrying a woman they prayed for.
"A woman like him and they will raise a family in a way they understand better," said Mary.
Jennifer's aunt Serah Wanjiku, said the ceremony was an eye-opener for parents with children with disability.
"All they needed is support and guidance to unlock their potential. "These children are special, and every day has its miracles-like today," Serah said.
Related Topics