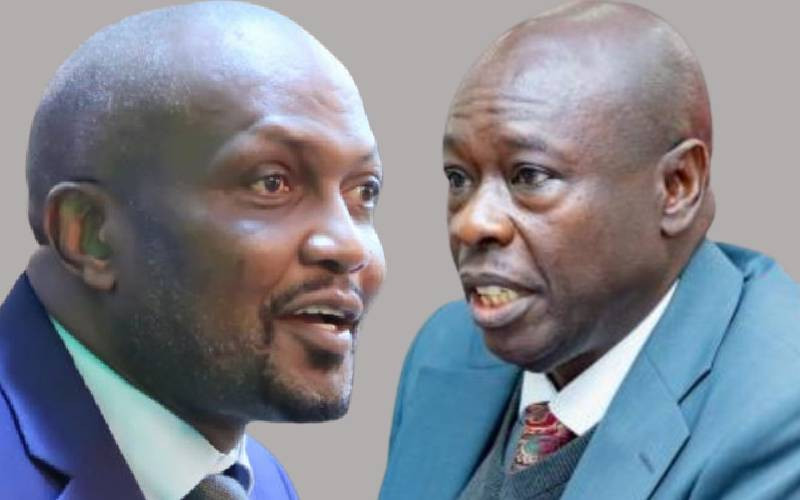 Deputy President Rigathi Gachagua has come out to defend Trade Cabinet Secretary Moses Kuria against calls to have him sacked.
Speaking during the funeral of Field Marshal Muthoni Kirima, who was laid to rest in her home in Ihithe, Nyeri County, Mr Gachagua said he was willing to talk to all leaders for the sake of the people, and would work towards consolidating the central Kenya vote ahead of the next General Election.
Amid unity calls, land compensation for Mau Mau veterans and support for him as Mt Kenya's kingpin, Gachagua said the region was united.
"We are a unique people; just because we differ in opinion and clash on some issues does not mean the otherwise, we are united as a region especially when our interests are threatened," he said.
While reiterating he was not keen on having Kuria fired, Gachagua said, "Kuria is my minister, I will not fire him, I was just correcting him and as his boss I was correcting him as is my right. However, I will not listen to those who are calling for his exit from cabinet, he is one of us and we must protect each other."
Gachagua said nobody would divide the community, referencing his role in securing current East African Legislative Assembly MP Kanini Kega's position on a Jubilee ticket.
He said the local leaders rallied together at night to protect their interest.
"We should never go to an election divided. What happened in the last election where we had some of us in the opposition should never happen again because the region is stronger when it is united," he said.
He added, "We may argue during the day but when our interests align we meet at night and come to an agreement and by morning speak in one voice."
He vowed to continue the search for the remains of Field Marshal Dedan Kimathi stating it was an urgent call from Mau Mau veterans to give Kimathi a befitting sendoff.
"I know Mau Mau veterans us asked us as the government to locate the remains of Kimathi, and I want to promise you we are working to find them, it is urgent because our veterans who can help with task are dying but we shall find him," he noted.
On the cost of living he called on Kenyans to be understanding as the factors affecting fuel prices are external and beyond the government's control.
"The issue of fuel prices is due to the increase in prices by the Arab Oil Producers, they have set the cost and there is little we can do about this, Also the war in Ukraine and Russia continues to complicate matters," he said.
Gachagua warned that the hike in oil prices were a global issue and Kenyans should not blame the President for the situation.
"We are trying to balance the cost of living by offering subsidised fertiliser and accelerating our effort to use solar and wind energy to supplement our needs as a country," he said.
Opposition leaders Kalonzo Musyoka and Eugene Wamalwa also attended the funeral and called for unity in the country and the welfare of Mau Mau veterans.
Wamalwa urged members of the Parliament to take action and pass legislation to secure compensation for the Mau Mau from the British government.
Wamalwa, a passionate advocate for justice, emphasized the need to improve the Heroes Act so that the Mau Mau not only receive the compensation they deserve but also benefit from improved welfare services.
He emphasized that these vital changes can only be achieved through the parliamentary process.
"I want to challenges the MPs who are here that through legislation they came formulate a law that will not only help in the compensation of the Maumau warriors but also help in their welfare, the heros act can be improved," he said.
Addressing the bipartisan talks surrounding this issue, Wamalwa expressed optimism that they are not in vain. He believes that something positive will emerge from the ongoing discussions
Kalonzo called for decorum amongst Kenya Kwanza leaders in addressing matters of high cost of living.
"To our young leaders let's not be sycophants, the issues of cost of living are serious and Kenyans are suffering," he said.
He told off local leaders who have dismissed bipartisan talks stating dialogue was supposed to benefit all Kenyans.
"The reason we are embracing dialogue is not for the government to manage us I cannot be managed we are all Kenyans and we need to address issues affecting us in a sober manner," Kalonzo said.
Former Mungiki Leader Maina Njenga also called of reconciliation between him and DP Gachagua saying he was willing to embrace dialogue.
"I am willing to meet and discuss anything you want, there is no need to harass me using police officers day and night, the elders and youth are here and can act as intermediaries, lets dialogue," he said.
Gachagua however noted that he would not dialogue with a criminal entity and asked Njenga to denounced violence.
Related Topics