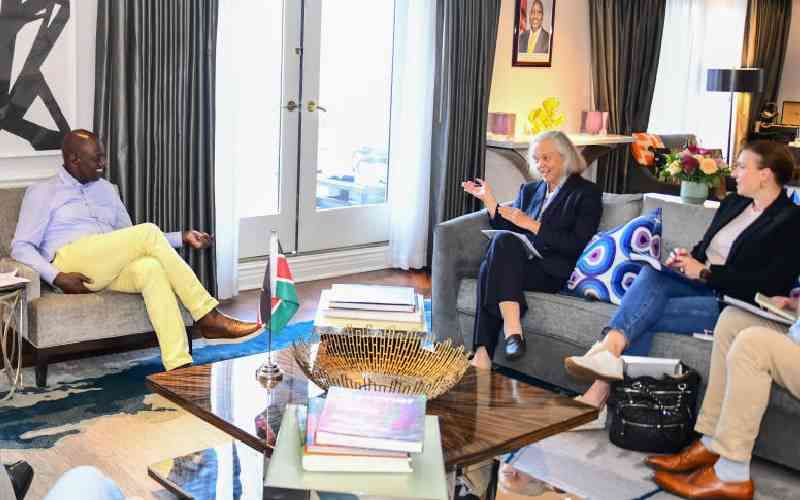 It is just over a year since President William Ruto's inauguration, and his foreign policy stance has generated interest, admiration, and criticism.
The Standard evaluates the highs and lows of his foreign policy agenda, keeping in mind that it is a complicated and dynamic area, frequently affected by a combination of campaign pledges, national interests, and the ever-evolving geopolitics.
In his election campaign, Ruto made a political promise to deport Chinese nationals occupying jobs that could be filled by Kenyans. This statement created a buzz online and expectations were that the country would undergo a significant shift in Kenya's policy towards China.
However, after Ruto's election victory in August 2022, no Chinese nationals were deported. It became evident that this promise was more of a reactionary tactic aimed at rallying voter support rather than a sustainable foreign policy initiative. It was a political campaign promise, and there is the reality.
A self-proclaimed chicken seller who became a successful businessman; a shrewd politician who rose to the presidency: William Ruto's first foreign decision was an attempt to sever ties with the Sahrawi Arab Democratic Republic.
This move, just a day after his inauguration, left Kenya's credibility as a regional leader taking a beating. However, it was swiftly reversed, and Ruto eventually received credentials from the newly posted Sahrawi ambassador to Kenya. This faux pas highlighted the delicate balancing act that Kenyan foreign policy must perform, considering the renewed relations with Morocco, an economic leader in North Africa.
Visa-free diplomacy
Ruto's foreign policy rhetoric has been gaining global attention, particularly his push for a visa-free regime, especially for Africans visiting Kenya. He has passionately argued that it was unfair to require visa applications from African visitors, emphasizing that they were returning to their African home.
This policy initiative extends a warm hand to African nations, fosters regional cooperation, and holds the potential to elevate Kenya's passport ranking, provided reciprocal agreements are reached. Countries such as Djibouti, Comoros, Senegal, the Democratic Republic of Congo, and Indonesia are among those set to enjoy visa-free access to Kenya under Ruto's leadership.
Pan-African vision
Perhaps one of the most notable shifts in President Ruto's foreign policy approach is his newfound pan-African vision. Wherever he speaks, whether on the continent or at global forums, he receives standing ovations for sharing a bold vision for Africa's future. His commitment to strengthening Africa's position on the world stage has garnered attention and goodwill. However, the true test lies in translating rhetoric into concrete actions that benefit the continent and its people.
Peace and security
Ruto's approach to regional, continental and global stability has been a mixed bag. While some of his efforts have shown promise, others have encountered major roadblocks, creating a rather uneven landscape in his first year as Kenya's leader.
He has continued to play a pivotal role in seeking to restore stability in eastern Congo, though Kinshasa has remained sceptical of him. His approach, characterized by diplomacy and high-level engagement with regional leaders, appears to be yielding positive results.
A September meeting in Nairobi saw regional leaders extend the mandate of the East African Community Regional Force by a further three months to December 8 this year.
The decision arose after the leaders met on the sidelines of the Africa Climate Summit, agreeing that the three months will bring certainty to the security situation as further discussions go on about the actual plan for the troubled region.
However, not all his diplomatic endeavours have been successful. Ruto's appointment as IGAD's lead mediator on the Sudanese crisis has hit a snag. Khartoum has been reluctant to embrace him as a mediator, viewing him with suspicion.
South Sudan, a key player in the IGAD region, sees Ruto's involvement as overshadowing its own leader, President Salva Kiir.
The Sudanese military leadership pronounced their stand on Ruto's role, alleging that Nairobi harbours Sudanese paramilitary leaders. A recent interview between the Deputy Commander of the Rapid Support Forces and Sky News Arabia from Kenya's capital added weight to these claims.
And when America appealed for help to restore order in Haiti, Ruto promptly offered to lead a multinational force and send 1,000 police officers, despite pressing domestic security issues. This is one of the most perplexing foreign policy decisions he has made since taking over.
Offering to send 1,000 police officers to Haiti, a nation in turmoil, seemed like a questionable choice. Kenya's internal security demands have been substantial, and this move raised eyebrows domestically.
Global relations
One of the intriguing aspects of President Ruto's foreign policy is his approach to global relations. While he initially appeared to distance Kenya from Chinese investments, citing concerns over mounting public debt and Chinese 'predatory lending' practices in Africa, he has since demonstrated a willingness to maintain close ties with China. The question of whether Ruto is playing both sides or genuinely seeking a balanced approach to international partnerships remains unanswered.
Seen from the West, President Ruto is a dependable ally. But he is expected in Beijing, China, in October for his maiden visit to the country as a Kenyan leader.
Some commentators have dubbed Ruto as "America's Mr. Nice Guy," indicating his willingness to engage with Western nations. He has, however, called for the dethroning of the dollar and objected to Western dominance of global financial institutions.
His quest to free Kenya and other African countries from the dominance of the US dollar and other foreign currencies in trade transactions has received regional backing with more countries saying the move is timely.
Ruto has stepped up his calls for the adoption of a new payment system backed by the Pan-African Trade Bank, the Africa Import-Export Bank (Afrexim Bank) and the African Union.
However, the impact of Pan African Payment System hasn't been felt far and wide, and only six central banks from AU member states have registered, and Kenya is not part of it.
Clashing views between Ruto's officials
Recently, Defense Minister Aden Duale, took to X (formerly Twitter), praising the Crown Prince of Saudi Arabia, Bin Salman for saying that the Middle East will be the next Europe. You least expect a Defense CS of a sovereign country to suggestively support a power shift in another region so publicly.
This might be taken as Kenya's official position.
Kenya in May was forced to disown a comment on Sudan made by its trade minister on "invading" the war-ravaged country, reflecting a tricky balancing act between personal and official views.
Moses Kuria, the Cabinet Secretary for Investments, Trade and Industry, had made a controversial proposal on Twitter to "bomb Khartoum to smithereens" if the country's warring generals refused to lay down the arms and surrender to democratic rule.
Known to speak his mind, Kuria's tweet suggested the world must respond militarily to the war in Sudan.
Foreign Ministry, however, clarified that the tweet did not reflect Nairobi's position on the crisis. Kuria later deleted his tweet but it had already triggered a diplomatic mini-crisis.
In Washington DC, Foreign and Diaspora CS made comments touching on the bitter conflict in eastern DRC. The minister noted that Kenya had sent forces not to fight the M23 adding that the rebel group has been in operation for the past three decades. The remarks brought an uproar across DRC.
President Ruto is on record saying that there is not much peace to keep in DRC.
Seemingly a new rather reckless diplomatic culture for the Kenya Kwanza regime, Attorney General Justin Muturi was also not left behind.
When appearing before the Senate committee on the Shakahola deaths in May, the AG responded that the democratic space enjoyed in Kenya cannot allow the state to close churches noting that Kenya was not like Rwanda where it is a one-man show, and that the president can even close all the churches. He said that cannot happen here because of the flurry of lawsuits that his office will receive, he will not even be able to defend.
The remarks came weeks after President Ruto visited Rwanda where he praised President Kagame for his developmental record.
Foreign Affairs communication challenge
While Ruto's foreign policy initiatives have been both bold and ambitious, there is a glaring issue that needs addressing: the communication strategy of Kenya's foreign affairs apparatus. The country's foreign ministry has faced criticism for its blurred and inconsistent communication on foreign affairs matters.
During the recent Africa Climate Summit hosted by Kenya, Foreign CS's absence from media engagements raised eyebrows.
It was Ruto's major diplomatic event since he became diplomat number one, and Mutua's absence from media briefings left a communication void.
Additionally, the foreign ministry's social media presence has left much to be desired. Blurry images of Kenyan officials engaging with foreign delegations have been posted on its official social media accounts. In an era where visuals and clear messaging are vital in diplomacy, these images have portrayed a lack of coherence.
Observers argue that effective foreign policy communication is crucial in promoting a country's image and interests on the global stage. While Kenya may have a talented diplomatic corps, the ability to communicate coherently and professionally should not be underestimated.
Related Topics