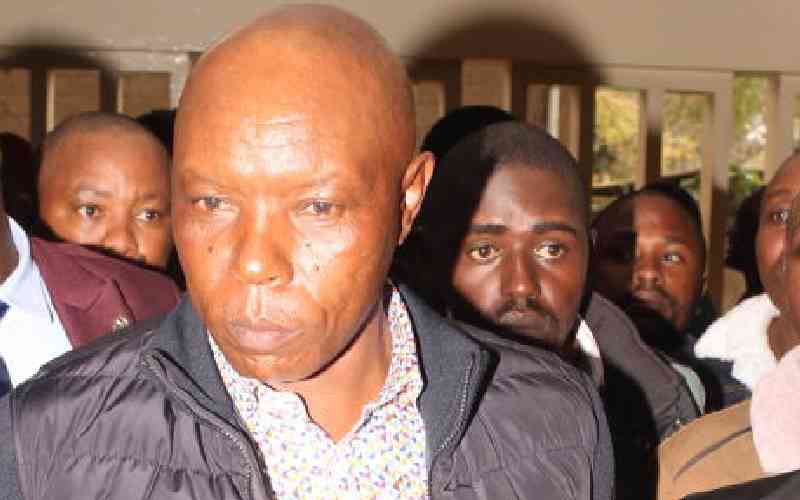 Former Mungiki leader Maina Njenga has called on President William Ruto to order police to stop harassing perceived critics.
Addressing the press outside the Makadara Law Courts on Monday after the mention of his case, Njenga maintained that security agents abducted him.
Njenga, his elder brother Peter Njoroge and his aide Felix Lekishe have been charged with being in possession of weapons. ​
They appeared before Chief Magistrate Tito Gesora.
Njenga claimed police were intimidating leaders, especially those from Azimio, with arbitrary arrests and abductions.
The former Mungiki boss and Lekishe were abducted on Saturday night in Banana, Kiambu County, by people they insist were police officers who dumped them in Limuru the following night.
According to Njenga, they were blindfolded and driven to unknown locations.
"They released us yesterday night (Sunday) and gave us Sh2,000 for fare. We know the people who abducted us are police officers," said Njenga.
​He said the hooded captors questioned him about his role in Azimio.
Njenga said the era of people being arrested without being told the offence they had committed and being tortured was gone.
He said that if someone is a suspect, the law should take its course.
"If the court finds you innocent you should be released but not harassed by police because our country is governed through the rule of the law," he stated.
The three have been charged with being in possession of 14 machetes, 24 Maasai swords, 46 rungus and three jembe sticks. They allegedly committed the offence on July 20 at Kiserian, Kajiado County.
Njenga, Njoroge and Lekishe denied the charges before then Makadara Chief Magistrate Francis Kyambia when they were presented in court on July 24. They were released after paying Sh100,000 cash bail each.
On Monday, Gesora ordered their lawyers to file an application at the High Court so that the items they claim were taken from their clients can be returned.
"The court only deals with inventories that are registered anything else can't be used when the case begins. Therefore use the right channel by filing an application to have the things that you say were taken from your clients but not registered as inventories," said the magistrate, adding that the suspects have a right to be protected from harassment.
Defense lawyers led by Evans Ondiek and Ndegwa Njiru had made an application to have the suspects given back the items that not been registered in court as exhibits.
Hearing was set for December 4.
Related Topics