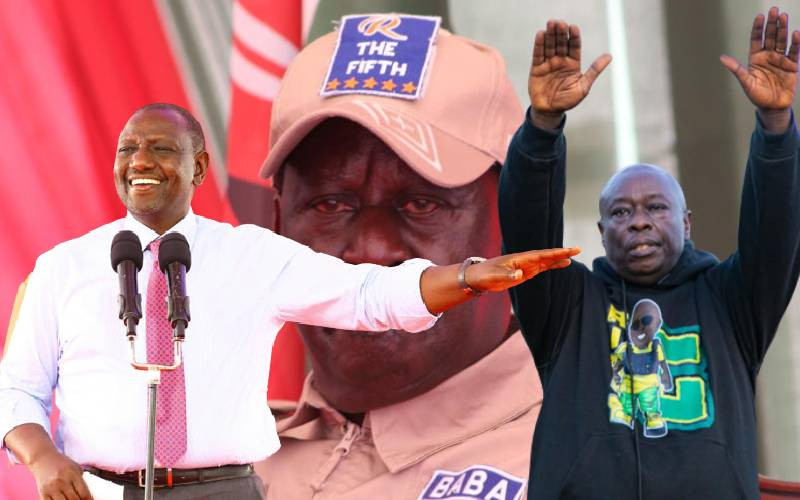 Deputy President Rigathi Gachagua has told of church leaders over calls for dialogue between President William Ruto and Azimio's Raila Odinga.
Speaking at Saba Saba Primary School in Maragua constituency during a burial ceremony of Diana Wanjiku Njuya ,82, mother to MP Mary Wamau, Gachagua said the clergy should instead advise former President Uhuru Kenyatta and Raila to meet.
In the meeting, the DP said the duo chat a way forward on when the billions of shillings looted during their time in power would be returned to the economy.
He said if there has to be any dialogue, there must be a clarification under what rules of engagement so as to allow for a truthful and transparent conversation.
"I respect the religious leaders but the request on holding a dialogue with Raila should be defined for the interest of Kenyan as in the past he messed the government of Daniel Moi, Mwai Kibaki and Uhuru Kenyatta due to pursuing his personal interest," said Rigathi.
Gachagua's remarks come even as the harsh reality to corner Raila has pushed the country into a possible economic crisis.
The clergy had on Wednesday asked Ruto and Raila to soften their hard lines and compromise for dialogue that can take the country forward.
Following the Monday protests, the Kenya Conference of Catholic Bishops (KCCB) spoke of a "dialogue option", calling on President Ruto to follow through with his promise to sit with and listen to Raila and other leaders with a view to coming to some "reasonable proposals" to curb tensions.
The bishops complained of the chest-thumping from the two sides, saying it will not solve the concerns and problems Kenyans are saddled with.
"The country is at a place where blame games by our leaders cannot address the country's myriad problems. We are witnessing high levels of unemployment that have made our youth lose hope and become disillusioned," said KCCB chairman, Archbishop Martin Kivuva.
Archbishop Anthony Muheria said, "We invite Raila to accept dialogue for the good of the country. We believe that a sitting and dialogue can resolve this dangerous stand-off. The two need to establish a common ground to address the ills facing the country and restore the sanity we need in our country."
Muheria said although it is legal to demonstrate, the same should not be used as a vehicle to paralyse the country, nor degenerate to a forceful takeover of a legitimate government.
Raila has since said starting next week, the mass action will take place two times a week - Monday and Thursday.
He said he will not relent until the government addresses the issues that he believes concern Kenyans.
Raila cites the current high cost of living, electoral justice, inclusivity in government, and the dismissal of civil servants as key areas that Ruto's regime must handle.
Related Topics