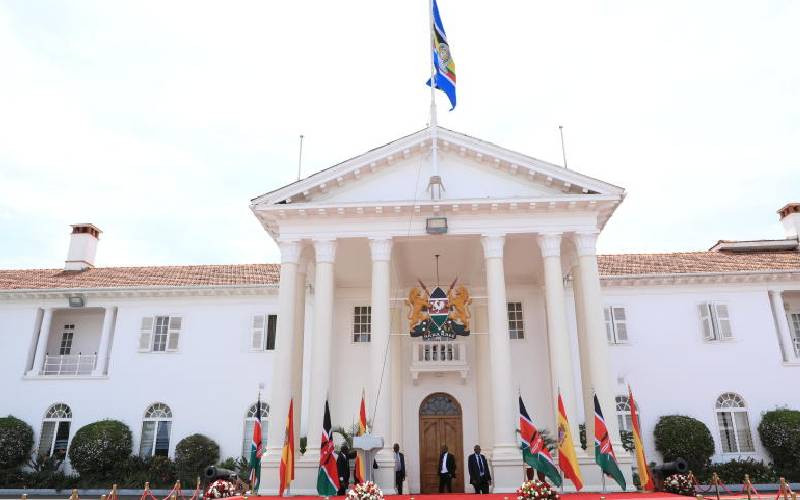 Former President Uhuru Kenyatta vacated State House nearly five months ago, but he will continue operating from the same neighbourhood until his new office is ready.
And although the government bought an office block at Nyali for Sh250 million in 2013 for retired president Mwai Kibaki, the immediate former head of state, has not moved in yet.
The office has been unoccupied since April 2022 when Kibaki died. Since he left office, Uhuru has not established a new office. Sources say Uhuru has been operating from his private home, popularly known as Caledonian House since it is along Dennis Pritt road, formerly known as Caledonia road.
It is set on the family property close to the State House, which was demolished in 2015 to pave the way for a modern mansion befitting a sitting head of state.
The property, next to State House Nairobi, has two wings made up of a state-of-the-art mansion, protected by formidable barriers and the latest technology with 24-hour GSU security.
One wing has a swimming pool, and the other has a helipad, linked by a driveway, which makes it easier for him to access the facility, from his home in Mara, Ichaweri (Kiambu), Gicheha Farm (Nakuru), Nyali Residence (Mombasa), abroad, or any other place in the world.
Uhuru, who moved to Mara after serving his second term and handing over power to President William Ruto, settled into his new life as a civilian at his 1,000-acre farm in Oloolmongi, Trans Mara, Narok County.
It is from the tranquil sanctuary that he retreats to escape from the hustle and bustle of the city and only comes to the city occasionally to execute some of the functions.The large farm overlooks the Mara Triangle, located in Masai Mara National Reserve, and the son of Kenya's first president has been interacting with locals - mama mbogas, boda bodas and herdsmen - for a drink, shopping, giving goodies, or taking walks in nearby villages.
The scenic triangle occupies a third of the entire Masai Mara National Reserve, which is less visited and boasts a variety of wildlife throughout the year. Uhuru enjoys a prime viewing location of the herds of the great migration entering and exiting the Masai Mara from Serengeti National Park in Tanzania.
In Nairobi, the Caledonia house has bulletproof windows, a strong concrete wall, a high-tech electric fence, and an alarm system.
The public road leading to the house was also expanded in 2015 during the construction of the house to include a dedicated lane specifically for people accessing the property.Close associates of the former president told The Sunday Standard that it will take a while for the office of the former president to be operationalised because members of his staff must be processed by the Public Service Commission.
"Each of his workers must be carefully vetted and appointed by the Public Service Commission. This process takes time. You do not want to approve some staff who will later embarrass the government. The staff too has to be cleared by security," State House operative said.
Uhuru has been making limited trips to Nairobi at his Karen and Caledonian houses for official functions, business, and to catch up with friends. He has also kept a low profile.
Uhuru has also forwarded a list of people to run his office. The list includes former Foreign Affairs Secretary Kamau Macharia, who is being proposed to be the advisor on peace and mediation.
The office, which will operate under the State House, just like the Deputy President's Office, will also have former State House Comptroller Kinuthia Mbugua as Private Secretary. Kanze Dena is proposed as communications secretary.
Former Deputy Secretary George Kariuki is also proposed to serve in the retirement office. The Presidential Retirement Benefits Act provides that Uhuru should benefit from an office paid for by the state. He is also entitled to an attractive retirement package, which includes an office, Sh34.5 million in gratuity calculated as a sum equal to one year's salary for each term served as president, and a monthly house allowance of Sh332,062.
He is also to get Sh332,062 for monthly electricity, telephone, and water bills as well as a monthly pension of Sh1.15 million. There is also a fuel allowance Sh216,563, diplomatic passports, and two four-wheel drive motor vehicles of his choice, replaceable every three years.
Others are an entertainment allowance of Sh216,562 and at least 30 office and home staff that include two personal assistants, four secretaries, four messengers, four drivers, and up to six security guards.
Related Topics