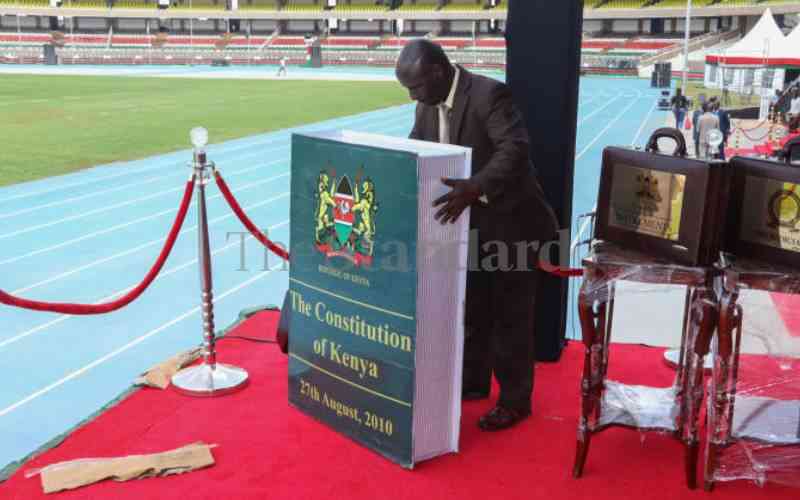 The 2010 Constitution has endured many transgressions and even violations since it was enacted.
In recent years, it has been ignored and nearly sacrificed in the altar of political expediency and as a result of either ignorance or incompetence by all of us.
Sadly, we are all to blame. Article 2 states that our Constitution is the supreme law and binds all persons and all State organs at both levels of government and no person can claim or exercise State authority outside it.
Article 3 creates an obligation for all of us to respect, uphold, and defend the Constitution. This means those violating it and those standing by as it gets violated are equally guilty. Many of us are hiding behind Article 1, which provides that all sovereign power belongs to the people and is exercised either directly or through democratically elected representatives, as we claim to have donated it to our elected leaders.
While this is accurate, accountability cuts across to those who have donated their sovereign power because if it is not used appropriately and in accordance with the Constitution it can be withdrawn.
The Constitution and our legislation provide avenues for holding our elected leaders, public appointees, and every Kenyan accountable for their actions against the Constitution especially those who bear the highest responsibilities. It is therefore refreshing to see civil society organisations, religious leaders, and professional and statutory bodies challenging constitutional violations. More needs to be done though.
There have been numerous attempts to amend the 2010 Constitution in ways that could easily be unconstitutional. There may be legitimate grounds to consider a relook at some of the provisions through the lens of 13 years of experience in implementing it. However, any attempts at amending or reviewing it must be constitutional.
If Kenyans feel it is time to amend the law, then we must follow the procedures provided for in the Constitution. Proposals to increase or reduce number of counties and constituencies and to create additional executive positions, to stagger elections so that presidential elections are held separately from parliamentary and county elections, clearly require a referendum.
There are a few proposals like on implementation and operationalisation of the 2/3 gender rule which do not require constitutional amendment but a lot of political goodwill.
However, if operationalisation of the 2/3 gender rule is tied to changing the electoral system, it will also require a constitutional amendment. The issues of addressing the high costs of living, high taxation, political party hoping and funding for political parties, or increasing the number of Independent Electoral and Boundaries Commission (IEBC) commissioners do not require constitutional amendments because they are already provided for in the Constitution.
It is probably high time we came out clearly and unabashedly on what initiative we prefer for the process of amending our Constitution. Articles 256 and 257 of the Constitution specify two ways in which we can amend it.
Article 256 provides for amendment through an initiative by either the National Assembly or the Senate and provides for the procedure. Article 257 provides for constitutional amendments through a Popular Initiative signed by at least one million registered voters and provides the step-by-step procedure.
Article 255 lists articles that cannot be amended without a referendum whether the amendments are by Parliamentary or Popular Initiatives. Therefore, we need to first agree on what in the Constitution needs to be amended then what initiative we should use to amend it, and then commence the process. This is to ensure a free for all constitutional amendments.
Constitutional amendments since independence have mostly been done for political expediency and partisan interests. The 2010 Constitution did not escape provisions implanted in it for short-term political interests, which appear to have not achieved their desired goals, hence the clamour to amend the Constitution.
This time around, we must ensure all the amendments are for posterity and not for safeguarding partisan political interests because if we don't in another 10 years, we shall be back to the drawing board.
Related Topics