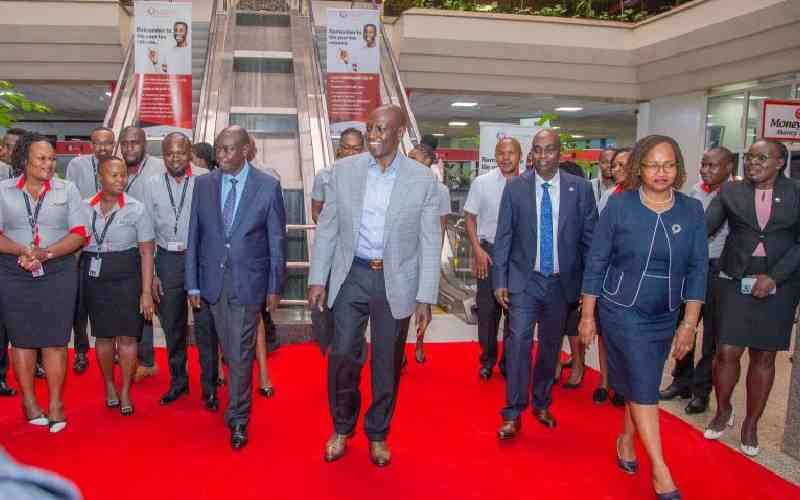 Tears rolled down his cheeks. His shrivelled face gave his crimson eyes a distant melancholic look. I had never seen my father cry.
He was a giant, dreaded and respected in equal measure. A man no one wanted to pick a fight with. I had only seen him smile once. On that sunny afternoon, he paraded me in his favourite pub and announced to everyone: "See, here is my son who has made me very proud by passing his primary school national exams."
I looked around the pub situated along Nakuru's Kanu Street and felt special. My father had never praised me before. I was given a big bottle of soda which I sipped slowly with pride. But today, I held his hand as he wept. "What is the matter, Dad?" I asked. "My son, we were fools. We were fooled. They played us. While our Kikuyu colleagues acquired land and properties in the cities, the rest of us were urged to invest back in our villages."
My father was in deep regret. He was dying from devastating effects of cancer. The excruciating pain and misery reminded him of the sweat and toil he had put into many years of work in Nakuru. Save for the house in the village, he had no other property to his name. He was a victim of a government propaganda machinery which urged people to invest in their villages. "Turudi mashambani", was Mzee Jomo Kenyatta's popular slogan in the 60s and 70s. My father and millions of other men and women of their time were victims of the first sin of corruption in Kenya. The sinful seeds were planted by Kenya's founding leaders.
Corruption in Kenya runs deep. It is a complex, multifaceted monster. It began with the British colonialists bribing African leaders and buying their favour and loyalty. Then, when they departed, at independence, Kenya's founding fathers divided the country along ethnic fissures. They rapidly acquired huge chunks of land and properties. Kenya became their toy.
The Kenyan elite extended the colonialist culture of buying and accumulating power and wealth. Senior public officials, ministers, members of parliament and local government officials started dipping fingers in public coffers. The regime of Kenyatta, originally had some semblance of character and order in the civil service which was then under the leadership of patriotic men like Geoffrey Kareithi.
However, being old and sickly, Kenyatta found comfort in the company of his own people, the Kikuyu. Soon, men surrounding Kenyatta became the Kiambu Mafia. They personified state power, accumulating wealth and resources while erecting safety networks around them. They laid a firm foundation of negative ethnicity and corruption. Subsequent leaders have pursued power and wealth for personal gain rather than common good.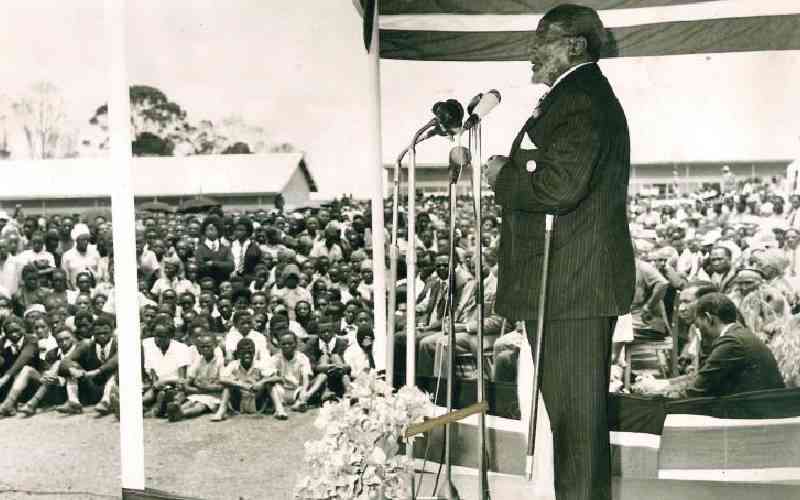 During my youth, I attended many political rallies in Nakuru County, addressed by Kenyatta where he urged members of his community; "Ukipata mali nyakua lakini ukishikwa ni shauri yako" (If you get property, grab it but if you are found out you are on your own". Many leaders took the call seriously.
Kareithi says in his soon to be published memoir, Cool Under Fire, that: "Except for the Tom Mboya murder and the Shifta war, the 1960s were good years for Kenya. The country had a remarkable growth rate of 7 and 10 per cent in real and nominal terms, respectively. The Government revenue increased by an average 20 per cent annually. Kenya had a near 100 per cent primary school enrolment by the beginning of the 1970s
The country was truly living the Independence Vision of working towards elimination of poverty, disease and ignorance, and the spirit of the Sessional Paper No. 10 of 1965 that laid guidelines for the establishment of a middle-class economy."
The government, says Kareithi, embarked on aggressive Africanisation of commerce through introduction of work permits and issuance of quit notices to non‐citizens.
Kareithi argues that the upward trajectory suddenly changed in the 1970s. "Our growth rate plummeted from 7 to a low of 4.6 per cent in mid 1970s. The inflation rate hit 16 per cent, the highest since Independence, and we had to devalue our currency four times in a space of five years. In the political front, a military coup plot was uncovered and politician J.M. Kariuki was assassinated. We also lost our moral integrity as a nation as news of mega corruption and smuggling of cloves, ivory and coffee filtered through."
Sixty years later, the Kenyan State has been 'appropriated' and privatised. We have senior civil servants with interests in private companies that constantly do business with government. Deputy President Rigathi Gachagua sums it up well; Kenya is now a private company with shareholders. The truth is that for decades, the country has been run as a private entity by a few individuals. Each shareholder of state authority has been monopolising it for their network.
The tragedy is that citizens do at times justify corruption if its perpetrator is a member of their tribe. Fighting corruption has been the leitmotif of each Kenyan president, but they all were enslaved.
The features and forms of corruption in Kenya have however been changing since colonialism. Historian H. Charton says of Jomo Kenyatta, that: "The Father of Independence who came from the main Kikuyu ethnic group, had an "ambiguous" image. However, the president was apparently determined to unite people around the ideal of an independent Kenyan nation, and he responded to the frustrations caused by British colonialists by promoting the appropriation of arable land, mainly in Central region and the Rift Valley, and combination of power for his own benefit and that of his close associates, mainly the Kikuyu members of the "Mount Kenya Mafia". He thus lay the foundation for a clientelist system where he, the patron rewarded his "clan", the clients in exchange for their political support and at the expense of public interest."
Kenyatta allowed some leaders privileged access to farms in the 'White Highlands'. Many got cheap loans, government permits and big contracts, becoming instantly wealthy.
During Kenyatta's reign, his friends frustrated and tormented his deputy Daniel arap Moi. Moi's ascendency to power was facilitated by a professional civil service which refused to be controlled or corrupted. Despite the plans to stop him from becoming Kenya's second President following Kenyatta's death in August 1978, Kareithi and his team ensured that Moi took the oath of office.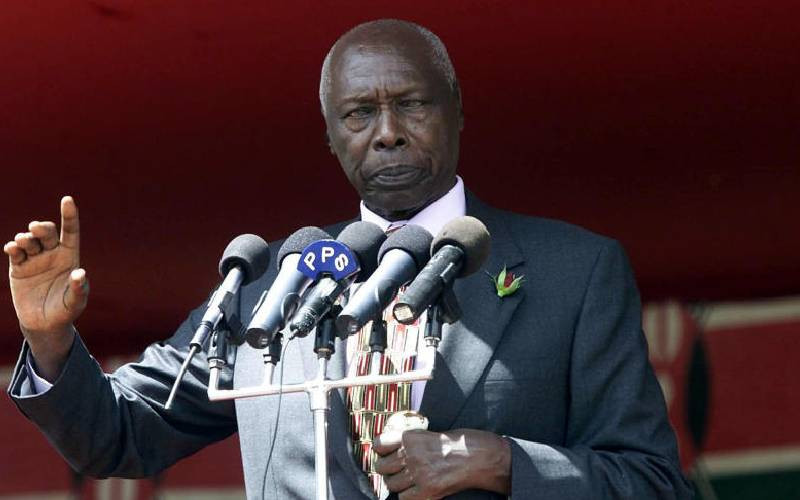 Alexia va Rij, an expert in public development policy, says that: "Moi, unlike Kenyatta, had a much smaller and less influential political circle at the start of the term in office. Furthermore, the fall in coffee prices around 1980 reduced government revenue. Given those two challenges, and driven by a sense of revenge due to the unfair distribution of land and power under Kenyatta, Moi's political and economic strategy was focused on weakening the Kikuyu "enemy" in favour of the Kalenjins." Alexia, has published a detailed research paper on; Corruption in Kenya, Understanding a Multifaceted Phenomenon.
Although impunity thrived during the 24 years of Moi's leadership, he would quietly remove ministers or leaders implicated in corruption. They would silently leave the scene. The professor of politics never had permanent friends or enemies. He worked with whoever served his bigger political agenda.
Moi had to contend with two major corruption issues all in the early 1990s. The Youth for Kanu 92, which was formed to help Kanu retain power during the first multiparty elections, was involved in printing of money and buying of votes. Many leaders and journalists were bribed to betray their life long causes by abandoning their political parties.
There were several attempts to bribe me. A burly Luhyia politician who was one of the YK92 leaders walked into my Kisumu office one morning with 'my own letter' of resignation, already printed just waiting for my signature. The letter stated that I had resigned from the Nation Newspapers because it was a tribal paper. He then opened a briefcase with Sh4 milion stashed inside. "This money is yours. Just sign and another Sh4 million will be yours" I calmly told him to donate the money to a needy group in his village.
Moi also wrestled with the Turkwel Gorge Hydro Electric Dam Project scandal. Commissioned in 1986 and completed in 1991, Turkwel was constructed by French company Spie Batignolles. It ended up consuming double the original cost. Two cabinet ministers were accused of handpicking the French company in order to gain kickbacks.
In 1999, Moi appointed Dr Richard Leakey as head of civil service. Moi was determined to clean up the civil service of its corruption. Leakey went to work. He sacked 25,000 civil servants and secured £250 million from the International Monetary Fund and the World Bank. His ambitious reforms met internal cartels and were blocked. In 2001, he was sacked.
When Kibaki took over in 2003, relationship with IMF and WB improved. Pressure from economic actors is a main driver of the fight against corruption. Kenya recorded prosperity between 2008 and 2018, 5.9 per cent on average. According to the World Bank, the economic growth was attributed to the Kibaki's Vision 2030 development strategy. The IMF reevaluated Kenya's risk of debt distress from "low" to 'moderate" in 2018.
Massive embezzlement of public funds always marks the change of government. When Kibaki took over in 2002, he came with his private club member friends. He promised to heal the country of corruption and swiftly replaced Moi's men with his own. He even uprooted highly qualified men from his security unit because they were from Moi's tribe. He quickly turned the great air of optimism that had welcomed his presidency into a stuffy smell of vicious ethnic animosities. Although he handled the economy well, encouraging Kenyans to pay taxes and create self-reliance, politically he lit fires of hatred that burst into a major inferno during the 2007-2008 post-election violence.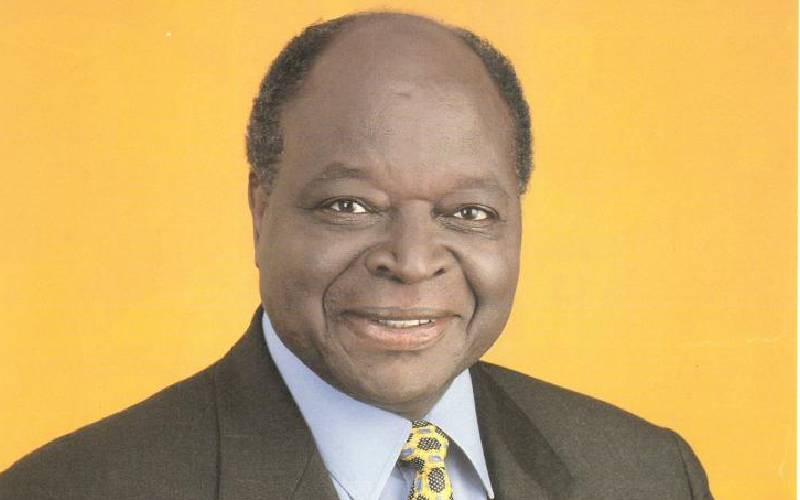 I will never forget the conversation I had with former defence minister in the Kenyatta government, Dr Njoroge Mungai, on the week Kibaki took the oath of office. While seated on the verandah of his Magana farm house in Kikuyu town, Mungai confessed that the Kikuyu elite had duped other Kenyans.
"If there is one thing I regret as a Kikuyu leader, is the manipulation and massive looting by some of our people. Economically, Nairobi city belongs to the Murang'a leaders who unfairly acquired properties during the Africanisation programme. We owe Kenyans an apology" said Mungai.
Dr Mungai said of the Kibaki presidency: "This man will end up being the worst promoter of tribalism in Kenya. Mark this day in your diary. He is an extremely selfish man that will divide Kenya more than it has ever been divided."
Soon after our conversation, Kibaki betrayed those on whose shoulders he climbed to power. He surrounded himself with tribemates.
Uhuru Kenyatta walked into power with his own team with William Ruto by his side. The two gave plum jobs to men and women from their two communities. It was indeed their time to eat.
Over the years, save for the civil society, a few institutions and individuals, the majority of citizens have resigned themselves to the monster of corruption. They have learnt to live with it.
You enter into public office, loot and plunder. You then use the war on graft as a whip against political opponents.
Despite the looting, Kenya still dares to thrive. In 2019, Kenya was the sixth richest country in Sub-Saharan Africa. Today, its number four with IMF predicting that Kenya's GDP will be larger than Angola's in 2023. Ours is among the fastest-growing economies in the region.
In the Routledge Handbook of Political Corruption, the political scientist M. Johnston argues that ongoing corruption in countries, such as Kenya, is due to the repeated duplication of anti-corruption reforms. These reforms, he says, are based on: "limited understanding of justice and the importance of politics" firstly ignoring the multifaceted nature of the concept and secondly, the diversity of political and economic contexts that corruption spreads in.
Each president comes with his men and his own vision created to enable some eating. A friend of mine from Japan keeps telling me:" There is no way a country can grow based on a five-year economic strategy. A nation should be working on 50 to 100 years consistent policies that must be implemented irrespective of who is in power. So how do you expect Kenya to ever grow?"
Moi left with his Peace, Love and Unity political philosophy still ringing in our ears. Kibaki came in with Vision 2030. Uhuru abandoned Kibaki's dream and created his own Big Four Agenda. Ruto, is now towing with a Housing Scheme and the Hustler Fund. Ours is a country of incomplete dreams, dodgy promises and shattered hopes.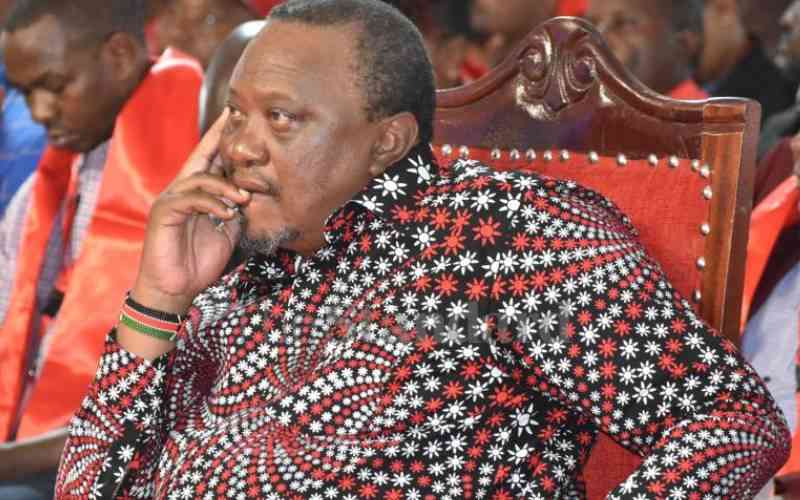 In reality, Kenyan presidents are incapable of taming corruption. They are enslaved to it. On January 25 2019, Uhuru said: "Corruption has become an accepted way of life. As individuals and as a collective, we have sacrificed our traditions, customs and values at the altar of materialism. Rather than shunning who have made wealth through illicit means, we celebrate them, even in places of worship." He was addressing the national anti-corruption conference.
In an article in the Journal of Eastern Africa Studies, S. Mueller writes on the economy of Kenya's crisis. He says: "Being in power has become synonymous with personnel enrichment and favouritism for their entourage in exchange for political support and complicity. Friends and relatives get bribes, public land, political office, contracts, tenders, etc." Mueller argues that embezzlement of public funds leads to direct, obvious and substantial loss of public revenue. It is the most commonly exposed form of corruption.
In 2008, Kibaki launched Vision 2030. It aimed to make Kenya an upper-middle-income country by 2030. The programme involved an increase in infrastructure projects. This created loopholes for corruption in various forms.
Uhuru came with the Big Four; food security, universal access, housing, universal health care and industrial development. The projects required huge funding. Uhuru made a strategic switch towards private investment. According to the National Treasury 2916/2017 Annual Report, the proportion of commercial debt as a percentage of public debt increased from zero in 2011 to 14.3 in 2017.
Public contracts involve issuance of tenders or direct agreements. The company that offers the highest bribe normally gets the tender. The company then provides a percentage of the contract amount to public officials who then divide the bribe among themselves.
Corruption can also be shrouded in mystery, darkness and silence. In direct negotiated contracts such as those involving the Standard Gauge Railway (SGR), Chinese banks and State-owned companies refused to make their contractual agreements public. In 2013, the World Bank had advised the ruling out of any SGR project in Kenya due to lack of socio-economic profitability.
The estimated cost of the project per kilometre is 1.6 times greater than the international average. Meanwhile, upgrading the old railway would have cost $150 million compared to the $3.6 billion, the loan amount for phase 1 of the SGR came to. In order to milk the SGR cow dry, powerful individuals and families had already lined up hundreds of acres of land for compensation necessitated by the construction of the line. Because of greed and personal aggrandisement, the SGR was forcefully constructed.
In his inaugural speech in December 2002, Kibaki said: "Corruption will cease to be a way of life in Kenya." He told members of his government and public officers that there will be no sacred cows under his government.
Several years later, Uhuru promised: "The war on corruption will continue to be waged by his government "with all tools at (their), disposal in law, without compromise or concession"
Today, Ruto, who packaged a hustler's champion campaign, is promising to tackle the vice whose flames made my father weep during his last days. He must first contend with the private owners of Kenya.
Related Topics