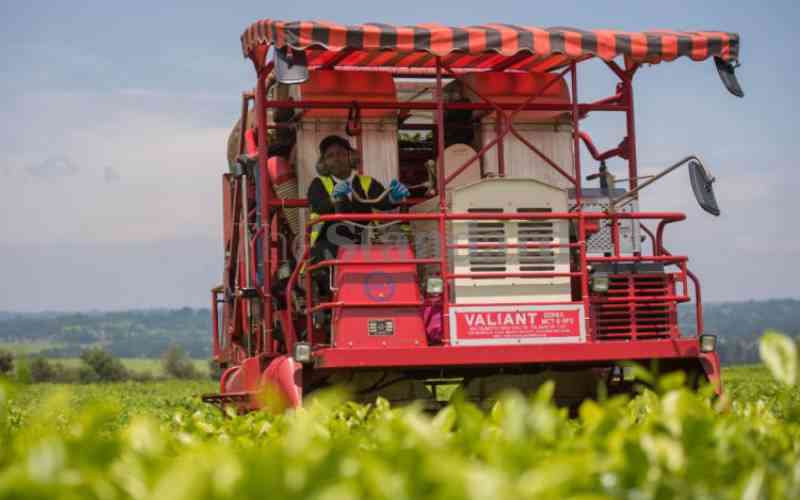 A dangerous trend is cropping up — that of critical segments of the agriculture sector being tragically captured by populism and the 'us-versus-them' deception.
In South Rift, a governor, two MPs and several ward reps are being probed for inciting locals to cause chaos and stall the introduction of mechanised agriculture.
It did not start now. In last five years, multinational firms in the region have faced all manner of ultimatums and public lynching mainly from the elite, who, for some reason, believe bullying would be the best avenue to have their concerns addressed.
A top Kericho County official who accuses the firms of mechanising operations at the expense of human labour, recently asked them to leave Kenya 'like yesterday and go to Rwanda or anywhere else' if they so wished. At the peak of this apparent 2027 vote-seeking drive, some local politicians claim they are tired of 'blackmail' and if push comes to shove, they will seek new investors who will play ball. The nasty clash has come with complex ramifications.
Now, operations of the expansive tea estates have stalled, more than 20 people, including police officers, have been injured and tea machines torched, putting the jobs of more than 16,000 people on the line. A few days ago, the Nakuru-Kericho highway was blocked by protestors.
A crisis meeting attended by Kericho Governor Erick Mutai and his Bomet counterpart Hilary Barchok, didn't bear fruit. The Directorate of Criminal Investigations has since seized the matter as the General Service Unity pitches tent in the region to enforce law and order. A lot is at stake.
Alarmed by the nasty developments, Kenya Tea Growers Association officials led by chairman Silas Njibwakale have called on President William Ruto to intervene. This startling sense of fear must be addressed now before it robs the tea and other sub-sectors of their shine. It is the 'hustling' farmers who suffer when political expediency takes centre-stage at the expense of basic logic. The difference that good or bad governance can make to poor Kenyans is profound. Let politicians who fuel these tensions be held to account.
We need a win-win answer. And in an era of economic globalisation, flipping the bird at investors for whatever reason is akin to throwing the baby out with the bathwater. We must embrace international best business practices. Investors too must abide by the law.
Mechanisation has a downside on jobs but comes with efficiency and value. At any rate, it is futile to fight technology in the 21st century. Instead of being rigid because we want jobs and votes, we can create a dynamic economy by not just allowing honest dialogue but also trying out diverse innovations and newly tested systems.
Technology is the future of industrial productivity. There's no clear justification to fight on the farm and embrace it in other areas like healthcare, banking, telecommunications and education.
I have previously argued here that for a country that basks in global fame courtesy of breakthroughs like MPesa, the e-citizen platform, the one-stop Huduma Centres, and many ed-tech and fin-tech creations, it is a paradox to reject mechanised farming.
With small-scale farmers growing nearly 80 per cent of Africa's food through physical labour, FAO cautions, the need for mechanised farming has never been more urgent as the continent faces a population explosion of nearly double in 30 years.
The Malabo Montpellier Panel, a group of experts who guide policy choices of countries, suggests that mechanisation is a sure antidote to food insecurity. Kenya should be part of the revolution.
Parties to the South Rift standoff can dialogue instead of sideshows. Besides a phased rollout of machanisation, the multinationals can train locals on various aspects of it, including value-addition. President Ruto should inspire hope of political goodwill in addressing the row.
-The writer is a communications practitioner. Twitter: @markoloo
Related Topics