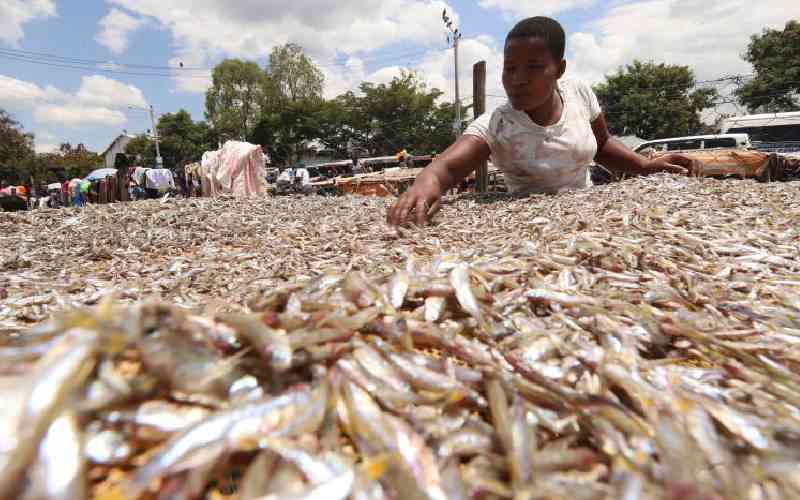 Fish consumers in parts of Nyanza could be forced to dig deeper into their pockets to purchase omena due to low supply.
For the last few weeks, fishermen claim there is a depletion of fish stocks in the lake with omena, being the most affected.
The most affected beaches are Uhanya, Honge, Usenge and Nyenye-Misori.
The traders said that due to the low supply, they have been forced to double the prices.
Judith Atieno, a resident of Honge beach, said she can no longer afford to buy omena for her family.
Atieno said this has been the only affordable fish, but with the high prices, they have now turned to vegetables.
"A two kilogramme tin of omena, which used to retail at Sh150, three months ago, is now selling at between Sh250 and Sh300," said Atieno.
Atieno added that tilapia has also become too expensive for the locals to afford since there is competition between consumers and fish farmers, who use it to process animal feeds.
Christopher Aura, a researcher at Kenya Marine and Fisheries Institute, said: "The Nile perch feeds on haplochromine fish species and smaller fish, like omena, which has affected supply, "said Aura.
The Nile Perch is also threatened, by an underground web of dealings involving rogue fishermen using illegal nets and unscrupulous traders eyeing the export market to target the fish.
For small-scale traders who used to buy a 90killogramme bag of omena at Sh10,200, the same quantity is now being bought at Sh15,000.
"This is the worst moment to do business. We are running losses with the high cost of fishing inputs," said Stephen Ochieng, a fisherman on Uhanya beach.
Ochieng, who has been forced to seek alternative sources of income, says the dwindling stock is quickly pushing the majority of the fishermen out of business.
"Most of us used to fish in Uganda but with the harassment by Ugandan authorities, we have been forced to fish on the Kenyan side," Ochieng said.
Ochieng, who has four fishing boats, says the cost of maintaining the boats as well as the high cost of fuel has worsened the situation.
He adds that for a single boat to operate, one needs between Sh5,000 and Sh8,000.
"This includes the cost of fuel and other fishing inputs," he said, adding that taxes to the county government also awaits them.
Benard Oloo, a cage fish farmer in Bondo, said things have become difficult with the scarcity of the commodity which is key in making fish feeds.
"Omena is one of the key ingredients in making fish feeds and when there's a shortage, we are left counting losses," said Oloo.
Experts have blamed poor fishing methods and over-exploitation of the lake on the decrease in some species of fish.
The situation has also been worsened by invasive species such as Nile Perch which feeds on smaller fish like omena.
Related Topics