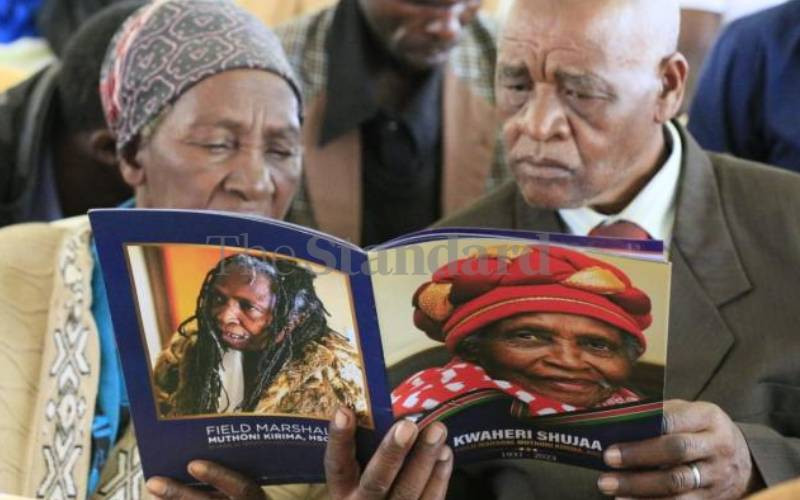 It was a solemn and modest farewell for Field Marshal Muthoni Kirima who lived her life with courage and grace.
Leaders, family and residents gathered at Kinunga Stadium, Tetu Nyeri County where they eulogised Muthoni for her sacrifice as a patriotic woman by joining the Mau Mau struggle for independence.
Muthoni, born in 1931 as the third child of Wanjira Kirima and Kirima Nguya, had a humble upbringing in a small farming community.
From a young age, Muthoni's remarkable skills as a pyrethrum picker set her apart from her peers. Her diligence and determination earned her the reputation of being the best in the village, capturing the attention and admiration of those around her.
Growing up, Muthoni bore witness to the countless injustices inflicted upon her community under oppressive colonial rule. These experiences fueled a burning desire within her to fight for independence.
In 1948, she crossed paths with her future husband, Mutungi Gichuhi, and together they embarked on a journey that would shape the course of their lives.
Relocating to Ihururu, Tetu in Nyeri County, Muthoni found herself immersed in a world filled with hidden secrets and clandestine activities.
Disguised as a simple firewood gatherer, she collected vital information that would prove invaluable to the freedom fighters led by Dedan Kimathi.
Her unwavering bravery and resourcefulness served as a crucial pillar of support for the resistance movement, earning her the respect of her fellow fighters.
In 1953, Muthoni faced the heart-wrenching reality of bidding farewell to her beloved husband, as he joined the ranks of the Mau Mau movement. Taking him to her father-in-law's home, they solemnly swore their oaths to the cause.
Little did she know that this would mark the beginning of an agonising 11-year separation, with her husband venturing into the treacherous forest, fighting for the liberation of their people.
Within the forest, Muthoni initially played a non-combative role, providing sustenance and care for the freedom fighters.
However, it wasn't long before her strategic brilliance caught the attention of Dedan Kimathi. Impressed by her ability to craft ingenious plans to secure food and ensure survival, he affectionately bestowed upon her the nickname "Weaver Bird."
The year 1952 brought forth a defining moment for Muthoni. As the state of emergency was declared, she found herself in the line of fire during a confrontation with the colonial forces.
Despite the risks and hardships, Muthoni and her comrades remained resolute, fully aware of the lingering power held by the colonialists.
Dedan Kimathi insisted they make the best use of Muthoni's skills to gather critical information from the outside world, bolstering their position and strategy.
Related Topics