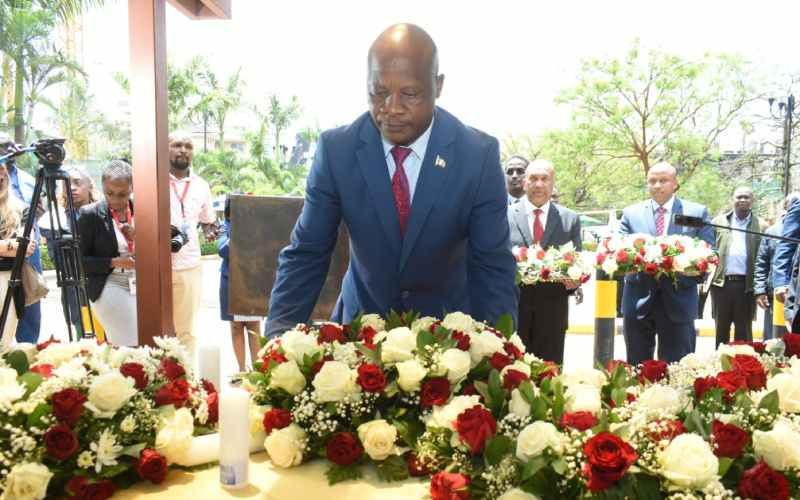 Kenya has marked ten years since the attack on Westgate shopping mall in Westlands happened, in an event where private security officers were recognised.
In the four-day attack, at least 67 people were killed and hundreds maimed.
The event was attended by Private Security Regulatory Authority (PSRA) directors, who reiterated that terrorism requires a collective and combative approach for Kenya and its neighbours to be safe.
According to the Director General of the PSRA Fazul Mahammed terrorism is no longer a religious war but an affair that cuts across tribe, religion, race, and colour.
KNPSWU National General Secretary Isaac Andabwa has also applauded the Government for recognising private security guards through the Ministry of Interior.
He has also appealed to the state leadership to utilize the over one million private security officers who remain primarily marginalised in combating insecurity.
"As we mark this memorable day, I hail the efforts of the Government through PSRA in recognizing how important guards have been and are on matters of security in this country; we are the first line of touch and command and are always grilled for information in the event of crimes," said Andabwa.
For the first time, the Government has incorporated private guards in its national strategy on Counterterrorism and set out a framework through PSRA that will enforce and implement the required sectoral reforms to yield professionalism in the industry.
The PSRA Directors said sleeves are now rolled and their job will be to fast-track reforms in the sector, through professional training, ranking and accreditation for a progressive career path.
"We want this sector to attract competitive employment just like other professions in Kenya, We will continue to push for better remunerations,terms and references of work for the guards, as a motivation," added Bro. Andabwa.
During the prayers, stakeholders appealed for resilience, cohesion and peace among Kenyans.
The event was also attended by Jeremy Van Tongaren- Chairman of Kenya Security Industry Association(KSIA), Andrew Solomon- MD Radar Security Company, Joash Soita- National Organising Secretary KNSPWU, Lawrence Okello- MD G4S Security Company and Jackson Mbuthia- GM Security Group Africa Company;
The team converged at Westgate Mall for interfaith-based prayers and candlelight in honour and memory of the souls lost and lives injured during the deadly attack.
Also present were interfaith-based leaders, Government representatives from the Ministry of Interior and National Coordination, the National intelligence service, the Ministry of Labour, foreign missions and the giant Kenya National Private Security Workers Union, representing guards in the republic of Kenya.
Related Topics