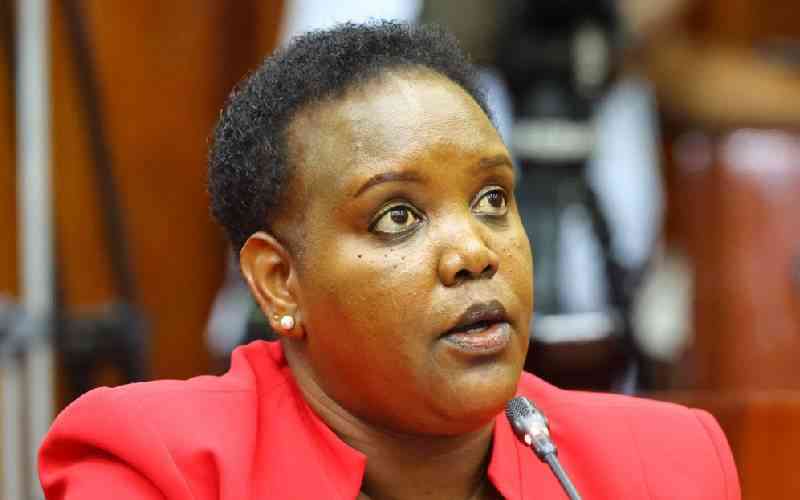 Labour Cabinet Secretary Florence Bore has told the Senate that at least 700,000 elderly, orphans, and Persons with Disabilities (PWDs) will start earning Sh2000 per month to cushion them against harsh economic challenges in life.
Bore who appeared before the Senate Plenary sitting to answer questions raised by Senators said that her ministry is registering some 500,000 new beneficiaries including the elderly, Persons with Disabilities, and orphans who will start earning their monthly stipend.
She told the Senate that the cash transfer program is aimed at supporting the most vulnerable members of the community by providing them with a stipend to cushion them from poverty and hunger to improve their lives saying that the government was committed to having many beneficiaries in the program.
"The Ministry of Labour is registering 500,000 new beneficiaries including the elderly, Persons with disabilities and orphans and vulnerable children, and older persons, we have another 190,000 slots that have been left open due to natural attrition that needs to be filled so that more Kenyans can benefit," said Bore.
Bore said this will bring the total number of beneficiaries under the program to 690,000 beneficiaries with her ministry working with National Government Administrative Officers across the 47 Counties to ensure that all the vulnerable persons are registered.
Marsabit Senator Mohamed Chute put the Cabinet Secretary to task over officials from the Ministry of Labour who are demanding that the vulnerable groups pay some money before they are registered something that Bore denied saying those with evidence should avail for action to be taken.
Bore stated that her ministry did not have enough members of staff to carry out the exercise with the few who are stationed across the 47 counties doing their level best to ensure that the vulnerable groups are registered and that they were doing the very best to ensure they benefit.
Senate Majority Leader Aaron Cheruiyot asked Bore to tell the house the progress that has been made in the signing of labour bilateral agreements since Kenya's leading foreign earnings are no longer tea, coffee, or tourism but remittances from those living abroad which bring billions of shillings annually
"We can secure millions of jobs through the signing of bilateral labour agreements, we would like to be told of the progress made to ensure that we export our much sought-after labour force to various countries across the globe which will eventually lead to billions in remittances back home," said Cheruiyot.
Bore said that they have embarked on Labour Migration and that already have been directed to sign Bilateral agreements in some 15 Countries across the globe being aware that more than 5 million Youths are jobless and that they are engaging several countries towards the achievement of this.
"The government has developed a career portal to support persons with disabilities access to information on employment opportunities and connect with potential employers in both the Public and the Private Sector," said Bore.
During the launch of phase two registration of farmers and vulnerable groups, Deputy President Rigathi Gachagua said that the government will expand the cash transfer program, which has been in place since 2004 from the current 1.23 million to1.73 beneficiaries across the country in a march toward their target of 2.5million and beyond in phases.
In April 2023, during the Kenya Social Protection Conference, President William Ruto committed to extending the reach of the Inua Jamii Safety Net Programme from 1.23 million to 2.5 million beneficiaries.
Related Topics