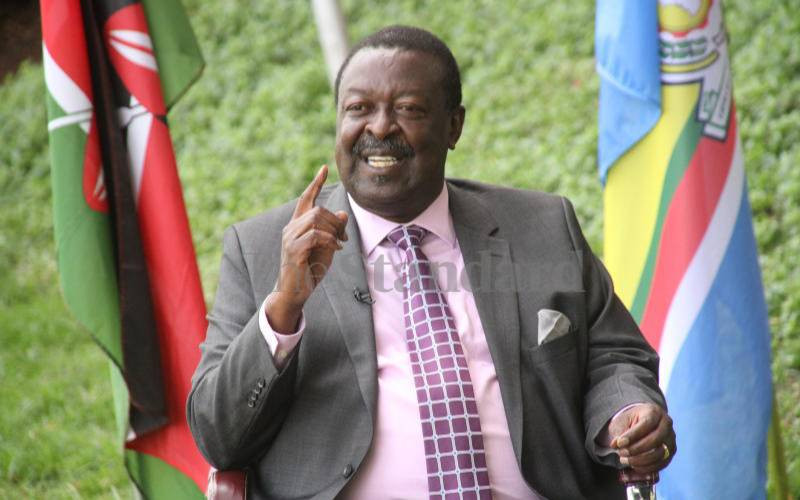 A huge number of the 300 state corporations will be shut down even as Prime Cabinet Secretary Musalia Mudavadi warns Kenyans to brace for tougher economic times ahead.
Mudavadi revealed that the closure of select parastatals was part of new austerity measures to be implemented by the Kenya Kwanza administration to turn around the country's economic fortunes.
"Going forward some painful decisions will have to be made. Some parastatals will have to be shut down. They will individually have to justify their existence and benefit to Kenyans," said Mudavadi.
In an interview with The Standard, the Prime Cabinet Secretary explained that talks were at an advanced stage with the Head of State and the affected state corporations would be made public soon.
Urging Kenyans to tighten their belts, he said it would not be smooth sailing in the journey to economic recovery given that President William Ruto's administration had "very little leg room to manoeuvre" to bring down the cost of living.
"As an administration, we opted to do away with some subsidies because they were not making sense in the long run. Announcing a subsidy is like postponing reality especially if it is on consumables," he said.
His sentiments support National Treasury Cabinet Secretary Njuguna Ndung'u who warned that the country's financial crisis was exacerbating.
Prof Ndungu had, during the public sector hearings for the FY 2023/24 and the medium-term budget, urged ministries to avoid wastage of public resources and adopt cost-cutting measures. He further told the ministries to complete pending projects before commencing on new ones.
"From all the things we have analysed, 2023 is not looking good, there are clear signals that it is going to be a tough year and the global economy is one example in terms of where we are going," he said.
Mudavadi reiterated the Kenya Kwanza administration's resolve to work with the international community to deal with the country's soaring public debt.
"When you lose IMF and similar organisations, you are in big trouble. It will be like sending a message to the world that your economy is in ICU," he said.
Adding: "They are the stamp of approval to your economy. When you work with these institutions, you get to negotiate your case with them."
To ensure a seamless and open government, Mudavadi encouraged Cabinet Secretaries to comment on issues in other dockets other than their own. This, he said, was the fastest way for the government to implement its manifesto.
"Just because one is in the Agriculture ministry does not mean he should not comment on matters in the ministry of Water. You cannot watch as the other collapses," he said.
At the same time, Mudavadi has thrown his weight behind proposals by the president to amend the Constitution to create an office of the official opposition leader.
Ruto in December 2022 forwarded a memorandum to Parliament urging the MPs to legislate and amend Chapter 9 of the Constitution to create an office of the official leader of the opposition.
Ruto argued that the re-introduction of the role of an official leader of the opposition would not only keep his administration in check but would also institutionalise governance, strengthen oversight, and deepen democracy in Kenya.
The president had also sought that Parliamentary Standing orders are amended to allow Cabinet Secretaries to attend plenary sittings and urged Parliament to restructure the law on gender equality so as to ensure more female MPs are nominated to both Houses
Azimio la Umoja coalition party leader Raila Odinga has, however, warned that he would not be quick to support the proposed law, noting that his outfit would first examine the contents Bill and reject it if it was an affront to the constitution.
Mudavadi, however, feels there is a need for a well-structured leader of the official opposition position.
"We are where we are as a country because the opposition had been emasculated by the last regime. For us to be stronger as a government let the opposition play its rightful role. If there is a way, the government can work together with the opposition without making the latter a part of the ruling government then I think it is important so we can come up with sound economic policy," he remarked. Mudavadi refuted claims that the post was being created to "tame" Odinga.
"Why does he (Raila) need to be tamed? We are trying to make sure that there is an opposition that is not a puddle of the government and one that plays its role properly and checks government within the confines of the law," he said.
Related Topics