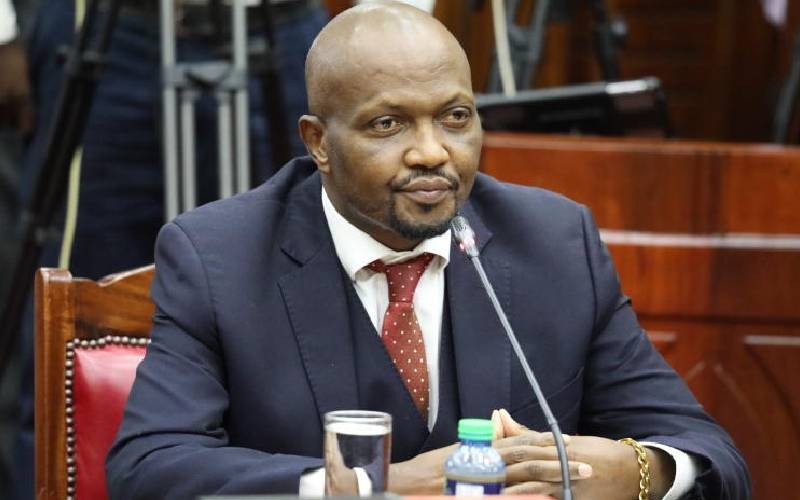 Trade Cabinet Secretary (CS) Moses Kuria's directive to have farmers sell their maize within 72 hours has elicited protests, with producers claiming they are being intimidated.
The farmers also questioned the loud silence of Agriculture CS Mithika Linturi on the maize saga, which has also threatened the unity of governing United Democratic Alliance (UDA) and her coalition partners.
Yesterday, a section of farmers from Uasin Gishu said the ultimatum 'amounted to harassment of food producers who toiled with high inputs and operation costs to achieve the current harvests.'
"There is nothing wrong with the State importing the produce but it should consider exhausting local produce. The CS has given a directive that we sell the produce but stores at the National Cereals and Produce Board (NCPB) are closed. They have not opened stores, whom do we sell to? Why is the government so committed to imports and not buying local produce?" posed Boen, a farmer.
Mr Boen said the government cannot direct farmers on how to plan their venture. "We must plan before selling so that we budget and ensure we make returns," he said.
Mr Kimutai Kolum, also a farmer said about half of the maize farmers are still harvesting while others are drying the crop to recommended moisture content before selling it to consumers.
"Government officials including CS Kuria are making declarations yet they have not made visits to assess the situation at the grassroots. Most farmers are yet to harvest the crop," said Kolum. "The State should stop threatening farmers. They should make visits and make recommendations after engaging farmers."
Representatives of cereals producers in the region convened a meeting in Eldoret recently and queried Linturi's silence on the matter.
They said his ministry ought to have had their input before making projections and wondered why only Trade CS Moses Kuria was involved.
"The CS concerned with Agriculture Ministry is the one expected to have made projections and announce deficits if any. It is surprising Trade CS is announcing plans to import maize at the time local producers are harvesting the crop," said Kenya Farmers Association (KFA) North Rift Director Kipkorir Menjo.
Producers expressed their dismay over the 'rush' by the State to import maize even before it purchases the current season's harvests.
Accompanied by large and small-scale maize farmers led by Boen, Thomas Korgoren, and David Kiberenge, Menjo said they were not opposed to imports meant to replenish the country's food situation.
"The State should first mop up produce that is being harvested by farmers and consider importing from February next year if there will be a shortage," he said.
Distort prices
Kiberenge urged the ministry to involve farmers in making decisions that affect them. Kesses MP Julius Ruto faulted the 72-hour ultimatum given to farmers, noting that middlemen and traders in the informal market will take advantage of the situation to distort prices to the disadvantage of farmers.
He said it is impossible for farmers to sell off their produce within the stated time, noting that most producers are yet to harvest the crop while others are still drying the grain to reduce aflatoxin.
In Kakamega, leaders called on governors not to accept the importation of cheap maize into the local market.
Led by Kakamega Deputy Governor Ayub Savula, the leaders said imports will hurt farmers more and discourage them from growing maize.
"I come from a constituency where maize is produced in plenty. Currently, we have a surplus," said the former Lugari lawmaker.
Likuyani MP Innocent Mugabe said he will introduce a Bill in the National Assembly to create a maize cooperative society to take care of maize farmers' needs.
Kenya National Farmers' Federation Coordinator for Western and Nyanza Pius Akhonya urged the government to shelve plans to import maize
Related Topics