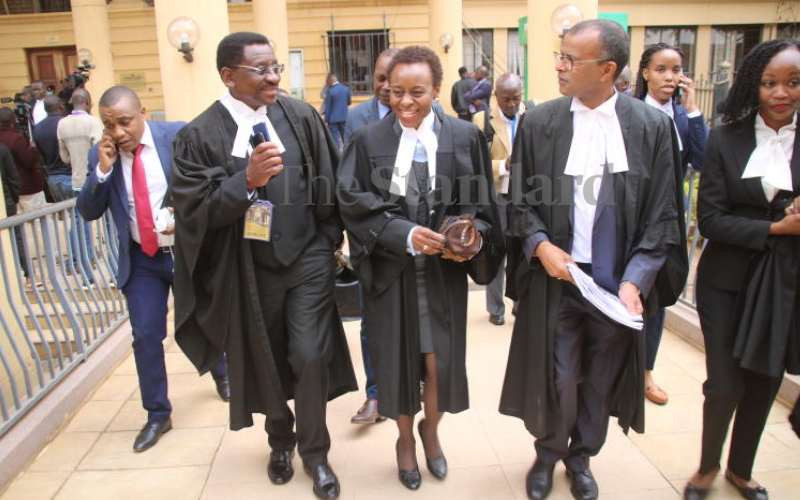 It is painful to lose a battle but it hurts more for the referee to continue to whip you when you are down.
This was the case for parties and advocates who lost presidential petitions before the Supreme Court.
A tongue-lashing by the Supreme Court judges may have been the last thing on the minds of the lawyers representing the petitioners challenging William Ruto's win.
The court likened their cases to cynical schemes, said they produced hot air and sensational information and decreed that their actions were unacceptable.
On Monday, lawyers Celestine Opiyo and Arnold Oginga were the first to get the Supreme Court's whip for swearing affidavits on behalf of returning officers.
In an abridged judgment read by Chief Justice Martha Koome on behalf of the seven-judge bench that heard the presidential petitions, Koome singled out the two lawyers after finding that the forms 34A attached to their affidavits and alleging interference had no significant changes that would have affected presidential election outcome.
"The affidavits of Celestine Anyango Opiyo and Arnold Ochieng Oginga, while containing sensational information, were not credible as the Registrar's Report confirmed that all the Forms 34A attached to those affidavits and purportedly given to them by agents at select polling stations were significantly different from the originals, certified copies and those on the public portal.
"The purported evidence of Celestine Opiyo and Arnold Oginga sworn in their respective affidavits was not only inadmissible, but are also unacceptable," said Justice Koome.
The CJ said that none of the agents whose forms were being presented swore any affidavit nor was there proof that they had instructed the two to act for them.
The CJ was reading a unanimous judgment on behalf of her deputy Philomena Mwilu and Justices Mohamed Ibrahim, Smokin Wanjala, Njoki Ndung'u, Isaac Lenaola and William Ouko.
She was of the view that although they were on a learning curve, they ran the risk of unknowingly swearing to falsehoods and may be called to be cross examined to test the truthfulness of their affidavit.
Reporting hearsay
"This court cannot countenance this type of conduct on the part of counsel who are officers of the court. Though it is elementary learning, it bears repeating that affidavits filed in court must deal only with facts which a deponent can prove of his own knowledge and as a general rule, counsels are not permitted to swear affidavits on behalf of their clients in contentious matters, like the one before us, because they run the risk of unknowingly swearing to falsehoods and may also be liable to cross-examination to prove the matters deponed," said Koome.
Lawyer Okweh Achiando in an interview with The Standard said that the top court was right. According to him, the Advocates Act only allows learned friends to swear affidavits on issues that are not contested.
"They are right, under the Advocate's Act, you cannot swear an affidavit on contentious matters. In contentious matters, you leave the party to the case and that I concur with the Supreme Court's finding," said Achiando.
Another lawyer, Shadrack Wambui, said there are exceptions where an advocate can swear an affidavit on behalf of a client. According to him, in instances where a client is missing, an advocate can have an affidavit in applications seeking production of a client either alive or dead, known as habeas corpus.
He however asserts that the danger of swearing an affidavit on behalf of a client is that it may end up being hearsay.
"General rule is that advocates that they never swear affidavits on their clients because you will be reporting what has been told to you and you are not reporting what is within your knowledge and belief, you will be reporting hearsay.An advocate has to choose to be at the bar, the bench or the witness. Who will ask you questions and respond on your behalf if you are a witness.
He says there are some exceptional cases such as habeas corpus applications. While suing in the name of your client, in criminal trials, there are some exceptions," says Wambui.
Law Society of Kenya president Eric Theuri says the best way of having the forms produced in court would have been to have the persons giving the information swear the affidavits.
"On that, the court was right as the advocates rule prohibits an advocate to swear an affidavit on behalf of a client but in only restricted instances where you are handling a case for a client and an issue arises. Affidavit is actually evidence and if you give a false testimony that is perjury. Basically it means you can only swear about an issue that is within your knowledge and a belief," says Theuri.
In the case, Oginga claimed that the commission was allegedly substituting forms that had been uploaded on the portal as late as August 19.
According to him, IEBC's numbers did not add up. He claimed Ruto was added 217,631 extra votes in form 34C since the figure did not march the total tally of forms 34A declared at polling stations in at least 33 counties.
When form 34C is compared with form 34B from the constituencies, he said, Ruto was given an additional 186,693 votes in excess of what was recorded in form 34B.
According to him, a comparison of the various forms 34A, 34B, and 34C uploaded by the commission in its portal and what was issued to Raila's agents at the polling stations allegedly revealed that there were glaring discrepancies between them.
Opiyo and Oginga were not the only ones on the receiving end by the court. Former anti-graft czar John Githongo got a fair share of the court's wrath. On his affidavit, Koome said he produced double hearsay before the court.
Githongo alleged that he had the confession of a whistleblower on what transpired during tallying.
The whistleblower, who is introduced to the case by Githongo in an affidavit before the Supreme Court, alleged that he was part of a team of 56 people dubbed 'The Team' and who had been recruited to manipulate the results.
Koome said Githongo's evidence may have contained forgeries.
"The contents of the affidavit of John Mark Githongo, which may contain forgeries, are dismissed for not meeting the evidential threshold. They contained no more than incredible and hearsay evidence," she said.
Related Topics