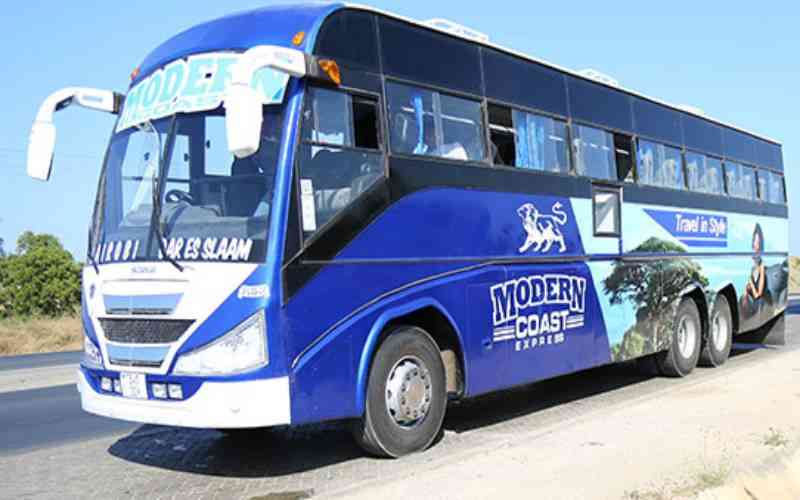 At least 76 people, who travelled using Modern Coast bus since 2017, have died in separate road accidents, an analysis into the bus company's accident history shows.
The single accident that recorded the highest number of casualties involving the bus company occurred on July 24, 2022 at Nithi Bridge in Tharaka Nithi County, claiming 35 lives.
Besides the tens of deaths in the last five years, more than 100 Modern Coast travellers have been left with injuries, with some of them sustaining permanent paralysis.
The bus company that is headquartered in Mombasa plies Kenya, Uganda, Rwanda and Tanzania routes.
On Monday, July 25 the National Transport and Safety Authority (NTSA) suspended the bus company's operating license after 35 died in the Sunday Nithi crash.
NTSA Director-General George Njao said that the agency would re-inspect Modern Coast buses to ensure they're roadworthy before, possibly, being allowed back on the roads.
On December 12, 2019, the transport authority had also suspended the firm's operating license after seven were killed and 62 injured in a road accident that involved two Modern Coast buses at Salama area in Makueni County.
A day earlier (December 11, 2019), a bus belonging to the company had been involved in an accident with another public service vehicle belonging to Tahmeed Coach Limited at Salama area. In this incident, there were no deaths or major injuries recorded.
The law - Section 34 of the NTSA Act - allows the NTSA to revoke an operator's operating license should the holder fail to comply with road safety regulations.
On November 22, 2019, one person died and 23 sustained injuries after a bus belonging to Modern Coast rolled after hitting a bump at Brooke Trading Centre in Kericho County on the Kericho-Nakuru Highway.
On October 1, 2018, eight people died in Bungoma after a bus belonging to the company collided head-on with a 14-seater matatu.
In yet another scary moment, on October 13, 2018, a Modern Coast bus burst into flames at Samburu in Kwale County.
The same would happen again near Bendera Hotel on the Kapsabet-Chavakali Road on December 27, 2021. There were no casualties.
On September 15, 2019, eight people died and several sustained injuries after a Modern Coast bus collided with a truck on the Jinja-Tororo Highway at Nakawa in Bugiri District.
On October 17, 2018, two people died and one was seriously injured after a bus belonging to Modern Coast collided with a motorcycle at Kyanamira Trading Centre in Kabale District on the Kabale-Mbarara Highway, Uganda. The deceased were travelling aboard the motorcycle.
The Modern Coast bus overturned after the crash.
Police said the Modern Coast driver tried to avoid hitting the motorcycle, but lost control of the vehicle.
On December 13, 2017, a bus belonging to Modern Coast was involved in a multiple crash at Sachang'wan in Molo Sub-County, Nakuru County. Fifteen (15) people died in the accident.
It is alleged roadworthiness of the Modern Coast fleet has been of concern, with several travellers taking to social media to express their grievances.
A source, who sought anonymity, alleged that she and her colleagues had gone for a couple of months without pay.
The Standard couldn't independently verify her allegations, as our phone calls or texts to the Modern Coast management went unanswered.
Both the Managing Director of the bus company, Haroon Butt, and Transport Manager Twaha Malik did not respond to our communication.
A timeline:
Dec. 13, 2017: Sachang'wan, Nakuru County - 15 dead. Oct. 1, 2018: Bungoma County - 8 dead. Oct. 13, 2018: Samburu, Kwale County - Bus catches fire, no casualties. Oct. 17, 2018: Kyanamira Trading Centre, Uganda - 2 dead, 1 injured. Sept. 15, 2019: Nakawa, Uganda - 8 dead. Nov. 22, 2019: Kericho-Nakuru Highway - 1 dead, 23 injured. Dec. 11, 2019: Salama, Makueni - No casualties. Dec. 12, 2019: Salama, Makueni - 7 dead, 62 injured. 2020: No records available. Dec. 27, 2021: Chavakali, Vihiga County - Bus catches fire, no casualties. Jul. 24, 2022: Nithi, Tharaka Nithi County - 35 dead, 10 injured.
Related Topics