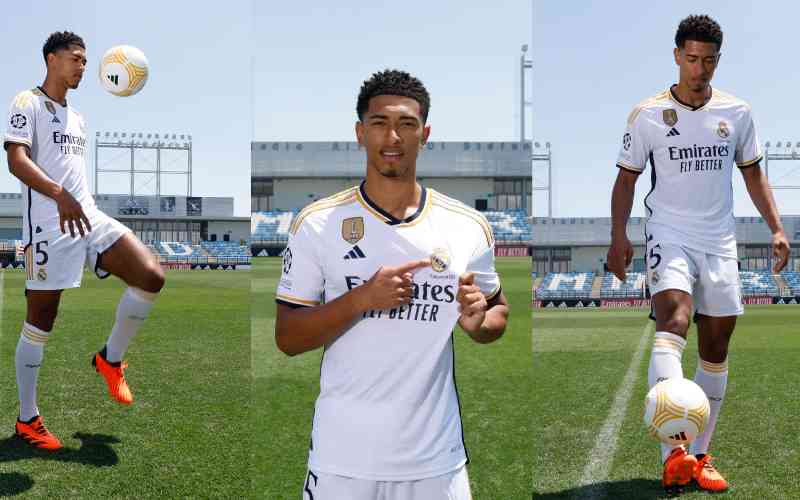 Holding up the same No. 5 shirt once donned by Zinedine Zidane, Jude Bellingham completed his move to Real Madrid on Thursday after signing a six-year deal with Europe's most successful club.
Bellingham posed with his new shirt before Madrid's packed trophy case after he passed a medical exam and signed the contract alongside club president Florentino Pérez.
"I have said in many interviews how much I admire Zinedine Zidane," Bellingham said about his new number after wearing 22 with his former clubs. "I am not trying to be the same as him, I am just trying to be Jude, but it is definitely a bit of a homage to how great he was."
Despite reportedly being a transfer target for several top European clubs, including Manchester City and Manchester United, Bellingham opted to move to the Spanish club that has won the European Cup a record 14 times.
Pérez called Bellingham one of the "best players in the world" and underscored that while he had other clubs after him, "he is here because this is where he wanted to be."
Madrid did not confirm the transfer fee, but Dortmund said in a statement to the stock exchange last week that it could reach more than 130 million euros ($139 million).
His love for the elegance of the Zidane he watched as a child — combined with Madrid's winning pedigree — was key, Bellingham said, to ignoring calls from English clubs to come back home.
Zidane was a world champion with France, but he had his greatest success with a club at Madrid, where he won the Champions League as a player before coaching the team to three more.
And could there be just a touch of Zidane in those spin moves Bellingham used to slip past confounded defenders in the Bundesliga?
"I really admire Zidane and the legacy he has at this club with the No. 5," he said. "It's a number that inspires me."
Only 19 years old, Bellingham joins a youth movement at Madrid that includes 22-year-old Brazil forwards Vinícius Júnior and Rodrygo, French internationals Eduardo Camavinga (20) and Aurélien Tchouaméni (23), and Uruguay midfielder Federico Valverde (24).
While he won't be asked to replace the scoring void left by the exit of Karim Benzema, Bellingham may still have some very big boots to fill. Veteran midfielders Luka Modric, a former Ballon d'Or winner, and Toni Kroos, both have contracts that expire at the end of this month.
Bellingham said he would like to learn from Modric and Kroos.
"Their experience is huge and they will be great for me," he said. "I'll be like a sponge around them, trying to steal anything they've got."
Bellingham joined Dortmund from second-division English club Birmingham in 2020. His three-season stay at Dortmund ended after the team lost the German title to Bayern Munich on goal difference. He debuted for England in 2020 and has played 24 times for his national team.
Madrid has also made small deals to buy back former players Brahim Díaz and Fran García as it seeks to recover the Champions League and Spanish league titles that it relinquished last season.
The powerhouse team is expected to attempt to make another big signing to replace Benzema after his departure for Saudi Arabia. Madrid is in the middle of rumors of a possible exit of Kylian Mbappé from Paris Saint-Germain or Harry Kane from Tottenham.
Related Topics