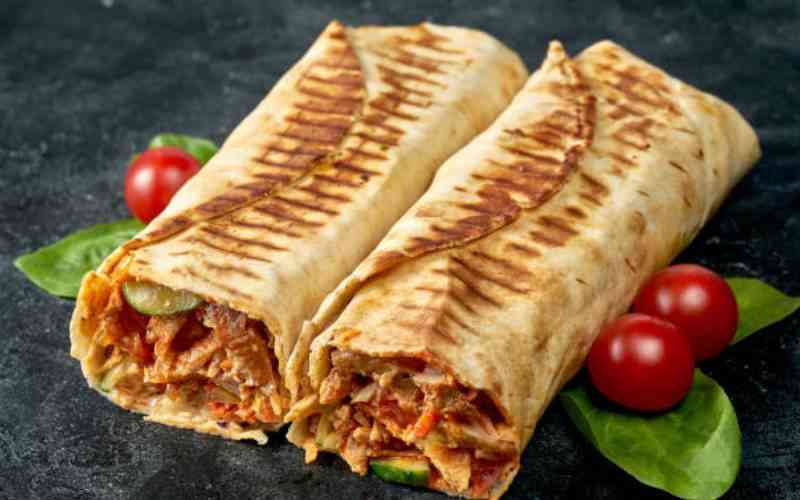 Shawarma is the undefeated Turkish snack of all time. The meat, sauce and spices come together beautifully to create a divine combo.
For you to get the full shawarma flavour, you need to have tasted the original kind. Not everything that looks like shawarma is a shawarma because it takes skill to prepare this snack the right way.
Traditionally, shawarma is to be made using a gyro machine which cooks the meat vertically. The heat also slightly chars the meat to give your shawarma that signature smoky flavour.
Most of us don't have that machine at home. But don't worry because you can easily make a classic shawarma with the tools you already have.
Follow this recipe to make the perfect shawarma:
What you need:
Chicken breasts, pita bread, four cloves of garlic, shredded lettuce, sliced onions, one teaspoon of garlic powder, one teaspoon of onion powder, one teaspoon of cumin powder, a half teaspoon of cinnamon powder, a half teaspoon of turmeric, a half cup of mayonnaise, a half cup of yoghurt, a half cup of ketchup, a half cup of sweet chilli sauce, chilli powder (optional), black pepper, salt, lemon juice and olive oil.
Step 1
Start by slicing your chicken breast into halves (horizontally) for it to cook faster and more evenly.
Next, take a clean bowl that's big enough to marinate the chicken in. You will then pour in the yoghurt, one tablespoon of lemon juice, one tablespoon of olive oil, onion powder, cumin powder, turmeric powder, a teaspoon of black pepper, garlic powder, cinnamon powder, salt and chilli powder if you want to add some spiciness.
Mix all the ingredients well then place the chicken in. Make sure the chicken pieces are coated well with the marinade, cover them with a lid or cling film and place them in the fridge for about an hour.
Step 2
While the chicken is marinating, it's time to prepare the shawarma sauce. Blend the four garlic cloves, mayonnaise, sweet chilli sauce, ketchup, one tablespoon of lemon juice, a pinch of black pepper, a pinch of salt and one tablespoon of olive oil.
Step 3
After an hour, remove the chicken from the fridge and heat up a pan with some oil. Let the chicken fry until evenly cooked.
For that smokey flavour, preheat your oven to 180C for ten minutes then let the meat bake for about 20 minutes. When it's done, you should see a bit of char on the chicken.
Alternatively, if you have a grilling pan, all you need to do is pour a bit of oil on it and cook well until you start to see some char on the surface.
Step 4
Once the chicken is ready, remove it and chop it into smaller pieces. You will then saute the onions for a few minutes.
Next, take the pita bread and warm it up in a clean pan for 20 seconds on each side. Then, spread some of the shawarma sauce and layer the sauteed onions, shredded lettuce and chicken chunks.
Before you roll it into a wrap, drizzle some more sauce for more flavour.
Step 5
Carefully roll in the ingredients into the wrap once, fold in the left and right sides once and complete the roll so that it's secure.
Transfer it carefully to the pan and let it warm up on each side for 20 seconds so that the edges are sealed.
Finally, remove them, slice them in half and enjoy!
Related Topics