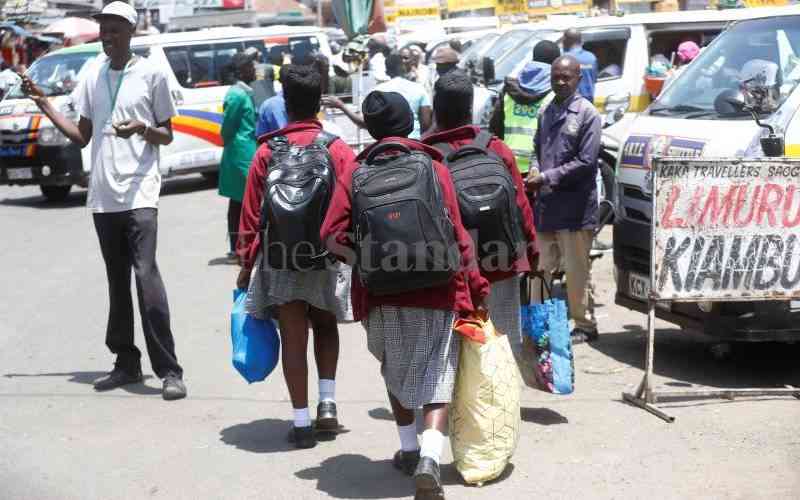 When Francis Morara scored a B+ in the 2020 Kenya Certificate of Secondary Education (KCSE) exam from Riokindo High School in Kisii County, he was elated.
Morara was even happier when he received an admission letter from the University of Nairobi to study his dream course – Bachelor of Veterinary Medicine.
This happiness was, however, short-lived when the reality dawned on him and his family. His parents could not afford to pay his university fees.
Morara was staring at only one option: to defer his joining the university and help his parents raise secondary school fees for his younger brother who was about to sit the Kenya Certificate of Primary Education (KCPE) exam and was promising to post exemplary results.
"My father is a peasant farmer whose produce is what we depend on for daily upkeep as a family, while my mother is a vegetable vendor in the local market. I was planning to join them in these activities to help them raise fees for me and my brother," he says.
Morara shared his predicament in the local church with the hope that some Good Samaritan would be touched to help him get university education. Someone was touched, alright, and they directed Morara to a website that they thought would help.
Today, Morara is a third year Veterinary Medicine student at UoN, with his first- and second-year fees fully paid.
The website he had been referred to was for the Kebaso Foundation, a family-run scholarship programme that pays fees for bright but needy high school and college students.
Morara visited the website and put in applications for himself and his brother, who is now in Form Two at Agoro Sare High School, courtesy of the foundation.
The story is a little different for Beatrice Owiti, whose daughter, Valeria Achieng, is in Form Two at St Theresa's Eregi Girls High School in Kakamega County and is fully sponsored by Kebaso Foundation.
Owiti lost her job at the height of Covid-19 pandemic and could no longer pay fees for Achieng, who was then in Standard Eight in a private school. She visited the foundation's page on Facebook and shared her story with the founder.
"The foundation does not sponsor primary school pupils, but because Beatrice's story was so touching, my wife and I decided to pay for her daughter's Standard Eight fees from our pockets," says Dr John Kebaso, the Founder and Chairman of Kebaso Foundation.
Dr Kebaso, an epidemiologist based in Delaware, says he and his wife, Dr Lenah Kebaso, registered the family foundation in 2020 as non-profit organisation in the US.
He says they realised many bright students in their home country drop out of school due to lack of fees and they wanted to contribute in a "small way" to alleviate the situation.
Dr Kebaso himself is a product of philanthropy; his school fees were paid by a generous family many decades ago, and "I felt the need to give back".
"We realised no one takes care of the needy, not even the church. So, we decided that instead of taking 10 per cent of our income to the church as tithe, why not invest it in a foundation that will help bright but needy children get education?" he says.
According to a report by Unesco, close to 35 per cent of Kenyan secondary school students will not complete upper secondary education by 2030 due to various reasons, including lack of fees. This is despite the government's heavy investment in the 100 per cent transition from primary school.
Dr Kebaso says 80 per cent of the funds for the foundation are from his family income. About 20 per cent of the funds come from other well-wishers, "most of whom are my colleagues at work, plus my employer – a pharmaceutical company based in Delaware – matches each donation towards charity up to $2,000 (Sh292,070) per employee per year," says Dr Kebaso.
So far, the foundation has provided scholarships to 41 students – 20 in high school and 21 in 11 universities across the country.
"This year, we are intending to increase our capacity and support at least 50 needy students in Kenya and increase our high school and college mentorship activities here in Delaware," says Dr Kebaso.
To qualify for the scholarship, a student must score at least a B- in their current or most immediate previous class and must prove that they are needy.
Related Topics