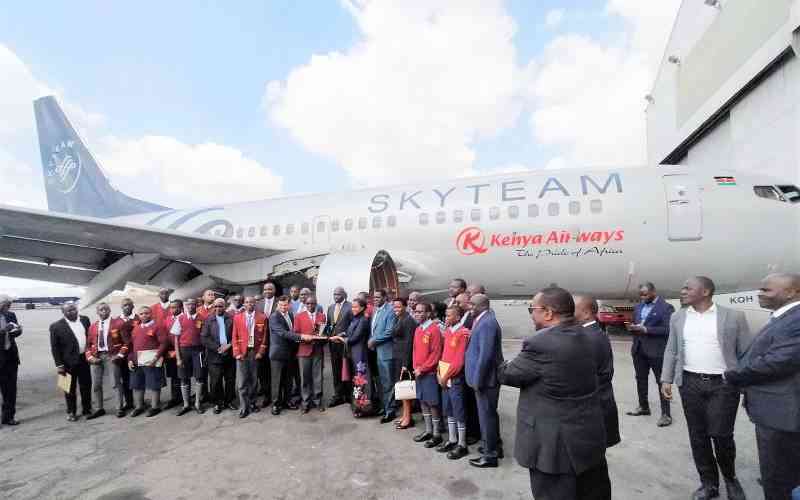 Kenya Airways has donated one of its Boeing 737-700 aeroplanes to Mangu High School.
The donation is aimed at supporting aviation studies in the school that will later feed the airline with personnel in the aviation sector.
The school, which will be celebrating 100 years next year, is among the first institutions to start teaching aviation studies in the country and has several of its former students working at the airline in various departments.
It also becomes the first to receive a complete aeroplane from the airline through its Corporate Social Responsibility (CSR) after donating an engine to the Technical University of Kenya in 2016 for the same purpose.
Transport Cabinet Secretary Kipchumba Murkomen said the donation is an act of nobility and an affirmation of KQ's support for the Competency-Based Curriculum (CBC).
He lauded the airline's CSR initiatives that bequeath students with tactical, technical and technological know-how that will give them an edge over their peers.
''I wish to thank Kenya Airways for this commendable act of CSR that will inspire hope in the students of Mangu High School, assist in the modelling of their skills and transform abstract theories into practicable concepts,'' said Murkomen
He added, ''This initiative also underscores the importance of Public-Private Partnerships(PPP) in advancing our government's education and aviation reforms and ensuring that our young people have access to the requisite tools and opportunities necessary for the creation of successful careers.''
The CS spoke today during the handover at hangar 1 at the airline's head office in Embakasi.
He said the aviation sector in Africa has expansive opportunities and vacancies that remain unfilled.
According to a recent report by the International Air Transport Association (IATA), Africa needs 55,000 skilled aviation professionals in the next two decades, including 15,000 pilots, 17,000 technicians and 23,000 cabin crew.
''The question therefore remains; how can we as a country, benefit from these opportunities? What do we need to do to establish dominance in the continent's aviation sector and export talent and skills to the continental and global markets?'' he posed.
He said one of the ways of doing this is by encouraging the creation of incubators for innovation and talent development.
Beyond its flight and cargo operations, KQ has an active aviation hub, known as Fahari Innovation Hub that acts as a springboard for new ideas and data-driven innovations.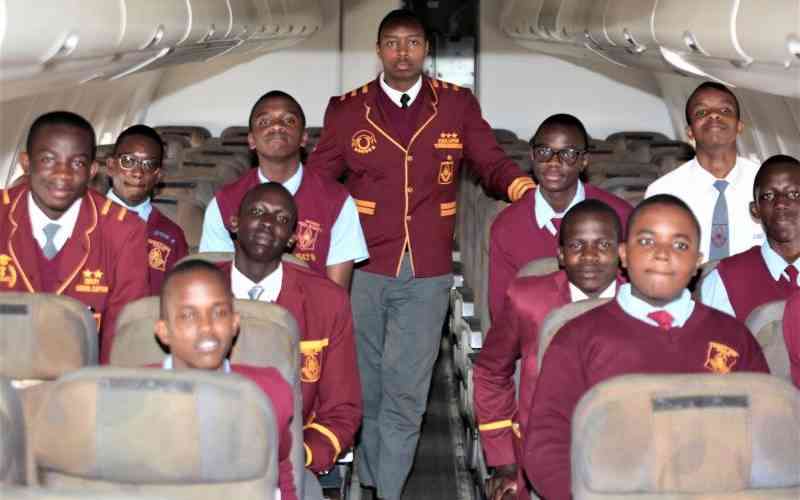 It also has an approved aviation school known as the Pride Centre that offers a range of courses to prepare candidates for a successful career in the aviation sector.
Kenya Airways chief executive officer Allan Kilavuka said the aeroplane boasts of impressive specifications including a wingspan of 35.79 metres and a length of 33.63 meters, making it substantial and iconic aircraft.
''It also has a seating capacity of 16 seats in the business class and 100 in economy and has served countless passengers throughout is remarkable career. Manufactured in 2003, it has aged for two decades, accumulating an impressive over 56, 861 flight hours and 20,966 flight cycles,'' said Kilavuka.
He added: ''It was retired from active service in December 2021 and now it embarks on a new journey as an educational tour for the Mangu High School students.''
KCB Bank has donated Sh5 million to support its movement from the hangar to the school and equip the school with aircraft learning equipment such as flight simulators and aircraft maintenance tools, while Crown Paints will donate paint for the repainting the plane that will now be registered as 5W MHC from 5W KQH.
Kilavuka, who reiterated that the airline will also offer technical support to the school, said they have started discussions with universities particularly TUK and Kenyatta University (KU) on matters aviation.
''This is to make sure that we are impacting influence in their curriculum to be relevant to us and meet current industry demands,'' he said.
Mangu High School principal John Kuria thanked the airline for the donation, saying it will further fire up the dreams of these students to achieve their dream careers
''It will also go a long way in ramping up the numbers of students in aviation technology,'' he said.
Mangu High School Alumni Association chairman Ronald Meru, who paraded four pilots who are alumni said aviation programme is the school's pride.
''The partnership will facilitate the aviation studies at the school and ensure the aviation technology is well taught in accordance with the standards that the students require,'' he said.
General Michael Gichangi, Kenya Airways board chairman and also an alumnus of Mangu said the school has been instrumental in the aviation industry of the country since independence and the donation is a major milestone will strengthen the impetus it has given to the industry.
Related Topics