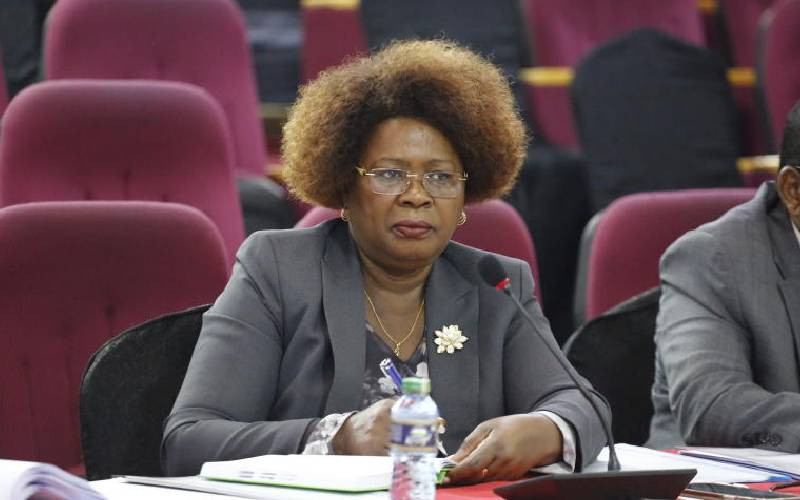 The implosion has started. Barely 24 hours after Deputy President Rigathi Gachagua fired a warning shot, first blood has been drawn.
Water and Irrigation Cabinet Secretary Alice Wahome and her Principal Secretary Paul Ronoh are engaged in high octane water wars. And Engineer Michael Thuita is the first casualty of the complex power play and fight for control of billions of shillings. He resigned yesterday.
The drama escalated on Friday after Chief of Staff and Head of Public Service Felix Kosgey, issued a press release signed by State House spokesperson Hussein Mohamed directing that Eng Thuita, the Athi Waterworks Development Agency CEO, be suspended to pave way for investigation.
CS Wahome has been embroiled in a tussle with her PS Rono over Thuita's suspension over alleged procurement irregularities of water projects, initiated in 2013 and 2017.
On May 24, Ethics and Anti-Corruption Commission CEO Twalib Mbarak wrote to the CS advising her to suspend Thuita. He claimed Thuita was adversely mentioned in the tender probe for construction of Ruiru-II, Karemenu and Kitui Matuu water projects worth over Sh50 billion.
Thuita resigned yesterday. "I wish to inform you and the entire board that I have taken the decision to resign from my current position as CEO of Athi Water effective today September 22. I wish nothing but success for the agency and the team in future," Thuita's letter read.
Within hours of his resignation, the board announced his replacement Eng Joseph Kamau in acting capacity.
While defending himself, Thuita said the projects under probe were initiated long before he joined the agency in August 2017. His term was to expire in May next year.
And last evening, CS Wahome issued a statement saying she supports zero tolerance to corruption and that she has not prejudiced any graft investigation.
Karimenu II Dam was first advertised on February 7, 2013 and the contract agreement signed on May 9, 2014. In 2017, AVIC INTL Project Engineering Company received 15 per cent of the contract amounting to $35.4 million (Sh4.9 billion).
Ruiru II Dam's project was awarded to Vinci Construction Grand Projects on May 25, 2017 and the contract signed five days later.
Before Thuita resigned yesterday, a section of leaders from Mt Kenya led by Deputy President Rigathi Gachagua had fired a warning shot at the government over 'mistreatment' of the region in reallocation of development funds.
They alleged a conspiracy to divert or re-allocate money meant for roads and water projects in the region. During the burial of freedom fighter Muthoni Kirima, DP Gachagua said the community's leaders will always shelve their political differences whenever their interests are threatened and speak in one voice.
"Mt Kenya people are unique. We talk differently and say different things but if our interests are threatened, we put our differences aside and speak in one voice as was the case during East African Legislative Assembly (Eala)," said Gachagua.
The Eala elections Gachagua was referring to caused jitters in Kenya Kwanza coalition after elected leaders met at State House to conduct mock elections, in an event presided over by President William Ruto but Mt Kenya leaders' candidate Maina Karobia did not sail through.
After realising this, the DP summoned all regional leaders at his Karen home and decided to reach out to Jubilee and Azimio allied MPs to vote for Karobia in exchange of Kanini Kega and the deal went through.
"I summoned all regional leaders and we spoke in one voice. That is why Kanini Kega is in Parliament today. That is Mt Kenya region for you. Nobody can divide this community if we feel our interests are threatened we unite like cement and building stones, we speak at night and wake up the following day as a team," Gachagua said.
The leaders are unhappy with the Kenya Kwanza government because of re-allocation of water projects in Mt Kenya, management of Athi Water Works Development Agency (AWWDA) and claims that Mau Mau roads tributary funds have been removed in the budget.
Things took a drastic turn on Friday when Mr Koskey asked Athi agency board alongside Central Rift Valley Water Works CEO Samuel Oruma to step aside to pave for a probe on procurement irregularities. But a section of leaders from Mt Kenya poured cold water into the suspension. Ruling UDA party secretary on legal affairs and Gatanga MP Edward Muriu claimed a bigger scheme in Thuita's suspension.
"The hurry to lock out Thuita from office with only four months to expiry of his contract stinks to heaven. I understand PS Ronoh has suspended approval for all payments in Athi Water paralysing its operations because he alone has concluded that Thuita is corrupt and he is supposed to be in jail," he said.
He added: "We are aware the PS is not acting alone, actually someone up there is holding his pen."
On alleged re-allocation of funds for Mt Kenya, CS Wahome upon finding out that Sh1.3 billion had been diverted, wrote a protest letter to her PS wondering why the funds were reallocated.
"In this regard, the National Treasury has approved re-allocation from the following projects, Athi Water Works Development Agency (Sh300 million), Nairobi Metro Area Bulk water services (Sh479 million) Ithanga water supply," part of the letter from Ministry of Finance to PS Rono and seen by The Sunday Standard.
Other projects whose funds have been re-allocated include Sh350 million for expansion of Dandora sewerage treatment, and Sh150 million for Northern Water Works Development Agency.
The funds were diverted to National Water Harvesting and Ground Water exploitation which will get Sh463 million and Water Sector Reforms Program which will get Sh916 million.
Of the Sh1.3 billion, Sh800 million that had been approved, Sh479 million was meant for construction of Ruiru Dam II in Lari and Githunguri constituencies, Sh300 million was for the last mile on water supply from Karemenu dam and the Sh100 million Ithanga water project was for the last mile connectivity after the Sh2.5 billion projected fully funded by Belgium government, is complete.
Wahome protested saying her office was not consulted and that reallocation would only mean stalling the projects. Through a letter to National Treasury CS Njuguna Ndungu dated April 25, Ms Wahome said the projects have crucial budget requirements that cannot afford reallocation.
"The request for the reallocation was not made in consultation with the relevant implementing Water Works Development Agencies and my concurrence was also not sought," Wahome said in the letter copied to her PS.
On Mau Mau road, Tetu MP Geoffrey Wandeto and Nyeri Governor Mutahi Kahiga protested cancellation of funds for construction of Muthuaini-Giakanja and Wandubi-Wamagana roads.
"The funds had been put in the budget but we hear they have been diverted. It will be a major blow to our region because the roads were to be made in honour of our Mau Mau generals," Kahiga said.
And Githunguri MP Gathoni Wa Muchomba faulted DP Gachagua for letting the region down. "In as much as I support DP Gachagua on unity whenever regional interests are threatened, I fault him because he should not be crying like me. He is supposed to use his position to lobby for our interests," she said.
And as the push and pull continues, Trade CS Moses Kuria has invited Jubilee leaders to his home and although he said the meeting was apolitical, it is thought to be about unity of the mountain.
Another leader suggested Kuria may have been directed by Gachagua to meet the leaders. But Kuria denied this saying: "The meeting is not for political reasons. I have friends all over and I'm known to keep them. Nobody has sent me to talk to them, it's only that they happen to come from Jubilee."
Related Topics