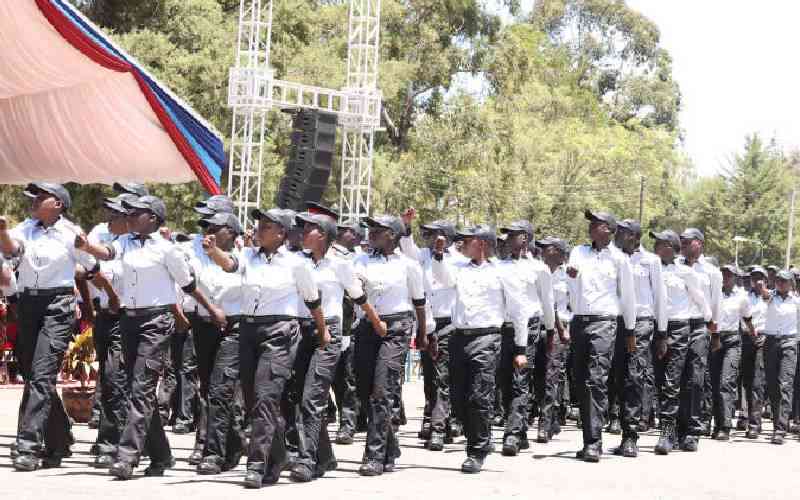 The taxman has backed the rollout of new personnel to boost tax compliance despite mounting concerns from a section of traders and businessmen.
Some traders in Nairobi's commercial hubs had in interviews with The Standard accused the newly deployed personnel of harassment.
But in a statement yesterday, the Kenya Revenue Authority (KRA) said the 1,400 personnel known as revenue service assistants have been deployed across the country to allow for a "more facilitative approach with taxpayers."
"The field officers are part of KRA's reforms initiative aimed at enhancing productivity and culture, in order to deliver quality and friendlier services to taxpayers," said KRA.
"The field officers have been equipped with knowledge and skills to handle tax-related processes through a capacity building programme comprising KRA core values and tax modules."
The government earlier said KRA will end its controversial aggressive pursuit of tax cheats marked by raids on premises by its officers and property auctions, under the new administration.
President William Ruto and his deputy Rigathi Gachagua had promised that the taxation system under their leadership would be reformed to ensure "fairness" and "equity" adding that all potential taxpayers would be brought on board in a bid expand the tax base and boost compliance.
"We will make KRA more professional, efficient, responsive and people friendly," President Ruto said.
Signalling that KRA was faced with an overhaul, Gachagua had further said the tax agency would end its aggressive actions in enhancing compliance.
"We want a good working environment where we don't criminalise enterprise," he said.
KRA said on Monday the new officers have been deployed at tax service offices across the country and will support taxpayers in updating the correct details on their iTax profiles, and registration of trading businesses that are not registered with KRA.
It added this includes the addition of applicable obligations, verification of details such as location, and contact information and support of taxpayers to comply with other tax regulations.
"KRA remains committed to supporting all taxpayers in their compliance journey, and encourages the public to interact with the field officers and let them know how they can be of assistance," said KRA.
Traders had earlier faulted KRA's aggressive pursuit of suspected tax cheats marked by the raids on premises by KRA officers and property auctions.
KRA had earlier hinged its aggressive action on the Tax Procedures Act, which empowers it to seek taxes directly from third parties like banks, employers and suppliers as well as seize and auction property to recover unpaid tax.
The taxman is tightening the noose on taxpayers after Ruto set a target to double tax collections by the end of his first term in 2027.
Related Topics