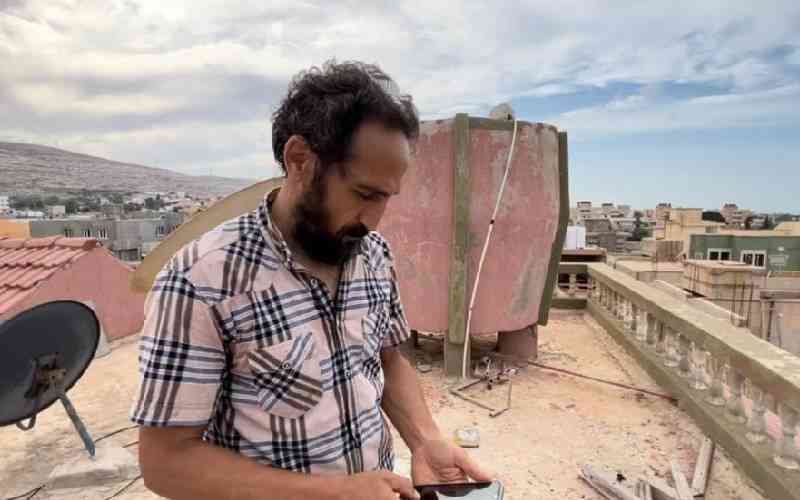 Last weekend, Sami Albah, 59, and his sister were preparing for their brother's wedding in their home city of Derna, Libya.
She had flown in from the United States for the nuptials and Albah, an architectural engineer, was hosting her in his hillside apartment.
On the night of the floods, it was raining hard and they heard there was a major storm coming in. But this kind of weather was not unusual for the Mediterranean city, known for picturesque hills, valleys and sea views. They went to sleep.
"We were so glad that he was going to get married," said Albah, standing on the roof of his apartment building on Sunday.
On the streets below, volunteers combed the rubble for bodies as he spoke, and newly homeless families searched for food and water.
As the siblings slept, their other sister, her husband, four children and their grandparents were resting at home in the nearby valley. When the storm waters engulfed their three-story building, they evacuated to the roof, thinking it would be safe.
But on the rooftop, they saw waves leap 10 meters over their heads before the entire family was swept away by the raging waters. Sometime later, the husband, Albah's brother-in-law, woke up some 700 meters from his home. His wife, children and parents were gone.
Since then, Albah and his brother-in-law have been searching, at first for their loved ones and now for their loved ones' bodies.
"We only found two girls from the four children of my sister," Albah said. "Two girls we buried."
Aftermath
Officials estimate the death toll could be more than 11,000 when they find all the bodies, in a city that was roughly 120,000 people. Local leaders guess the final toll could reach 20,000.
On the rooftop, Albah continued speaking, saying his family's story was not even unusual. Survivors from Derna's valleys, Albah said, all have stories of unbearable loss and horror that rival Hollywood movies.
"Many survived deadly hours, watching people … taken by the flood without the possibility of helping them or trying to help them," Albah explained. "Just they could help their own beloved ones. They had their kids in between their arms while watching cars and buildings [taken by waves with people in them]."
Every day, volunteers locate the bodies of more missing people, he added, and the horrors multiply.
"Tomorrow I will hear about new beloved ones who died so that I will forget about the ones I heard today," Albah said. "We cannot manage all this loss."
Future aftermath
The losses, he added, are expected to continue.
Volunteers in Derna are trying to stave off diseases that can follow massive floods, but some authorities say as many as 150 people have already been poisoned by polluted water.
Tens of thousands have fled, and analysts worry that landmines left over from Libya's multiple wars over the past 12 years have shifted from the flooding, posing further dangers to those in transit.
For those still at home, Albah said, the city's future looks impossibly bleak. Primary electricity, water and sewage lines are damaged or destroyed and entire neighborhoods have been swept out to sea or demolished. Even crossing the city is difficult, with roads and bridges destroyed.
When his two nieces were buried, Albah and his sister missed the funeral because it now takes more than two hours to drive to the other side of town.
Humanitarian aid is coming in now, said Albah, but it is expected to dwindle as winter approaches. People are camping on the streets and crowding into other families' homes, short of electricity, fuel, clean water and food.
"We have lost our beloved ones," he said. "All of our friends, all our streets, all our stores, all our memories."
Imagining any future at all, he continued, feels strange as they reel from the weight of the destruction.
"I don't know where to start and where to end," he said. "We are trying to find hope that maybe our sister will be found and that we could see her before we bury her."
Related Topics