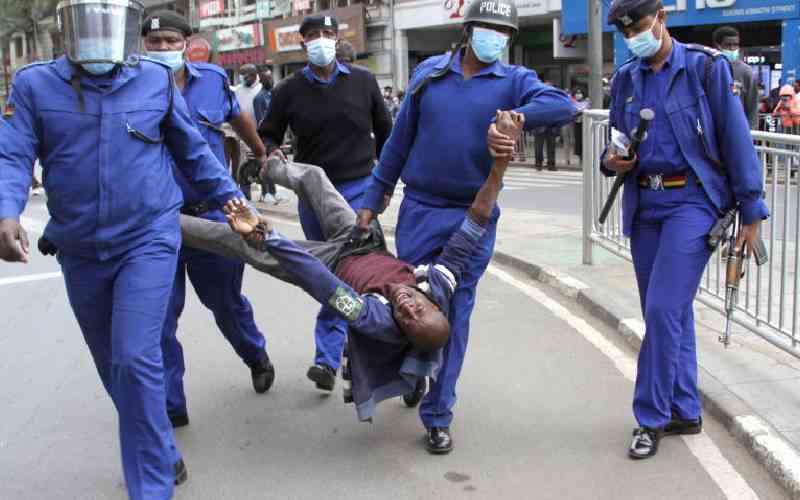 Flying to an international conference should not be a matter of distress for presidents. The relatively few African Heads of State at this week's African Climate Summit was unfortunate.
It is a wakeup call to Kenya and other African countries seeking to provide regional and international leadership. While the summit successfully closed with a clear demand to developed countries to honour their annual US$100 billion pledge, accelerate innovative climate financing and reduce fossil fuel emissions, the absence of several presidents raised eyebrows.
A delegate joked to me, perhaps they feared to travel in case they were also forced to dance to Bongo Flava.
As delegates were boarding their flights to Nairobi, the world's eyes had been on Gabon and its deposed President Ali Bongo Ondimba.
Gabon has a population the size of Nakuru but thanks to timber, manganese and oil, an economy the size of Kenya. The Bongo family dynasty has privatised the vast wealth of Gabon for five decades.
Last year, French authorities prosecuted 9 of his 54 children for real estate related fraud cases amounting to Sh13 billion. Faced with a violent and popular coup d'etat, Ondimba's appeal for "noise" to restore him back to power generated derision and ridicule instead.
That viral video earned him several memes but little public action in his defence. Ironically, five decades of suffocating a free media and civil society and destroying his nation's faith in constitutionalism and democratic institutions had left no-one to protect him or his government.
Malcolm X would put it, the chickens he had hatched, simply had come home to roost.
Kenya draws its international legitimacy and moral influence from its constitutional order, active citizenry and civil society, an independent press, Judiciary, and several oversight agencies.
None of our regional neighbours can match the degree of openness, safety and stability we enjoy. Among the 500 million asylum seekers and refugees within our borders are journalists, anti-corruption whistle-blowers, environmental defenders, political opponents, and others persecuted for their identities, beliefs, or actions.
Reflecting on the specific experiences of human rights defenders in exile, it occurred to me that while the Kenya government is obligated under the 1951 Geneva Convention and humanitarian law to provide protection to refugees, it also makes good geo-political sense.
Gabon and the six countries who have experienced coups in the last three years, all have one thing in common. Their governments stopped listening to their people, criminalised independent leadership and finally, made non-violent dissent impossible.
Stabilising the region requires rebuilding a belief in democratic institutions by political elites and replacing extremism, violence, and despair among their populations.
If it chooses, Kenya could be well placed to do this. It will need a deliberate respect for fundamental freedoms and human rights at home. It will also require overhauling of the humanitarian system and faster implementation of the Kenya Kwanza policy of refugee integration.
Mass registration of asylum-seekers needs kick-starting, and the state must reverse the growing trend of abductions and deportations.
It is seven months since refugee Moses Mabior Awijok was forcibly arrested in Nairobi and it is widely believed, deported to South Sudan. There are worrying reports of Rwandese, Ethiopian and other asylum seekers being renditioned back to governments hostile to them.
If it is important for Kenya to remain safe for all who seek sanctuary, it is also critical to publicly condemn the rights violations captured in this week's report on rape, sexual slavery, extra-judicial executions, and pillage by Eritrean forces in Tigray, Ethiopia.
According to Amnesty International, between October 25 and November 1, Eritrean soldiers may have extra-judicially executed 100 people, raped, and sexually enslaved 40 women after the agreement to cease hostilities last year.
Every one of the recent coups in Africa took years of regional neglect to build up the pressure to implode. If we neglect to place human rights and good governance at the centre of Kenyan foreign policy, we had better start practising Bongo Flava dance moves.
Related Topics