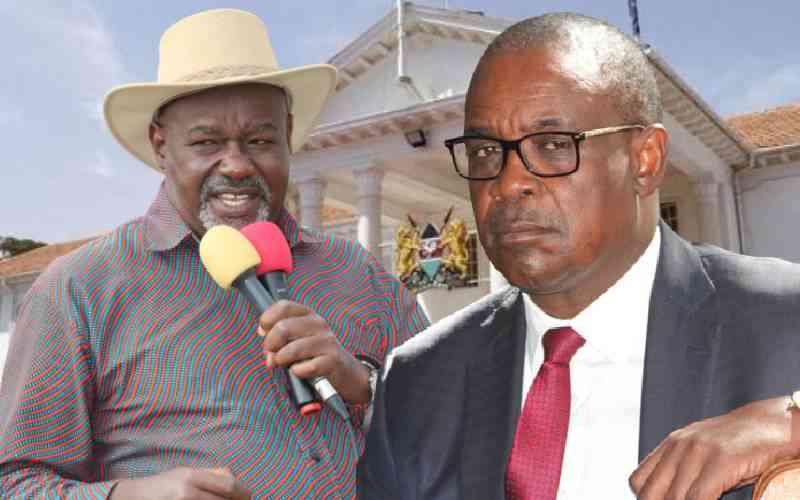 President William Ruto's nomination of 50 Chief Administrative Secretaries opens the door to one of the most bloated governments at a time when the state and people are at their most financially vulnerable in decades.
Chief Administrative Secretaries were controversial under the Uhuruto administration. Predictably, Kenya Kwanza promptly walked into a Law Society of Kenya lawsuit last year when they abandoned their promise of a lean, diverse, and professional cabinet and reintroduced this layer.
Now clear of the Judiciary, the latest State House list betrays public trust in at least three ways. Only those with the most acute of amnesia have forgotten that the Public Service Commission advertised for 23 CAS positions and reaffirmed the same number in a formal affidavit before the High Court. In nominating more than double that number, State House may have scored a legal own goal and jeopardised the process.
In nominating 13 women and 37 men, State House has also torpedoed its own two-thirds gender promise. Thirdly and perhaps most worryingly, Kenyan taxpayers face another very pointless bill.
Each one of the CASs will receive monthly salaries of Sh769,000, a Sh10 million car grant, Sh35 million mortgage and Sh10 million in-patient health insurance. This one decision could expand the Cabinet bill to Sh13.2 billion over the first term of Kenya Kwanza.
The prospects of additional costs emerge as the national fiscal deficit seems set to surpass Sh720 billion. As the IMF and World Bank demand wage bill cuts, it is horrendous that the national administration could be planning to blatantly waste precious resources.
It is worth reminding the fifth Presidency, we have six million starving people, intense banditry fuelled by few economic livelihoods across six counties, two million children out of school, millions without medical care and no serious social protection package on the horizon.
Surely, as The Institute for Social Accountability (TISA) noted this week, this is not the time to encourage an obese state.
Facing direct backlash from the public and their own supporters, state officers led by Deputy President Rigathi Gachagua are floundering at a critical time.
Originally marketed as liaison officers between ministries and the National Assembly, the argument has now switched to the foreign market opportunities they will generate.
Kenya has 54 embassies and high commissions and 31 consulates across the world. All 85 offices have staff trained in economic diplomacy and tasked with increasing markets for our produce.
Simply put, Kenya cannot afford the expense of ministerial level liaison officers and marketers at this time. These functions can be adequately managed by the current pool of cabinet secretaries, principal secretaries and ambassadors.
Ministries must not be turned into lifeboats for internally displaced politicians.
Allow me to resist the temptation to surgically dissect the list but once again, political expediency rather than academic qualifications, professional experience and ethical values informs most of these choices.
Not teachers, health-workers, small and medium enterprise advisors, police officers or the 50,000 graduates trooping out of our university and tertiary institutions annually, but politicians.
The greatest threat of obesity is not the shortness of breath, fatigue, or joint pain. It is the tremendous pressure it puts on our heart. Expensive, redundant offices with duplicative functions managed by people whose primary value is once in every five years is a clear way of destroying the heart of any administration.
With the economy on its knees and persistent street protests not only by the Azimio opposition but several groups of citizens struggling with the cost of living, appointing 50 CASs seems almost suicidal. We must prevail on the sanity of those in the house on the hill. Recall the list Mr President. Members of Parliament, please uphold the law and reject this unconstitutional and costly list.
Citizens, businesses, and civic organisations raise your voices. Nominees, make history and decline these appointments. The interests of 56 million Kenyans not political expediency must guide our government.
Related Topics