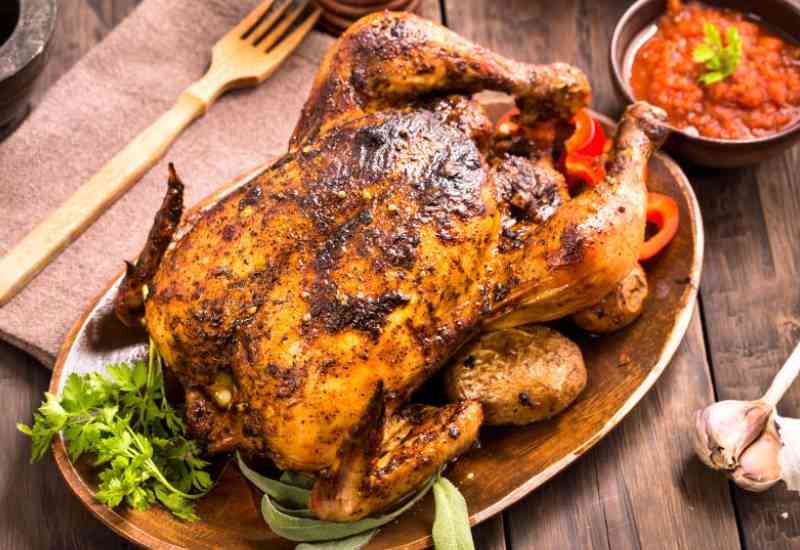 The best part about home cooking is that there are so many dishes to explore. A classic one that you might or might not have tried before is roasting a whole chicken.
Roast chicken has this unique burnt flavour and crispy exterior that can be hard to pull off if you don't know the right steps. So, allow us to guide you on how you can make the perfect, whole, roast chicken in the comfort of your home:
What you will need:
The basic ingredients for this recipe are; a whole gutted chicken, salt, garlic powder, thyme, black pepper, parsley, olive oil and four lemons. With time you can customize your spice options but these can be your basics.
For the tools, a clean chopping board, a big bowl, a baking tray and a sharp knife will suffice.
Step one
The first step is to prep the chicken. You will carefully remove it from the packaging and place it on your chopping board.
Next, with its back facing upward, locate the backbone. With your sharp knife, cut the backbone vertically on both edges and remove it. This will open up the chicken and allow it to cook more evenly. After this step, you can choose to make a slit in that cavity in between the wings to spread out the chicken more.
Step two
Here, we will clean the chicken. Start by plucking and scraping out any feathers that may have been left behind. You can also cut off the wings or leave them behind if you like.
If you need to remove any excess fat or other unwanted parts, do so at this stage. And don't forget to repeat this cleaning process with the backbone piece as well.
Next, cut the lemons in half, place your chicken in a big bowl and squeeze the lemon juice all over on all sides. As you squeeze out the juice, rub the chicken with the lemon slice and make sure you reach all hidden corners. When done, rinse the chicken with fresh water and place it on your clean baking tray.
The lemon juice will help get rid of any bacteria and impurities. It also gives your chicken a nice fresh flavour.
Step three
In this step, you will preheat your oven to 180C for ten minutes. While it's preheating, gather your spices and olive oil.
Drizzle some olive oil all over your chicken, not forgetting the backbone, to give it that signature crispy exterior. You will then need to mix all your spices in a bowl, according to the amount that's enough for you, and then rub the seasoning all over your chicken. To add more flavour, get some of that seasoning underneath the skin.
Step four
Once the preheating process is done and you have applied the seasoning, place the chicken in the oven for about an hour and ten minutes. After every 30 minutes or so, scoop some of the fat on the tray with a spoon and pour it all over the chicken. This will prevent it from drying out and give it a deeper flavour.
Once the time is done and you see that slightly charred exterior, you will know your chicken is ready.
Take it out, garnish it with a herb of your choice and enjoy!
Related Topics