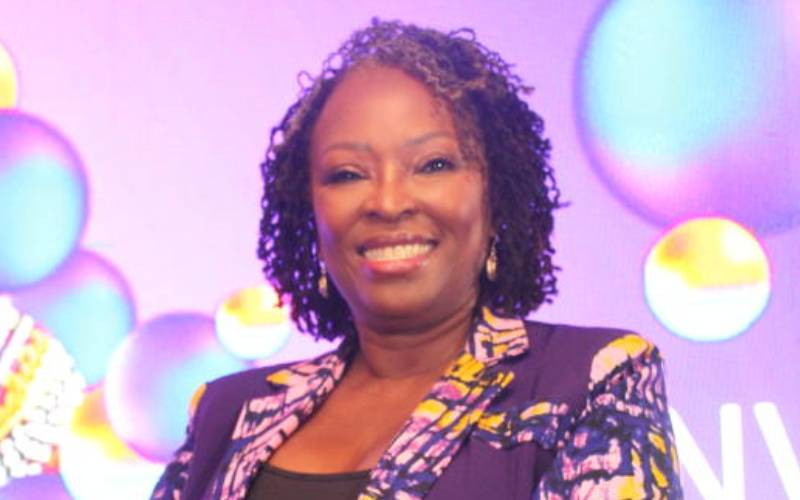 The passion in Patricia Ithau's voice is palpable. Her vocabulary is filled with adjectives such as exciting, incredible and huge. It is further punctuated by phrases such as 'watch this space' or 'it is really going to change', which tells more of her passion for the marketing space.
It has been a year since she took office as the chief executive at WPP Scangroup, a Nairobi Securities Exchange (NSE) listed advertising firm, and it has bounced back to profitability, from a Sh37.9 million loss to a Sh75 million profit.
The calm after the storm, she took over after former chief executive and founder Bharat Thakrar was suspended and opted to resign over misconduct allegations which the firm later cleared him of.
Financial Standard had a chat with Ms Ithau who shared insights on her one-year experience at the firm, her strategy going forward, why technology is the key to the business and her fearless approach to new ventures like Non-Fungible Tokens(NFT).
How has your first year at WPP Scangroup been?
Let's start with the fact that it has gone quickly.
I guess this happens when you are having fun. I have not at any time had a moment to regret my decision to have joined this organisation.
Just getting into it, and seeing the enormous potential that the business has been very enlightening. It confirmed the things I knew about the foundation and history of this organisation and why it is where it is.
Did your three-year tenure earlier as a board member in the company play any role in your settling in the office?
In some way, I can say that it had. My learning curve was a lot shorter. I left the board in 2020. The beauty of it is when you come back, you are familiar with the business. It really helped me get grounded a lot faster.
You took office following a turbulent leadership row that was public. How did you go about building confidence with clients afterwards?
I think clients look to see 'are you serving us?'; that is what matters. They look to see who are people doing the work and if the work is getting done. And that is the confidence that I have spent the last year building.
You moved from a loss to now profitability. Do you have any secret to that?
We still have a ton of work to do to unlock value in this organisation. A lot of the profitability came from the assets that we have in the form of cash.
We are indeed a very liquid business which is a huge advantage. The next thing is how to turn that asset to even work harder for us. For me, going forward, what is important is that it is more sustainable fundamentals that really drive our profits, in particular operating profits.
How do you plan to take advantage of booming regional and continental trade?
Where we are blessed is we have businesses on the ground in all the different economic trading zones. We have businesses in Zambia, Tanzania and South Africa - that helps us with the Southern African Development Community (SADC).
We have businesses in Ghana and Nigeria; that helps us with Economic Community of West African States (ECOWAS). We have a business with Kenya, Uganda and Tanzania which helps us with EAC.
Just having that helps us because we can shift and lead our business based on what works.
As a regional business, you are among those affected by 16 per cent VAT on exported services which was recently scrapped. How do you see business going forward?
I think this will be a fantastic positive because it had a huge implication for us.
You can imagine when you are working with a regional business like Airtel if a core team is based here, and we do a service across the different markets they are in, trying to charge VAT on that, it came as a surprise to us last year. So the reversal of that will really help us in terms of allowing us to be more flexible.
You are bold in getting into Non-Fungible Tokens (NFT) as part of growing the business. Why as other businesses avoid them?
Oh, they don't. But we want to be ahead.
Actually, if you look at creativity at some of the global businesses, they are starting to use NFT in terms of creating promotions. It is fascinating. If you study some of those NFT promotions, you find they can be used as a promotional tool, which consumers pick up, and when you get X number, you can then go and claim them, for a particular product like a food product.
Or where you have a particular brand where you get consumers to design the best one using an NFT and you get people to buy and use it and through it, you are creating the story of that particular brand.
It is incredible; very futuristic but we have to test it right now.
What role will technology play in the future of the business?
I am absolutely passionate about the future of data and technology when it comes to marketing and communications in the future. If we do not get that right, I think we will be left behind.
I am also passionate about the reality of the organisation. The shape of organisations has completely changed. If you are not nimble or agile and recognise that you need an organisation that has a lot of flexibility.
A lot of people now want to be virtual, they talk of the gig economy. If you do not recognise that it becomes difficult in the sector we are in where we deal with young people.
Where do you derive your passion?
I love this. I mean it. This is a space I enjoy. If you do what you enjoy it will show. And I really enjoy this.
Related Topics