In a testament to the indomitable human spirit, Felix Orinda, popularly known as DJ Evolve, says he is happy to see every new day following the tragic shooting incident in January 2020 that left him paralyzed and confined to a wheelchair. The 36-year-old Disc jockey told The Nairobian that he finds happiness and gratitude in each new day despite being confined to a wheelchair and spending hours with his loyal friend, a Chiwawa dog.
Evolve, who named the dog Tandi, stated that he still enjoys music and considers himself to be the best selector in the country, confident that he will continue to entertain Kenyans in the future.
"I am grateful to see each rising day and find solace in the assurance I get from people close to me who surround me," Evolve told The Nairobian in an exclusive interview, adding, "I wish I could play more music, but right now my hands are not as fast as they used to be, though I know with more practice and the consistent physiotherapy I'm receiving, I'll get better. I will be the best DJ again."
Since the tragic shooting incident in January 2020 at the B-Club entertainment spot in Kilimani, that left DJ Evolve paralyzed, his journey has been one of remarkable resilience and inspiring recovery.
A visit by The Narobian to his home in leafy suburbs in Nairobi showed that despite the challenges he has faced, DJ Evolve's unwavering positivity and resilience shine as a beacon of inspiration.
A closer look established that the DJ, who recovered his voice a couple of weeks ago, has made remarkable advancements in his physical recovery after months of rigorous medical care and therapy.
Paralyzed from the neck down
His indomitable attitude and the love of his family have carried him forward even though he is still paralyzed from the neck down, enabling him to acquire strength and approach life with a new sense of purpose.
Although still facing physical challenges, DJ Evolve's voice has returned, and he has made remarkable progress in his recovery, thanks to intensive medical care and therapy.
"I have been lucky to receive support both from my family and friends and from Babu Owino, who has maintained a cordial relationship with me even as I undergo health and physical rehabilitation both at home and in a Nairobi hospital," he said.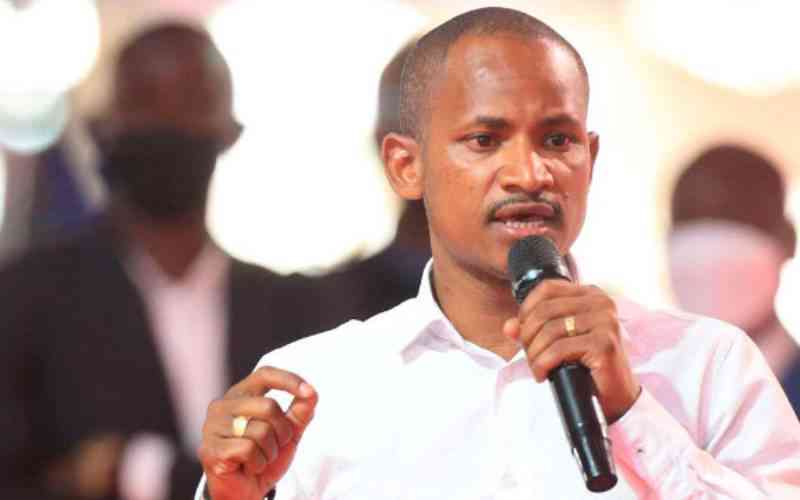 He said that apart from being able to communicate using his voice, he is also able to partially use his limbs and heavily appreciates what life can offer.
"I have had other near-death experiences before, but the gift of life should be celebrated every time you can open your eyes and see a new day and share it with people who love you unconditionally," he said.
During the visit, the DJ had no difficulties entertaining guests, selecting music, and engaging in heartwarming conversations.
With his unwavering spirit, he continues to inspire others, sharing his love for music and expressing his desire to recover and entertain Kenyans once again.
"I dream of writing an inspirational book and delivering motivational talks, spreading hope and encouragement to others," he said.
The DJ was surrounded by his family and friends, whom he said have always been close to him, offering him the support he desperately needed when the Nairobian visited.
"I love to go on nature drives once in a while when I have the energy. Particularly, I love the meandering views of the peaceful tea estates with a cool breeze in Limuru," he told The Nairobian, adding that it helps him connect with the outside world.
His family said that they are happy that his rehabilitation is going well and that he can communicate through the phone by calling and texting.
"Flowers are therapeutic and pleasant to receive whenever visitors come by. I just find love and peace in them," he revealed.
He added that he spends most of his time in the main sitting area with a huge screen and top-notch musical surround system, which entertains him on his special electric medical inclinable bed, which allows him to elevate to different adjustable positions via a control board that he uses.
He added that though he does get to step out occasionally to bask in the sun on his balcony, he does enjoy long drives to the serene and scenic outskirts of the city once in a while.
The family said that to keep his brain alert and active, Evolve ensures he is active by watching news, sports, and music.
"He always has his alarm set so he does not miss any of his favourite sports." He particularly loves watching the Formula 1 Grand Prix and tries not to miss it for anything. He is such a huge fan," revealed his younger brother Don.
The brother said that he remains a top music selector in the room and astonishingly entertains his guests, siblings, or himself when he selects the music.
Dogs are man's best friend
"Ever since the incident in which he suffered the serious issue, but thanks to the great care he was accorded immediately and is now on the mend, he has acquired a best friend who is always by his side, a cute white chihuahua with whom they share a unique bond," the brother added. "Dogs are man's best friend, and I can attest to that."
With his voice back, evolve has still not lost his charm or his witty, engaging conversations.
"I am happy to be alive." I am happy because my heart still beats," he said excitedly, smiling and laughing.
Initially, Embakasi East MP Babu Owino was charged with attempted murder following the incident, but the charges were withdrawn following an application filed by DJ Evolve.
However, the State went ahead to charge Babu with mishandling a firearm, resulting in the shooting of the DJ at a club in Kilimani in January 2016.
Last Friday, Owino told the trial magistrate Benard Ochoi that his gun had jammed, and therefore, there was no possibility that it was the one that fired.
He also told the court he has spent Sh58.6 million on DJ Evolve's medical.
"I have been friends with DJ Evolve since 2015. While in Nyalenda slums in Kisumu, I vowed that I would always give back to those who needed help if I ever made it out of poverty," Owino stated.
Owino also revealed he bought a Sh17 million apartment for the DJ in Kilimani, where he currently stays. Additionally, Babu Owino has revealed plans to open a specialized DJ academy to further support DJ Evolve's passion for music.
Related Topics