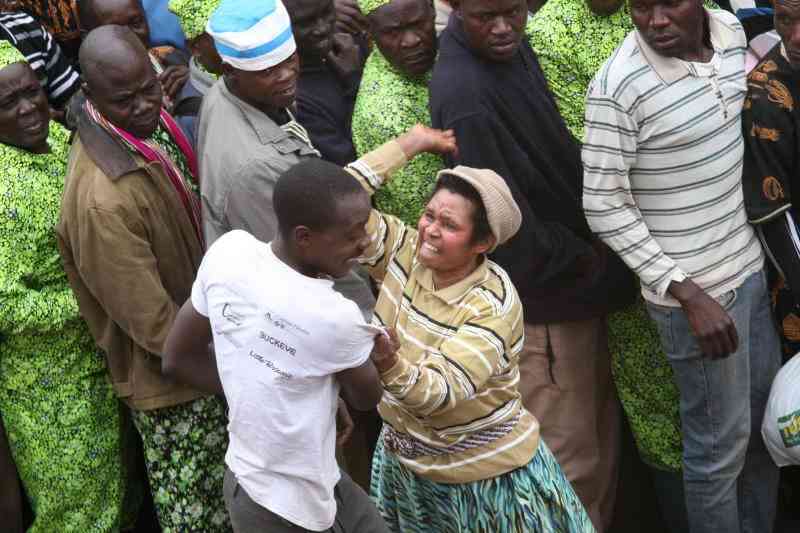 Mary Akasta, Founder of Jerusalem of Christ Church is popular for 'disciplining' late comers to her church. The self-declared prophetess never hesitates to slap her followers -including men- in Kawangware slums where her church of 6 million followers, is headquartered.
Physical assault, appears to be her default reaction. When congregants seek spiritual guidance, they receive a whopping, when they confess their sins and other criminal activities, the reaction is usually the same.
Why would a grown man, a father perhaps, endure public humiliation in the name of spirituality? To many of her congregants, Akatsa is no ordinary spiritual leader, but a preacher who meets both their needs for physical and spiritual nourishment.
Unlike most prosperity gospel preachers, she doesn't insist on tithing. If her followers have nothing, the prophetess prays and feeds you instead; as one of her faithfuls, Ruth Wanjiru says.
How she changed our lives
The woman who relocated to the US with her parents and siblings attributes their fortunes to Prophetess Akasta's kindness.
More than 30 years ago, Wanjiru's mother was abandoned with seven children by husband who had gone to study in the states.
To bring up her young family, she got employed as a housemaid and was soon diagnosed with breast cancer. When Wanjiru's mother visited the prophetess she fed them and prayed for healing.
"I was maize farmer," says Akasta adding that she would share part of the harvest with Wanjiru's mother.
Wanjiru, first born in her family, is grateful to her mother (Akasta) for, "Praying for my mum and she recovered from breast cancer."
Meanwhile, their father returned from the US, reunited with the family and now they all live in Chicago
When she is not in church casting out demons, Prophetess Akasta is busy on her farms in Nairobi and her home county of Kakamega, where she grows cabbages, potatoes, cassavas, bananas and sugarcane.
Part of her harvest is for charity because, "It is wrong to preach to faithfuls who are hungry and desperate."
Tough love
"To save the youth, I have to beat them up and since I do this to help them, I don't give them room to trouble me," she said adding that, after rehabilitation, they are deployed on her farms.
"Jesus also beat up people who were engaging in business outside a synagogue," she said, adding that Proverbs 23:13 warns parents against failing to discipline their children. Spare the rod and spoil a child, reads the verse.
Akatsa implores upon drugs dealers and other petty crimes to abandon their evil acts and join her missionary work.
Rough childhood
Akatsa is hailed by her congregants for being a strong advocate of education.
"When you feed your worshipers, provide them with clothes and shoes, they will be happy," the preacher who grew up as an orphan says that it pains her to see children drop out of school for lack of fees.
"I never had the opportunity to go to school myself and this should not happen to any other child," she says.
Without parents, she overcame many difficulties.
"As a house maid, I used to earn Sh250 shillings monthly. My employer deducted Sh200 for housing me and I asked my employer to save the remaining Sh50," she told The Nairobian.
After several months, she invested Sh400 savings in farming. At one time. she was able to harvest over 250 bags of maize. Moving on, she leased a bigger portion of land and after a number of seasons, her wealth grew.
"I respect hard work for it has helped me to reach where I am and expand my mission work," she said.
Her vision is to grow her ministry and by helping humanity, she believes God will reward her.
Related Topics