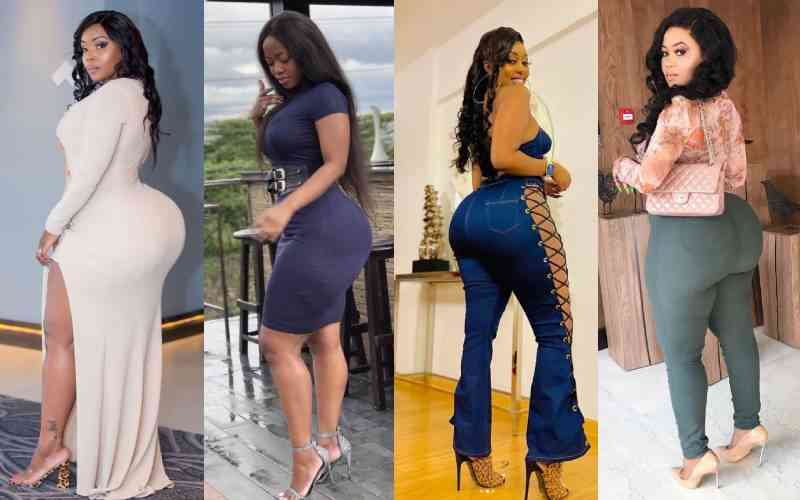 Forget selfies, everyone's now gaga about belfies (butt selfies), with celebrity influencers cracking their backs to get a better angle of their bodacious backsides.
Big buttocks have today become the currency of social media.
Go on TikTok or Instagram and chances are that within seconds you will come across a woman showing off her backside. Some while pretending to be doing something else but keeping the camera's focus on their back.
The butt fascination has become so big that women undergo surgery to achieve that desired derriere.
But where did the obsession for big bottom girls stem from? The phenomenon is not new as most of our historical art, all the way from the fifteenth century, captured paintings of the human butt.
Evolutionary psychologists have opined that rounded buttocks may have evolved as a desirable trait as they provide a visual indication of the woman's youth and sexual maturity.
Some evolutionary biologists surmised that the big bum allure stemmed from an inherent association of the behind with fertility. And since hormones play a significant role in the body's fat placement, women are biologically predisposed to having bigger butts and hips due to the higher presence of estrogen in the bloodstream.
In his book, Studies in the Psychology of Sex, British psychologist Havelock Ellis claimed big hips were a mark of fertility and beauty.
"Thus we find, among most of the peoples of Europe, Asia, and Africa, the chief continents of the world, that the large hips and buttocks of women are commonly regarded as an important feature of beauty," Ellis wrotes in his book.
"This secondary sexual character represents the most decided structural deviation of the feminine type from the masculine, a deviation demanded by the reproductive function of women, and in the admiration it arouses sexual selection is thus working in a line with natural selection."
To support this theory, a study done at Bilkent University in Turkey involving 300 men found out that it was not the backside that men were lustful for but rather the curvature of the spine, otherwise known as vertebral wedging. One of the researchers in the study, Dr. David Lewis, said that vertebral wedging developed out of necessity.
"It would have enabled ancestral women to shift their centre of mass back over their hips during pregnancy, a time during which there is a dramatic forward shift of their centre of mass," he said.
"This benefit is critical. Without being able to do this, women would experience a dramatic increase in hip torque, subjecting them to risk of muscular fatigue and injury," he added.
Other anthropologists have insinuated that human beings are the only primates to develop breasts because they resemble shapely buttocks.
But flash forward to the 21st century, where big bums are prominent on the internet, in magazines, and in music videos.
Take, for instance, the classic 1992 hit, Baby Got Back by Sir Mix-A-Lot where he sings, "I like big butts and I cannot lie, you other brothers can't deny, that when a girl walks in with an itty bitty waist, and a round thing in your face, you get sprung."
We also can't forget how Beyonce made sure just how good her backside was with her 2002 hit track, singing, "Cause my body too bootylicious for ya, babe."
The era is filled with the likes of the Kardashian sisters, whose bottoms have grown with their bank account balances, making their posteriors as prominent as their careers.
But the big bum fascination is very much on the rise in Kenya as well, with socialites such as Vera Sidika, Risper Faith and Corazon Kwamboka, enjoying massive followings on social media curtesy of their bodies.
When Corazon first appeared as a magazine cover model for Pulse, a lot of men were curious to know who she was. The now Law graduate had to refute claims of using drugs to enhance her body, saying she had good genes.
"It is true that men ogle at my bottom, but they look at other women too. I'm a size 14 or 16 down then my upper body is a size 8 because I have a small waist," she told Pulse.
To achieve that desirable body, even as it comes naturally to others, some people have resorted to changing their eating habits and spending hours in the gym.
It's no wonder hashtags such #squats and #glutes have over 22 million and 7 million mentions on Instagram, respectively, with popular fitness influencers profiting millions from followers chasing butt transformations.
However, in recent years, some women have taken one step further and opted for cosmetic surgery to gain that shapely derriere - giving birth to terms such as butt lifting and butt augmentation - opening a thriving market for quack cosmetic surgeons.
Butt lift, cosmetic surgery to improve the appearance of the buttocks, has been considered an expensive method to achieve that desired body, with the gluteal augmentation procedures costing over Sh500,000.
For this reason, those who can't afford these surgeries go for gel, creams, pills, and capsules purchased at local beauty shops, with the cheapest going for Sh600.
Elsie, a 22-year-old university student, said she gels and creams for between Sh1,500 and Sh2,500 to enhance her looks.
"These curvaceous girls have it all. Look at Vera and Risper Faith who became so popular after launching their 'careers' on the Pulse magazine. They are now making big money and have entered the celebrity glamour league. Lately, having a big behind pays," says Elsie, adding that she lands modelling gigs whenever she posts her photos on social media.
However, Dr Duah, a local Nairobi pharmacist, says most of these products have no scientific proof to deliver the promises they advertise.
"These manufacturers are playing on women's ignorance and desperation. Even surgical procedures to enhance your breasts and back side have risks that people rarely get to hear. They are not 100 per cent safe as many assume," he said.
Christine Nyaboke, a hairdresser, says her attempts to achieve a curvy look went tragic after the enhancements she was using backfired on her.
"The pill I was using, suggested by a friend, was not giving me desired results. Thus, one day, yet another friend suggested an alternative, which I bought," said Christine, adding, "I began applying the cream on my hips, thighs and on my backsides with visible positive results, until one day when I noticed one of my buttocks looking bigger than the other."
But the trends of having a seemingly big buttocks keep evolving as women who don't want to risk cosmetic surgery or crash diets now opt for body-shaping undergarments.
Alice, a Public Relations officer, says she used padded bras and body shaping undergarments, which make her waist look small, enhancing her curves.
"I use a push-up bra and a body shaper to accentuate my curves," she says.
Related Topics