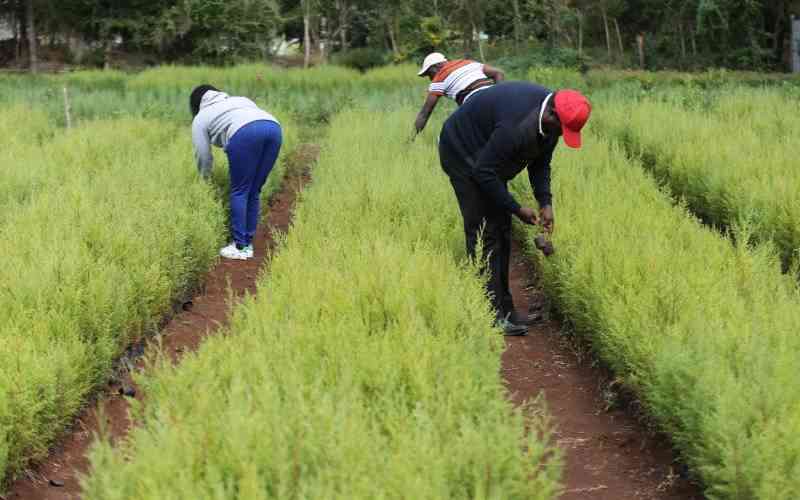 The government's initiative targeting to plant 15 billion trees within a decade has gained a major boost as self-help groups position themselves to gain economic value through conservation initiatives.
One group in Uasin Gishu County, Mti Kwanza Self Help, is currently raising 1.5 million seedlings. Proceeds from their sale will support the needs of vulnerable children by meeting their education obligations.
In Nandi county, Chaiyat ak Ketit (Tea and tree), a registered self-help group in Chesumei sub-county in Nandi has established tea and tree seedling nurseries for conservation efforts and also to empower youths andwomen.
Mti Kwanza and Chaiyat ak Ketit are also enlightening communities to support President William Ruto's initiatives on climate change to prevent droughts, which are also affecting food security.
Kirui Kosgei, the chairman of the Mti Kwanza self-help group, said the tree planting initiative is fully in line with President Dr Ruto's calls towards achieving a target of 15 billion trees by 2032.
According to Dr Kosgei, a lecturer at Kisii University, the group has raised a tree nursery at Racecourse Ward in KessesSub-County.
Since December, he said, the group has raised 800,000 seedlings of cypress, 450,000 grevilleas, 50,000 eucalyptuses, 300,000 bamboos, and 100,000 Olea Africano.
"We have a master plan to improve livelihoods in the society. Our program,e will boost the economic stability of most families and also restore the degrading environment. Our project is also using water pumped using solar, thus protecting the ecosystem from pollution," stated Kosgei.
Kipchumba Kiptoo, the Secretary General of the group, said they source seeds from KEFRI, prepare seedbeds, sow, do potting, shading, watering, weeding and apply foliar fertiliser among other operations.
Related Topics