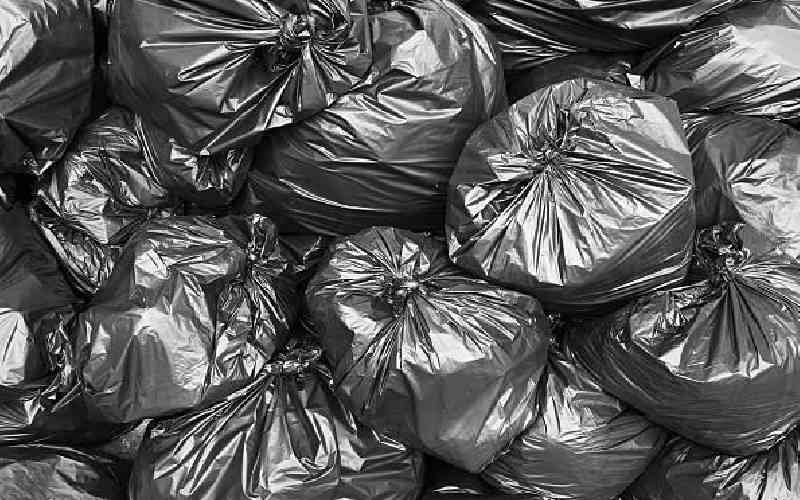 Failing to sort wastes will cost you Sh20,000 starting next month or imprisonment not exceeding six months or both.
In a move aimed at reducing littering, illegal dumpsites, resource wastage, and greenhouse gas emissions, NEMA will enforce new stringent waste disposal guidelines set to take effect next month.
These measures come as a response to the Sustainable Waste Management Act of 2022 and are designed to transition the country's waste management to a sustainable circular model.
Dr Ayub Macharia, the Director of Environmental Enforcement, during a presentation to stakeholders, emphasised that non-compliance with these new guidelines would result in severe penalties.
Dr Macharia stated, "Under these new regulations, every waste generator shall segregate waste at the source. Non-hazardous waste must be separated into organic and inorganic fractions and placed in properly labelled and colour-coded receptacles, bins, containers, and bags."
He further emphasised, "Waste must be disposed of only through licensed waste service providers or at collection points designated by the County Government or NEMA."
Mamo Boru Mamo, the Director General of NEMA, during a virtual meeting with producers on Extended Producer Responsibility (EPR) said implementation the need for such stringent regulations is evident.
Mamo underscored the importance of EPR, explaining that it places significant responsibility on producers for the entire lifecycle of their products, including collection, treatment, and disposal of waste generated by those products.
Data indicated that every Kenyan generates approximately 0.5 kgs of waste per day, amounting to 25,000 tonnes daily for a population of 50 million people.
This waste is composed of 60 per cent organic, 30 per cent recyclables, and 10 per cent other materials. Mamo emphasized that these regulations are essential to combat the environmental challenges posed by improper waste disposal.
Sustainable Waste Management Act 2022 directs all producers to implement mandatory EPR obligations to prevent pollution from their products or waste arising therefrom. Therefore, the Extended Producer Responsibility Regulations (2023) will be enacted soon.
These regulations represent a significant step towards addressing environmental challenges related to waste management. They come after years of collaboration between the government, industry stakeholders, and environmental organizations to find sustainable solutions.
Kenya's commitment to these measures is further highlighted by the fact that the country has already initiated voluntary EPR schemes since 2018. Organisations like PETCO and KEPRO have successfully managed and recycled substantial amounts of waste under these initiatives.
"These voluntary efforts laid the groundwork for the mandatory EPR regulations now being implemented," Mamo said.
The journey towards mandatory Extended Producer Responsibility (EPR) In 2019, the Ministerial Stakeholders Forum (MSF) convened a meeting between the Ministry of Environment and Forestry and the private sector through the Kenya Private Sector Alliance (KEPSA).
The agreement reached during this meeting laid the foundation for the development of mandatory EPR regulations.
This commitment was further reinforced by the Kenya Plastic Action Plan launched in December 2019 by the Kenya Association of Manufacturers (KAM), where producers in the plastics sector pledged to take responsibility for their products and waste. However, they emphasised the need for a regulatory framework mandating every producer and importer to be part of the EPR scheme.
In response to the notice the CEO of Kenya Extended Producer Responsibility Organization (KEPRO) James Odongo said segregating waste at source is not just a legal requirement; it's an ethical responsibility.
"By segregating waste and disposing of it properly, we are taking a step towards a healthier and more sustainable future for our communities. Let's embrace these regulations as a positive change," said Odongo.
He added: "Compliance with these waste segregation regulations is not just about avoiding fines; it's about safeguarding public health and the environment. Let's all be responsible citizens."
The Sustainable Waste Management Act became effective on July 22, 2022.
Section 13 of the Act requires every producer to bear mandatory extended producer obligations to reduce pollution and environmental impacts of the products they introduce into the Kenyan market and waste arising therefrom. Every producer shall fulfil their extended producer responsibility obligations individually or collectively in a compliance scheme.
The producer is defined in the Act as an entity that introduces goods, products, and packaging into the country using authorised means by manufacturing, importing, converting, filling, refilling, repackaging, or rebranding.
The Authority has commenced inspection and enforcement of compliance with this Act. In this regard, producers are requested to submit to the Authority the plan that they are using to implement Extended Producer Responsibility Obligations. You may submit the plan as an individual or collective scheme.
Related Topics