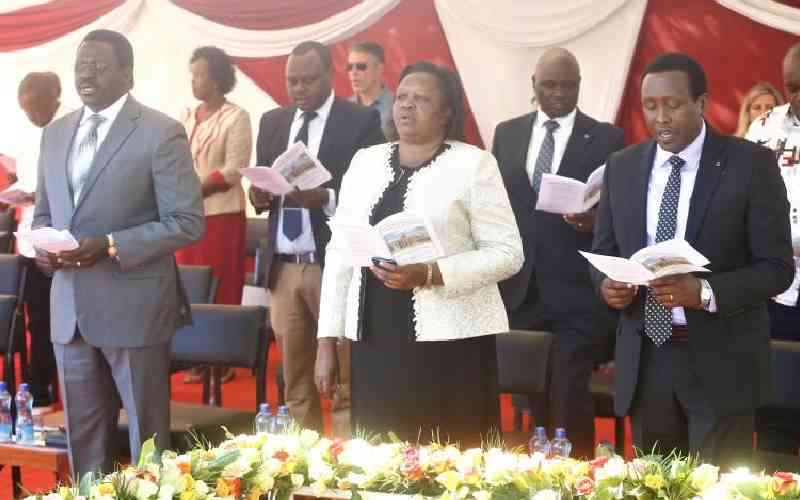 Parents and teachers of Moi High School- Kabarak and Moi Primary School- Kabarak held joint prayers on Sunday at the institution for their candidates set to sit national exams this year.
Speaking during the event, Kabarak University Vice Chancellor Henry Kiplagat described the class of 2023, christened the Jonathans for primary and secondary schools, as the highest in the institution's history.
"This year, we have the highest number of candidates ever. I believe there is power in prayer, and God performs miracles. Expect miracles in the results of this year's exams," said Prof Kiplagat.
Kiplagat, who doubles as the institution's executive director, said the candidates included 401 Form Four, 267 in Standard Eight (the last 8-44 cohort) and 205 in Grade Six.
"We have confidence in this class. It is worth noting that candidates from needy families who excel in primary and are supported by Kabarak through high school always transit to university," he said.
The VC called on parents to enroll their children at Kabarak University, citing its recent milestones in national and global competitions.
"Our schools of music, media, law and Information technology have placed us on the national and global map. It is a great achievement that Kabarak University has been picked by the government to be the trainer for ICT in South and North Rift regions," said Kiplagat.
Exuded confidence
Moi High School-Kabarak Chief Principal Elisheba Cheruiyot exuded confidence that the candidates will excel in the national exams after overcoming various challenges, including an unprecedented break during Covid-19.
"The candidates were admitted in January 2020. You have nothing to fear, for God will hold your hand. With prayers and support from teachers and parents, we have faith you will succeed," said Ms Cheruiyot.
Mrs Cheruiyot noted that the candidates had demonstrated their determination to shine in the national exams.
"The candidates themselves have set a mean score target of 11.25, and we believe they will achieve it. This sets an even higher bar for the continuing students," said Cheruiyot.
Moi Primary School-Kabarak headteacher Nelson Kiptoo said that the school will have 472 candidates this year.
"This year, we have two sets of candidates. We have the last 8-4-4 cohort with 267 KCPE candidates. We also have 205 Grade Six candidates under the new curriculum," said Kiptoo.
He said they had great confidence in the candidates, who he said had demonstrated a high level of discipline.
"For our KCPE candidates, we are expecting a mean of 407 marks and our Grade Six candidates to exceed expectations in their performance."
Related Topics