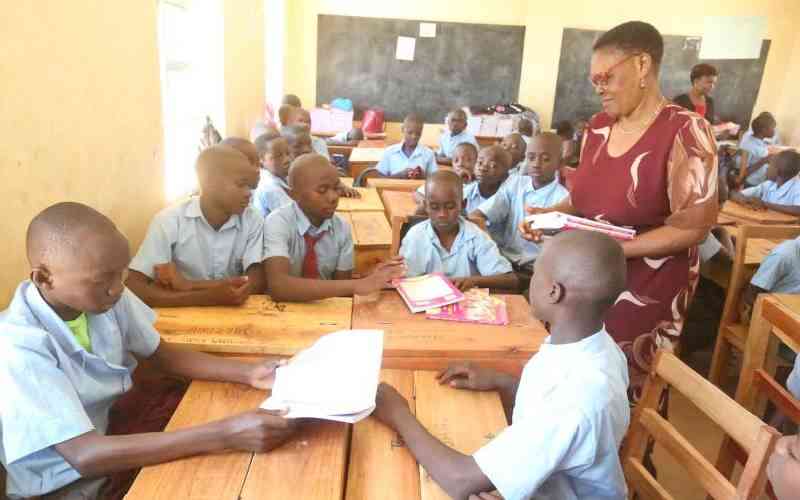 The current crisis being experienced in schools is as a result of the poor funding model, school heads have said.
The principals argue that disbursing funds on a quarterly basis cripples operations in schools, forcing them to incur huge debts.
"Out of the quarterly disbursement, the government still withholds some money. That is why we are having it rough and we hope the ministry will revert to the former ratio of 50:30:20 funding model," said Kenya Secondary Schools Heads Association (Kessha) Chairman, Kahi Indimuli.
The school heads said government should change funding to termly disbursement as the current model is a time bomb waiting to explode.
Indimuli, who is also Principal for Machakos Boys High School, further said funding at 25 per cent will limit school heads' ability to manage the institutions.
"We are staring at a crisis and you never know the turn it will take. We don't know if we are funded partly for last term or for first term and at what percentage," he said.
Indimuli explained that schools operate on a termly basis with different calendars of activities and different spending.
"Each term has a different number of weeks with variable activities to be financed. In the second term we have ball games, music, sports as well as the academic calendar that needs facilitation," he added.
On Thursday, the government released Sh24 billion to schools as capitation to fund tuition, against the Sh28 billion it had promised.
Of this Sh15,618,220,509 went towards funding free Day Secondary School, Sh4,630,548,845 for primary schools, while Junior Secondary Schools received Sh3,812,377,184.
This was after the last disbursement of Sh18 billion done on January 26, this year to clear last year's third term debts. Indimuli said that a circular should be issued on how to spend the money immediately a disbursement is released.
"As much as we hail the government for responding, we are more confused. There should be a circular to guide principals on how to spend the money rather than wait and issue after we have spent it," he stated.
Kenya Primary Schools Heads Association (Kepsha) chairman, Johnson Nzioka, said once the balance spills to the next financial year, schools end up losing the money.
"The government never funds backwards and this continues to contribute to the challenges we are facing. We expected 50 per cent of last term and 30 per cent for this term. Look at where we are,'' said Nzioka.
Nzioka said the government was to release funds towards infrastructure development in Junior Secondary Schools, which has not been released.
Last term, Education Permanent Secretary Belio Kipsang warned that nearly one million learners in day secondary school will miss the government capitation, raising concern on the stability of the Free Day Secondary school programme.
The PS said while at least Sh88 billion is required for the Free Day Secondary programme, the government had only allocated Sh65.5 billion, leaving a deficit of Sh24.5 billion.
The PS said many schools are struggling and the government should assist to cushion the institutions from derailing their operations.
"The areas we have identified as key underfunded are critical to the achievement of our mandate. We therefore require addition of Sh42.043 billion and Sh1 billion under recurrent and development budgets respectively," said Kipsang.
However, Education Cabinet Secretary Ezekiel Machogu has encouraged schools to commercialise some of the institution's assets in order to generate income to keep them afloat.
Currently, schools generate extra funds on hiring of buses, school grounds, halls and swimming pools to other schools and the public.
Related Topics