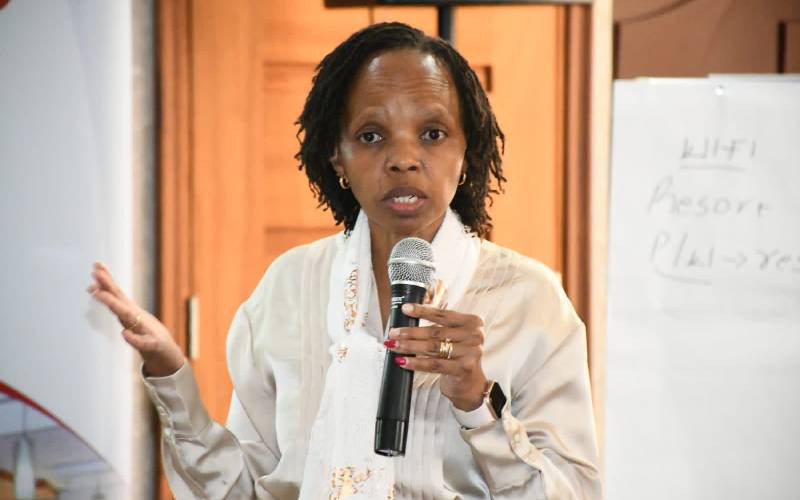 Details have emerged on the amount local University students will pay to study various degree programmes at both private and public institutions in the country.
In the new formula, the vulnerable learners will access education without paying anything while those from extremely needy, and needy household will contribute Seven per cent of the course cost.
Taking Dental Surgery for instance will cost parents at least Sh42, 840 in public universities per year.
The Kenya University and Colleges Central Placement Service (KUCCPS) Chief Executive Officer Dr Mercy Wahome has revealed.
In the new funding model, the first cohort undertaking bachelors law course this year it will cost a parent only Sh12,852 compared to Sh170, 000 that will be charged in some private universities.
''The government is reducing the burden of education which in the past has been carried by learners and making it easy for them to access education. We are trying to ask those who are able to pay and assist those struggling to access education," she explained.
Students undertaking technical courses such as Engineering and Architecture and Building and construction their households will part with Sh19, 278 for the two semesters.
The cost of doing Dental Surgery degree which cost Sh612,000 at Moi University and Sh521, 840 per year at The University of Nairobi (UoN), will only cost the parent Sh36, 473.50 at UoN while that taking the same course at Moi University will pay Sh42, 840 per year.
This means a student clustered under needy category, studying Dental Surgery at UoN the government will pay a capitation of Sh276, 156. 50 as scholarship and loan of Sh208, 420.
Bachelor degree in Law at Mount Kenya University (MKU) will cost Sh170, 000 per annum.
The same degree at Kenyatta University (KU), Maseno, Moi University, Embu or Chuka Universities which charge Sh183, 600 a household will only contribute Sh12, 852 for the entire year.
For a Bachelors of Pharmacy student at University of Nairobi which charges Sh413, 950, a parent will contribute Sh28, 976.50 but the same course at Mount Kenya University will cost a household Sh375, 000 per year.
Bachelor of Veterinary Medicine and Surgery at Egerton University which charges Sh312, 340 a student will be required to pay Sh21, 863.80.
Bachelor of Science Nursing at Catholic University of Eastern Africa which cost Sh 188,200, a student can take the same course at Moi university, Embu, Kabianga, South Eastern, Pwani, Murang'a University of Technology, Kaimosi Friends University, Kenyatta University, Maseno, Masinde Muliro University of Science and Technology, Maasai Mara, Kirinyaga, Kibabii and Chuka Universities which charges Sh275, 400 at a cost of Sh19, 278 per year.
KU is the cheapest university offering degree in education (Arts) at Sh183, 600 while University of Nairobi offer same courses at Sh223, 550. Other universities include Moi University at Sh244, 800 and Egerton University at Sh214, 700.
However, a parent at KU will pay Sh12, 852 for a student while at UoN the same course learners will pay Sh15, 648.50 while at Moi University they will pay Sh17, 136 per year.
At Kaimosi Friends, Garissa, Chuka, Kibabii, Kirinyaga, Maasai Mara, Laikipia and Bomet Universities, learners will pay Sh12, 852 per year for the same course.
Others include Machakos,, Maseno, Masinde Muliro, Meru University of Science and Technology, Murang'a University of Technology, Rongo, South Eastern Kenya University, Tharaka University, Tom Mboya University and at Turkana Universities.
At Daystar, the students will take the same course at a cost of Sh214, 700 while at KCA the same course will go at Sh88, 540.
Architecture Building Construction in TUM costs Sh275, 400. The learner will pay Sh19, 278 at TUM while the same course a student will pay Sh25, 704 at JKUAT, Sh24, 335.50 at UoN while KU the same course will costSh21, 420.
Dr Wahome observed that the Challenge of accessing the system has been caused by the anxiety of learners who have jammed the system to select their preferred course.
''Many students have been waiting for this opportunity and are eager to know what the portal contain. Majority of them have started interacting with us,'' Dr Wahome added.
University Funding CEO Geoffrey Monari said university funding will offer 15 percent discount on actual program cost.
''Many students used to differ courses along the way but the government was allays funding the institutions. This time will be funding students not institutions,'' Monari said.
He said those who will be joining TVET institutions, the government will give an offer of 7.5 percent discount on actual program cost (Uniform Cost Sh67.189)
''What criteria will be used to determine who is eligible for each type of funding (we are telling parents; this are your options and how you can benefit/ apply for each),'' he stated
Related Topics