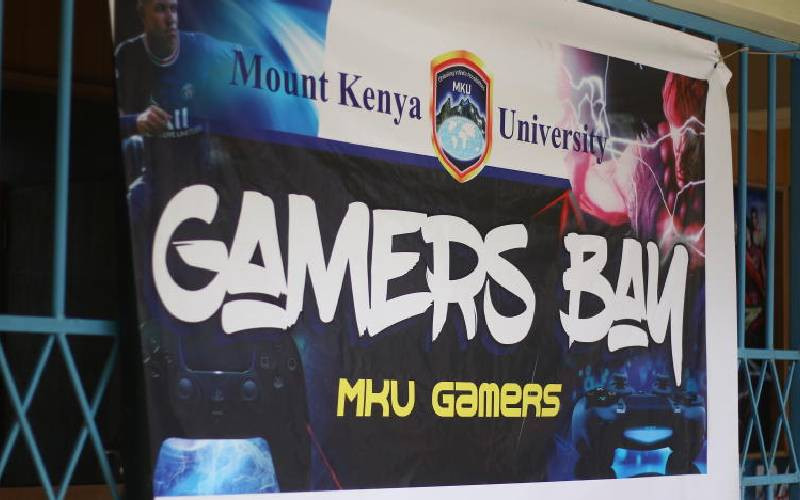 Mount Kenya University (MKU) has unveiled state-of-the-art gaming equipment for students to facilitate their engagement in Electronic Sports (E-Sports)
MKU Board Chairman Prof Simon Gicharu donated the equipment to the students expressing his commitment towards innovation, technology, and the holistic development of students.
"By recognizing the potential of e-sports, universities in Kenya can create an inclusive environment that nurtures talent, empowers students, and prepares them for the ever-evolving digital landscape," Prof Gicharu said.
He added that e-sports was the competitive world of video gaming, offering numerous benefits and opportunities for students, universities, and corporate alike.
"The growth of e-sports in Kenya has been fueled by factors such as high-speed internet availability, affordable gaming hardware, and opportunities to connect and compete with gamers from all over the world.
Gicharu observed that the creative economy closely combines art, technology, and storytelling to create an entertaining experience,
Consequently, the MKU Esports management team has commenced a recruitment drive for the upcoming season.
The team, he said, is actively seeking talented individuals for the games of Tekken, NBA2K, and FIFA.
In 2022, Kenya made a debut in the Global Esports Games held in Istanbul, Turkey. Eight of Kenya's best gamers competed against African nations such as Ghana, Nigeria, Tunisia, Djibouti, Libya, Somalia, and Namibia, and the world's best.
In the Eastern African games category, MKU was number eight during the 12th edition of Eastern Africa Universities games that were held at Ndejje University, Uganda in December 2022.
Related Topics