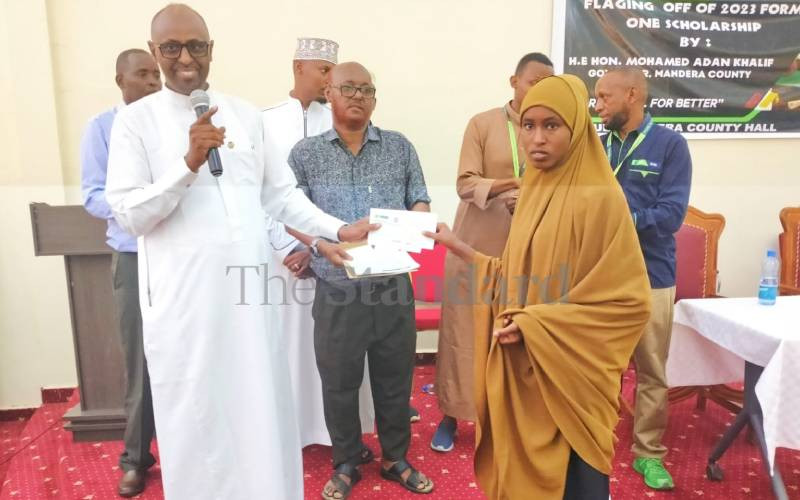 The KCB Foundation has given Sh1.4 million to sponsor needy secondary school students in Mandera County.
The 19 learners targeted by the scholarships are in Form One having sat their Kenya Certificate of Primary Education exams last year.
The scholarships award follows the completion of an exercise to identify beneficiaries, mainly bright but needy students.
Each beneficiary was given Sh35, 000 for tuition and another Sh30, 000 to cater for uniforms, books, and transport, among other needs.
Mr Jilo Wako, KCB's Mandera branch manager, said the beneficiaries were picked from the most vulnerable and marginalised families. Two slots were allocated to Persons with Disabilities. Half of the beneficiaries are girls.
Wako said the foundation's focus is on learners who are vulnerable. "The foundation has reached out to academically gifted but needy learners. We have looked at marginalized groups, orphans, and those with disabilities. We have also considered gender," said Wako.
He added: "The funds will cater for tuition fees, for the four years, uniforms, transport, set books, regular mentorship sessions and psychosocial support."
At the same time, Wako warned them against marrying off the girls at a tender age, urging them instead to allow their daughters to complete their education.
Ahmed Hussein Mohamud,14, is one of the beneficiaries of the scholarships. He said his selection has given him an opportunity to pursue his dream of becoming a doctor so he can help the people of Mandera.
He said his KCPE exams at Bulla Mpya, and scored 375 marks.
"I come from a poor family. Based on our circumstances, the only hope I had was to perform well in the exams and hopefully win a scholarship to join secondary school," said Ahmed, who is headed to his dream school, Garissa High.
Students are set to join Form One between February 6 and 13.
Related Topics