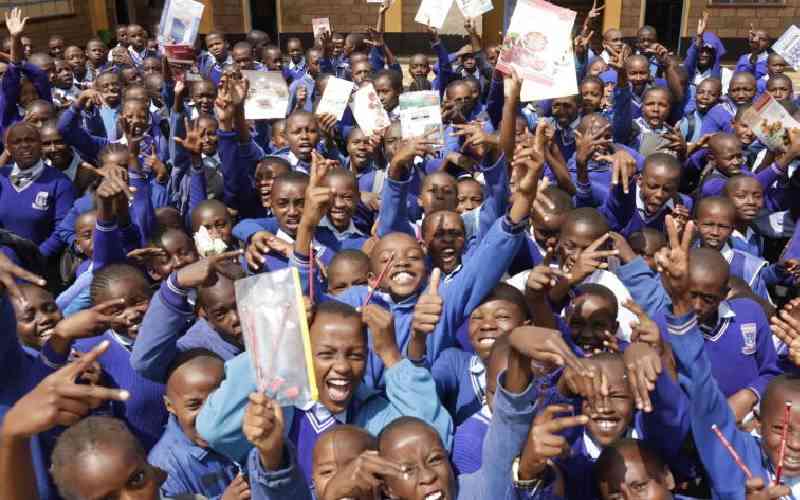 Mixed reactions have greeted the government's decision to domicile junior secondary schools in primary schools with majority of principals terming it as a major relief because they were not well prepared to host the young learners.
In Migori county, junior secondary classrooms that had been built in secondary schools will now be used to accommodate the increasing Form One learners.
At Isebania boys, the government built two classrooms which are yet to be completed.
"We were overstretched in terms of resources. We will use the two classrooms for our learners once they have been completed," Thomas Orungu, the school principal, said.
At Osiri Mixed Secondary school in Nyatike Sub-county, Irene Dianga, the principal, said they expected to get 100 junior secondary school learners at the school. Now, however, the new classroom will find a new use once its construction is complete.
The situation is however a bit different in Kisumu where a number of principals expressed their disappointments, saying they had already prepared well for the CBC learners even as some said they needed more resources.
At Joel Omino Secondary School Principal Richard Nyagal the school was expecting a total of 400 students by next year, adding they had also constructed additional toilets.
At Kisumu Boys High School, the institution's administration said the construction of the CBC classrooms will help them address shortage of classrooms.
Principal Duncan Owiye said the transition could have created an accommodation crisis at the institution. The school had constructed three classrooms for CBC.
It also spent Sh500,000 to construct flushable toilets in readiness for the new students.
"Most secondary schools were not prepared to accommodate the huge number of grade six and form one students joining next year. I'm just glad that the government noted the overstretch and decided to do something about it," he said.
And while the schools are celebrating, CBC learners who had been hoping to start getting a feel of the secondary school life are a disappointed lot.
Joel Omondi says he was confident and excited to be joining secondary school next year.
He noted that he is sure of performing well in the KNEC assessment tests and would pass with flying colors.
"I am disappointed to nolonger be joining secondary school next year, now I have to wait two more years to join secondary school," he said.
Timon Otieno says he received the news of not proceeding to junior secondary school with great disappointment.
"I was prepared to go to a national and boarding school where I could get to learn new experiences and meet new people," Otieno said.
Otieno who is waiting for his KPSEA results wanted to join Tenwek Boys High School.
Norah Atieno, 13, said she was abit scared to join secondary school come year adding that she has had stories of younger students being bullied and was skeptical the whole time.
"Even though I was supposed to join secondary school in a day school, I was still scared of being taken advantage of by the older students who are bigger and scarier," she said.
In Homa Bay, parents are blaming the government of constructing CBC classrooms in secondary schools only to abandon them.
Julius Omuga, the Coordinator of Homa Bay County Education Network, said construction of the CBC classrooms was a waste public resources.
Omuga said the previous government ignored stakeholders' advice on where the junior secondary schools should have been domiciled.
"Construction of the classrooms in secondary schools was a waste of public resources," Omuga said.
He proposed that laboratories be constructed in all primary schools for the Junior Secondary students.
George Ouma, a parent, said establishment of junior secondary in primary schools is relief to parents.
"Most of our children are too young to live on their in boarding secondary school," Ouma said.
[Sharon Owino, Anne Atieno and James Omoro]
Related Topics