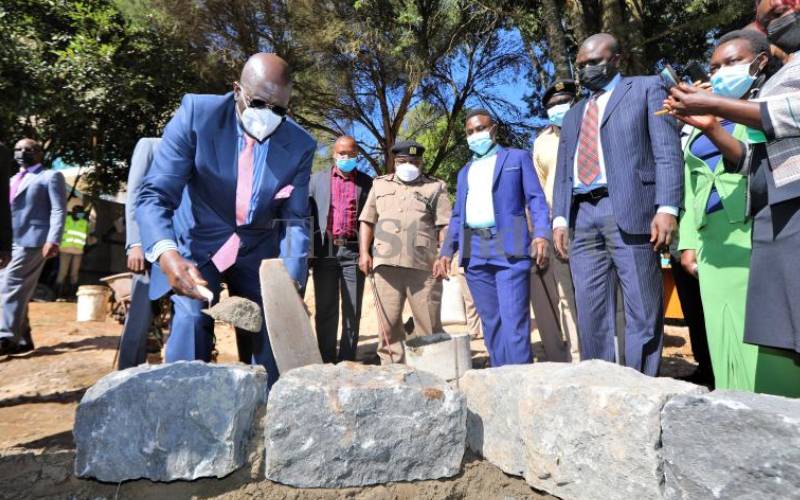 Education CS George Magoha has dismissed claims that the government has set aside funds to assist private schools to build junior secondary schools.
Speaking during an inspection tour of Mang'u High School and Gatundu Secondary School in Gatundu South to check on the ongoing construction of more classrooms, Magoha said the government is only obligated to fund public schools.
"Private schools are free to do what they deem fit for their situations. Those that have enough classrooms can don't have to build new ones but those who want to create standalone classrooms for junior secondary can go ahead," Magoha said.
Magoha said the Treasury has already released Sh4 billion for the construction of additional classes that will accommodate Grade Seven students under the CBC curriculum.
He said the first batch of the 10,000 classes is expected to be complete by March.
"The President directed the Treasury to provide Sh8 billion for the construction of 10,000 classrooms for junior secondary classrooms," added the CS.
Magoha said parents were free to take their children to private schools but the schools will have to comply with the requirements of the new curriculum.
According to Magoha, the construction of the remaining classes is set to resume in April.
"By the time the President will be leaving office, we are going to make sure the classrooms are ready for use. We are also going to make sure that the new textbooks for Grade Seven in the new curriculum are available in all schools for a smooth transition from 8-4-4 curriculum and also ensure teachers are fully trained on the implementation of the new syllabus," Magoha said.
The CS was impressed by the progress of the construction of the 20 new classrooms at Mangu High School and Gatundu Secondary school which are nearing completion.
In Siaya, 105 classrooms out of the targeted 171 are complete. Kilifi is also among other regions he said progress is impressive.
Related Topics