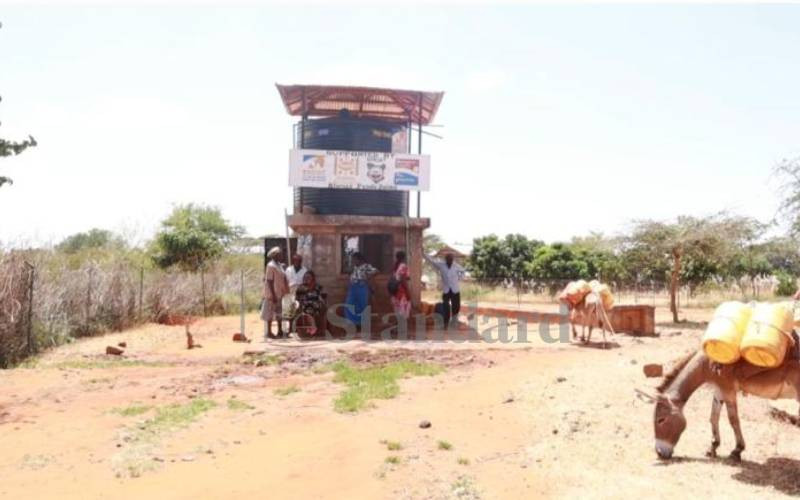 It is a Tuesday afternoon and the weather is scathing. We find Milkah Nekesa feeding a donkey. The two seem to be having a cordial session – the donkey flipping its ears as it feeds on hay, and Nekesa stroking its back.
The heat is taking a toll on Nekesa and she looks distraught. However, when she sees me, a smile breaks through to reveal a hardened village woman, full of optimism.
After we exchange pleasantries, she explains that the donkey is the reason for her newfound hope and motivation in the midst of her struggles. Nekesa hails from Vihiga County, Western Kenya.
When she left her rural home to join the love of her life ten years ago, she was convinced that her fortunes would change – from the ravishing poverty back at home to wealth, now that she was married to a man with five acres of land.
She looked forward to building a powerhouse with her husband through farming. But this was not to be.
The first shock that the timid, youthful woman encountered was the harsh weather, scarcity of water, and drought year after year in the driest part of Machakos County.
All these obstacles and lack of capital to venture into solution-based agriculture made Nekesa's dream unattainable. Because water was a rare commodity, even a dream of irrigation was far-fetched.
And the worst was yet to come. Five years into her marriage, her husband absconded responsibilities, leaving Nekesa as the sole breadwinner. The strong woman was not about to give up. She had faith she would find a solution to her financial situation.
Through sheer determination, the mother of seven struggled to make ends meet, something she recounts was "a tough business".
Just when she was about to give up, she landed on something that rekindled her dream.
"One day I was going about my business when I noticed a donkey ferrying water. I thought to myself, 'the donkey could be my redeemer' and all I needed was to own one to fetch and sell the rare commodity (water)," Nekesa says.
This triggered a series of activities that saw her and like-minded women start the Masaani Water Project.
The 30-member group is trending in Yatta as they are now self-reliant and are transforming their livelihoods by using donkeys as means of transport and a source of manure in their agri-business ventures.
Patricia Kanini is the Secretary of the Masaani Water Project. She explains that the water project began after she and a group of women noticed that donkeys had been affected by the adverse drought.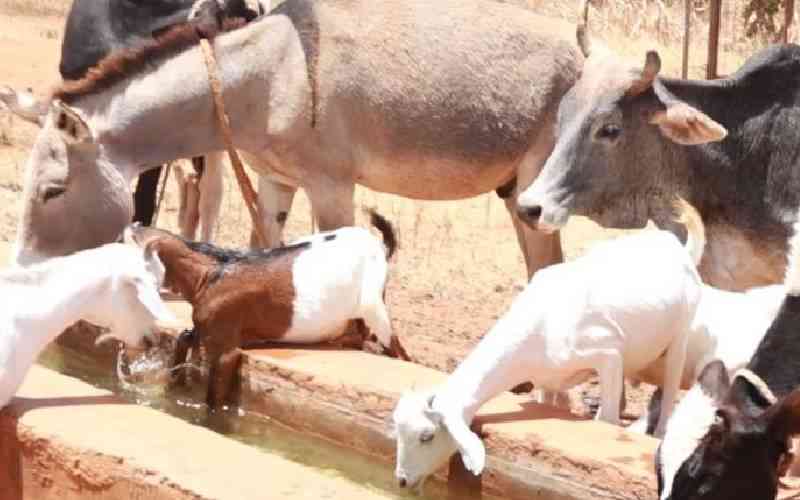 "We were using the donkeys to fetch water and to offer transport services but due to the severe drought, the animals were miserable because of lack of drinking water," says Kanini.
After deliberations among the group members, it was agreed that they take the issue of the challenges to Machakos County government. Kanini says the women are happy that they made this decision because they got positive feedback.
According to the Project Coordinator, Onesimus Mwangangi, of Inades Formation, two water boreholes were sunk in 2020 within a radius of five kilometres apart.
"The county government came to the women's rescue by bringing in Brook East Africa to fund the project, which was coordinated by Inades Formation," says Mwangangi, adding that the women also got water tanks and a drinking trough for the livestock.
Nekesa explains that for every water jerrican sold, the women earn Sh20. Every day, she fetches 20 jerricans of water translating to Sh600 in a day. This does not include money earned from agribusiness.
Nekesa says that the group uses the dung from the donkeys as manure, against traditional beliefs that the animal's droppings should not be touched.
The donkeys are also useful in ferrying water for irrigation. She personally has 100 mango trees growing on her five-acre farm.
"We grow green grams, maize, beans, green vegetables, and fruits for both consumption and commercial purposes," says Nekesa, adding that they also keep commercial chicken and grow kitchen gardens.
The women work closely with agricultural officers from the county's Ministry of Agriculture for maximum farm output.
Damaris Ndinda, a group member, is full of praise for the donkey, which she uses to deliver water to schools, markets, and stalls.
She says it is only wise that she takes care of the animals so that they can serve her better.
"Through training, we have learnt to treat our donkeys well so we can get quality performance, as we have since established that a happy animal helps us laugh all the way to the bank," says Ndinda.
She says that Brook East Africa has trained her group on how to take care of the donkeys.
Nekesa explains that the group has 30 donkeys, and through interactions with them, they have learnt that the animals have feelings, just like humans.
"When they do not like something, they cry by making noises without ceasing, and when they pop their ears down, it means they are offended," she says.
The donkey, Nekesa says, gives birth only once a year, so they are very protective of them.
They recently held protests against a nearby slaughterhouse, demanding its closure after the disappearance of donkeys that were reportedly sold at Sh10,000 each to the slaughterhouse.
The group also plants trees to counter the effects of drought and climate change. From the tree nursery, they sell seedlings and make insect repellent from special shrubs.
"We also have an arrangement where we supply water to the schools where our children are enrolled, and the school fees are offset by the amount payable for the water delivered," says Kanini.
Related Topics