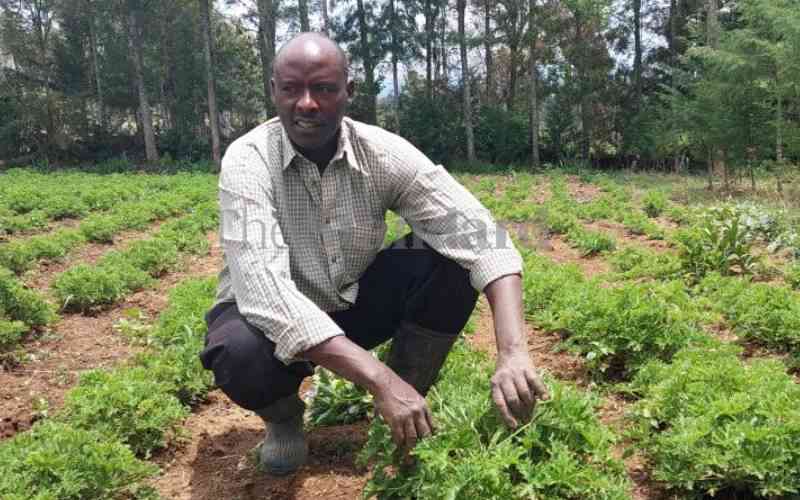 When you first visit Charles Kanyoni's farm in Nyeri county, you will notice a unique green crop and you will run through the vegetables you know trying to figure out what it is. But chances are high you will not unless you have visited a farm like his before. Mr Kanyoni grows a little-known herb called Geranium Rozanne, an evergreen herb that thrives in arid and semi-arid land.
"Not many people know this crop. But for me, it has changed my life," he tells The Smart Harvest team as he ushers them to the farm in Kieni Constituency.
Kieni lies on the leeward side of Mount Kenya, and is classified as arid and semi-arid land. And given that climate change has hit such areas hard, farmers have been forced to venture and embrace new crop varieties.
According to Caroline Mwenze Sub County Agriculture officer Kieni East directorate, the area receives limited rainfall, thus promoting technologies such as water harvesting.
"The area is classified as arid but it has a cold dry climate," says Mwenze.
Diversify his income
In a bid to diversify his income, Kanyoni, grows the nicely scented herb on his quatre acre farm. Kanyoni started the project two years ago and so far has no regrets.
On a good harvest, he gets five tonnes of herbs and a kilo fetches Sh12 thus making Sh35,000 from his quatre acre.
"My last harvest I got Sh35,000 and I was able to pay my bills. The crop doesn't have many inputs compared with other crops, it only requires manure, water and weeding," says Kanyoni.
He gets seedlings from Kutoka Aridhini company at Sh2 per cutting and they buy the crop from him as they recover their money.
Various off-takers have come on board to boost livelihoods through geranium farming, like Fairoils Nanyuki, Kieni who are contracting farmers to produce the shrub for its oils.
Horizon Business Ventures has contracted farmers in Laikipia with the support of officers from the Department of Agriculture to produce the crop, providing a ready market for the farmers.
Horizon Business Ventures processes Rose Geranium into essential oil. Herbal farming is gaining footing in many arid areas because of market potential.
The market potential
Fridah Mugambi from Horticultural Crop Directorate, (HCD) and Agriculture Food Authority (AFA), Nyeri office says many farmers from the area are turning to herbal farming.
"Farmers are doing small-scale farming of herbs, through contractual farming. We come in and witness the contract together with Nyeri County government officials," she adds.
Mugambi says herbs are cheap to produce, unlike other vegetables. "Most herbs will repel insects thus the challenge of spraying is solved," adds Mugambi.
According to Felix Mwangala an agronomist, Geranium Rozanne is a vigorous spreading perennial herb growing to 60cm tall, with neat, dense, lobed, marbled and flecked mid-green leaves and saucer-shaped violet-blue flowers 5cm wide, veined purple, with a white center, opening from early summer to early autumn.
Scientifically known as Pelargonium graveolens, the rose-scented geranium is a perennial herb economically valuable for its essential oil. The crop matures after four to six months and produces at least four times a year.
Mwangala adds that Geranium rozanne, is a low-cost production herb and minimum labour requirements make it more viable in Asal areas.
"It does very well with minimum rainfall which explains why it is a preferred choice by farmers in Asal areas who can adapt it as a climate-smart solution," says Mwangala.
Ideal conditions for growth
Mwangala says Geranium rozanne grows in any, moderately fertile soil, apart from waterlogged soils, in full sun or partial shade. "The crop thrives in calcium-rich and porous soils of pH 5.5 to 7.0," he adds.
Propagation of Geranium rozanne
Propagate by division in spring or basal softwood cuttings with three to four leaves in early to mid-spring and root.
When mature, remove flowered stems, and cut back old leaves to encourage the production of fresh leaves and flowers. First harvesting takes six months, followed by intervals of three months for ratoon to grow.
Pruning is vital for a healthy crop. Remove flowered stems and cut back old leaves to encourage the production of fresh leaves and flowers. Mulching preserves the soil moisture and is recommended.
Pests that target Geranium rozanne
Though versatile and repulsive to pests and animals due to strong scent, it may be susceptible to vine weevil, capsid bug and sawflies. Its repellant nature makes it advantageous because it saves you from pesticide usage. Intercropping is recommended as a diversification measure and cultural control of pests and diseases.
It may be susceptible to a downy mildew and powdery mildews in cases of heavy downpour and misty-foggy conditions.
Health benefits of Geranium tea
Geranium tea not only tastes good or smells brilliant it is reported to have surprising health benefits. Geranium Pelargonium, the rose-scented geranium, is said to be the only known species that is safely consumable. Being used as a medicinal herb and a popular garden plant, this evergreen perennial is very well-known in the field of herbal medicine for ages. Consumed in form of pleasant-tasting tea, it has many health benefits.
Lowers StressGeranium is also reported to have organic compounds, helpful in balancing the stress and anxiety-causing hormones and has a positive effect on the nervous system.
Related Topics