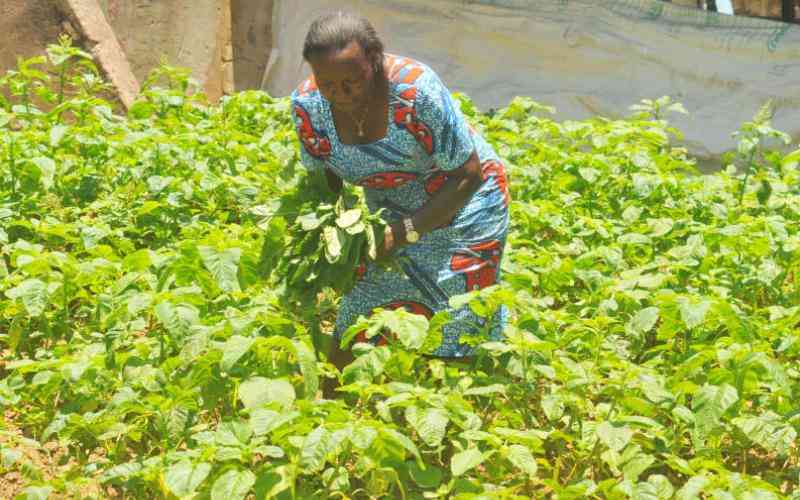 Amaranth, which is locally known as mchicha, is one of Kenya's indigenous vegetables that is tastey and highly nutritious. It is a gluten-free grain that provides plenty of fibre, protein and micronutrients.
The vegetable is very popular in the Coast where locals test their culinary skills by adding a spices and dash of coconut milk to make tantalising mchicha wa nazi. Most farmers grow it on small scale and sell it in local markets and by the roadside.
Mary Mwashigadi, a farmer in Kwale county, shares with Smart Harvest a few tips on growing and marketing Amaranth.
"I started planting them just for my household but slowly, I saw the market potential. One by one, neighbours started asking for them and I had to start producing more to meet the demand. The demand grew so big I had to employ someone to help me with production," says Mwashigadi.
Production
On production, amaranth grows easily in many soil types but thrives in a well-drained, fertile, loamy soil. According to epicgardening.com, the young leaves are ready for harvest 25-40 days after planting. You can harvest the entire top half of the amaranth plant for the young leaves, and the stem will regrow. Note that mature leaves will be tougher and not as sweet.
Common pests and control
Here are some of the common pests and diseases, according to media.neliti.com.
Amaranthus stem weevil
The adults feed on tender leaves and larvae feed on stem.
To control them, destroy all wild amaranthus plants in the vicinity.
Remove and destroy promptly all the affected plants as soon as signs of infestation occur.
Spraying with Neem seed extract also helps to reduce the pest infestation.
Leaf miner
Several larvae feeding on a single leaf may produce a secondary blotch like mine and leaf wilt may occur. To control this, you can hand pick and remove affected leaves.
Beet webworm
When they attack, young caterpillars feed on epidermis and the green matter. Older ones web the leaves together and feed within. Severe attack results in complete skeletonisation and drying up of the leaves within a short time.
To control it, plough around trees to expose and kill the pupae. You can also collect and destroy the caterpillars.
Green peach aphid
Myzus persicae, known as the green peach aphid, greenfly, or the peach-potato aphid, is a small green aphid that targets many host plants like Amaranth. When they attack, they cause yellowing and drying of leaves.
They produce copious amounts of honeydew, which serves as a medium on which sooty mould grows. Sooty mould blackens the leaf and decreases photosynthetic activity of the plant.
To control the pest, destroy the infested plant parts and follow clean cultivation.
Other than the leaves, Mwashigadi says mchicha seeds can also be grounded to make flour for making porridge, ugali and chapati.
"I started using the flour for porridge. I would mix it with maize or millet flour. It was very nutritious," says Mwashigadi.
Amaranth is known as a super food with numerous health benefits. Amaranth is a very rich source of minerals like calcium, magnesium, and copper.
The humble Amaranth leaves are witnessing a resurgence in their popularity after research has found them to be packed with essential vitamins and nutrients.
One of the health benefits is that it improves digestion because of its high fibre content. The vegetable is known to give instant relief when one is bloated or constipated.
When consumed consistently, it reduces risk of cholesterol and cardiovascular disease.
The fibre and phytosterols, helps in lowering cholesterol levels and improving the heart condition. It contains calcium that help strengthens the bones.
It is also great for weight loss and management.
Related Topics