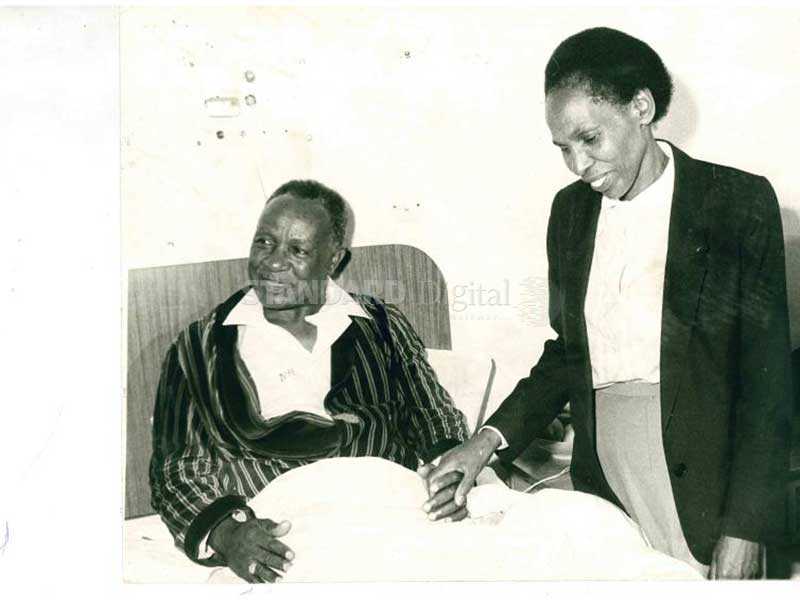 Senior Counsel Paul Muite recalled the ominous warning Jim Nesbitt, then Kenneth Matiba's personal physician, gave him about the former Cabinet minister's deteriorating health.
Mr Muite, who was Mr Matiba's lawyer at the time, recalled Dr Nesbitt confessing how he had to breach doctor-client confidentiality to discuss his client's poor health with his wife because he was getting concerned about how Matiba was being treated in detention.
The doctor told Muite that security officers had on numerous occasions blocked him from giving Matiba drugs for hypertension and it had reached a point where he feared for his patient's life.
"I remember as clearly as if it happened yesterday the conversation I had with Dr Nesbitt one early morning in my office, around October 1990, after he had been to see Matiba the previous evening," Muite recounted yesterday.
That morning, he said, he found Nesbitt waiting for him in his secretary's office.
"Dr Nesbitt's offices were on the third floor of Electricity House while mine was on the sixth floor of the same building. Dr Nesbitt looked worried, concerned. He said to me, "Paul, I never discuss my patients with my wife, Mary, but last night, I couldn't help but discuss your client's condition with my wife," Muite said, quoting Nesbitt.
Worrying condition
The doctor then told Muite about Matiba's worrying condition.
"He told me that before detention, Matiba had a mild case of hypertension, which was completely under control because he exercised regularly and took prescription drugs from time to time," Muite said.
Nesbitt also told him that from the first time he had been allowed to see Matiba in detention – the end of July or early August 1990 – he had tried to give him drugs to control the hypertension. However, he had been refused permission to do so by security agents and the Government doctor.
"Dr Nesbitt was on each occasion informed that the Government was responsible for providing any necessary drugs to Matiba. He told me how on several occasions he had tried to reason with the Government doctor to see the packet of drugs was unopened, if the fear was about any untoward drugs being handed over to no avail," Muite said, adding that the Government never made the drugs available to Matiba and his condition continued to deteriorate.
"Dr Nesbitt had come to my office to ask me to do whatever I could to save the situation. His last words stuck in my brain; if nothing is done, at best, Matiba is going to suffer a stroke, at worst, he is going to die," Muite said.
He then sent a fax to Amnesty International pleading for their intervention.
"Less than two months after my conversation with Dr Nesbitt, Matiba suffered a stroke in the middle of the night in solitary confinement at Kamiti Maximum Prison. When he was eventually admitted to Nairobi Hospital, I was able to get from him the relevant details," Muite said.
He observed that Matiba realised he had suffered a stroke as soon as it happened.
Knocked loudly
"He accordingly knocked very loudly on his cell door and requested the two guards who went into his cell to hold him under the armpits and walk and run him round the cell for the remainder of the night. This was to keep the blood circulating," Muite said.
When the Government doctor came in the morning, he prescribed painkillers.
"A couple of days passed with arguments over where he was to be admitted. Forces Memorial Hospital, which was the Government's preferred choice, made it clear that even their own stroke cases were transferred to Kenyatta Hospital. They did not have the requisite equipment or expertise. There were further delays because the Government had the last word on the matter," said the lawyer.
"I have no doubt in my mind whatsoever that Matiba's stroke was deliberately induced by the Government through the deliberate denial of drugs to contain his hypertension."
Former Nairobi mayor and close friend of Matiba's, Charles Rubia, said he was devastated by his death.
"I feel very sorry about Matiba's death. I also feel very lonely now. It was only he and I who were detained for asking for multi-party while the others were detained for other reasons," said Mr Rubia in Nairobi yesterday.
He said in all the time Matiba was sick, he had hoped he would recover.
"I was doing a bit okay myself but I am living on medicine. If I don't take some of them, I will also go down. During my detention I got very ill and my doctor recommended lemon and milk. The officers would pluck lemons from the jail compound and bring them to me but I never got milk," Rubia said.
Thin mattress
He recalled that the Government doctor had also directed that he should be given a bed since he was diabetic but he was given only a thin mattress.
"I believe the same conditions I went through led to the deterioration of Matiba's health, although he had indicated that they wanted to kill him," Rubia said.
Meru Governor Kiraitu Murungi said Matiba's death was as a result of torture in detention.
"We who participated in the struggle feel very bad that Matiba had to sacrifice his life for this country and has died without being given the proper recognition he deserves as one of the true heroes of the second liberation of this country."
He described Matiba as a very strong man who paid the ultimate sacrifice for Kenya during the struggle for multi-partyism.
"I suggest that the country makes efforts to honour the late Matiba alongside other liberation heroes like Dedan Kimathi, by naming a major road after him and probably erecting a statue for him," Kiraitu said.
Former Imenti Central MP Gitobu Imanyara and former Nakuru North MP Koigi Wamwere, who worked closely with Muite and Matiba, concurred with Muite's sentiments. They accused the Kanu regime of torturing Matiba and others who were opposed to the system.
Courageous man
"I knew Matiba as a strong, happy, courageous man with a big sense of humour. But he never came out of prison the same. He suffered a stroke after the State administered expired drugs on him. He was never himself again," Mr Imanyara said.
The lawyer, who also published the pro-democracy Nairobi Law Monthly magazine, recalled the final moments he shared with Matiba in hospital.
"I was sick and spent the last two weeks in the same ward but in different rooms at Karen Hospital. His fantastic wife was beside him. I felt angry and bitter when Dr John Gikonyo called me at 6pm on Sunday to tell me that he had died."
Mr Koigi was equally critical, accusing the Kanu government of torturing Matiba.
"We need an acknowledgement from those who ruled that people were tortured, killed or detained because of dictatorship. Then we make a promise that no more people will die under similar circumstances. President (Uhuru) Kenyatta eulogised Matiba using good words but he has done nothing for him," Koigi said.
Related Topics