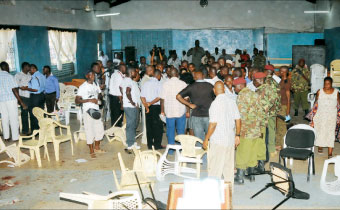 Security officers at the Joy of Jesus church in Likoni, Mombasa, after it was attacked by gunmen killing two people on the spot, last Sunday. [PHOTO: FILE/ STANDARD]
By Stanley Mwahanga and Benard Sanga
Likoni, Kenya: Two terror suspects police believe were behind last Sunday's church attack that left six people dead at Likoni in Mombasa County, have been killed.
This comes as churches at the Coast were yesterday setting up elaborate plans to provide their own security tomorrow.
The suspects were gunned down at Ziwani area in Mtongwe, a kilometre from Joy of Christ church that was attacked on March 23 by hooded gunmen.
Mombasa County Commander Robert Kitur said a third suspect escaped with gunshot wounds and the police had launched a manhunt.
"We have shot dead two of the gunmen who stormed the church last week and opened fire at worshipers leaving six dead and others injured," said Kitur.
Among those injured in the attack include baby Satrin Osinya, an 11-month-old boy, who has a bullet lodged in his brain.
Kitur said the police also recovered a loaded pistol from the suspects who were on a motorbike at the time of the shooting.
According to Kitur, the three had been flagged down by police after receiving intelligence reports from the public about the description of those behind last Sunday's attacks.
Police said the bullet recovered from the pistol matched those found at the Joy of Christ church after an analysis was done on them.
"We received reports that the suspects who matched the description of individuals behind the attack had been spotted on a motorbike and when our officers track them down they started firing when they were cornered," said Kitur.
Police said the third suspect was seriously injured in the 5pm and even though he managed to escape they were closing on him following the trails he had left behind after the shooting.
Police have arrested 200 individuals since the incident.
Mombasa County Commisoner Nelson Marwa said police are looking for any leads that will help weed out more criminal gangs in the county, which has in the past few weeks been hitting the headlines.
He also warned those holding illegal weapons to surrender them, saying the Government is not going to be lenient on criminals.
The Government has pledged to provide security in churches following fears terrorists could strike again, but said it did not have enough officers to post to all places of worship.
Police accused
A meeting of Muslims leaders and Christian clergymen in Mombasa is planned early next week to bridge the growing sectarian divide, with experts saying Somali's Al Shabaab terror outfit could be trying to ignite a religious conflict by attacking churches.
Police and church organisations have pledged to enhance police patrols especially in volatile areas like Likoni, Majengo and Kisauni where intelligence reports have consistently shown that an affiliate of Al Shabaab known as Al Hijra has been plotting a bombing campaign against churches since early last year.
Individual churches especially the established ones now have fully fledged security departments manned by private security guards.
Following Sunday's attack on a church in Likoni, Mombasa County Commissioner Nelson Marwa held separate meetings with Muslims and Christians to calm mutual suspicions and plan a joint meeting for religious leaders from both religions for yesterday which did not take place without explanation.
Bishop Tee Nalo of Praise Chapel Mombasa said the church had an internal security arrangement in place but did not divulge more information besides saying worshipers would undergo mandatory screening.
On Tuesday Church leaders openly accused the Mombasa County security committee of ignoring credible information on security threats on churches in Likoni when they met Simon Arachi, the deputy Inspector General of Police at the scene of Sunday's carnage.
Speakers also blamed police for slow response to the attack, arguing that discordant security responses allowed the attackers to briskly walk into the church to kill and walk away wielding weapons.
Arachi promised enhanced security without giving specific details of what new thing police will do this Sunday.
Killing 'kafirs'
Deep-rooted Christian-Muslim tension, historically hidden beneath the surface at the Coast, appears to have bubbled to the surface in the wake of recent attacks on churches, mosques and the killing of clerics from both religions.
The tension has spread in the region since attack in Likoni, which claimed the life of six and left scores with severe injuries. Some Muslim leaders suggest that Christians are exaggerating the threat and overreacting and thereby falling in the trap of those who want to widen the gap between Muslims and Christians.
Some Muslim commentators accuse Christians of not talking against atrocities committed against Muslims including the February 2 raid on Musa Mosque in Mombasa.
Christian clerics say that radical Islamic ideologies which equate Christianity to Western civilisation, which needs to be wiped out of the face of the world, are largely responsible for the growing polarity between the two religions and could have contributed to the climate of hate leading to Sunday's carnage.
Kenya Muslim National Advisory Council chairman Sheikh Juma Ngao warned that the Government should take decisive action against those keen to ignite religious intolerance warning that Kenya is no different from Central African Republic in reference to the religious fighting in the central African nation pitting Muslims against Christians.
"Radical Islam in Mombasa which has been on the rise since the 1990s has labelled Christians as infidels. And according to the radical Islamic doctrine, infidels, or apostates, should be punished and the punishment is death," said Father Wilybard Lagho, the Vicar-General of the Catholic Archdiocese of Mombasa.
He said the State ought to acknowledge that this radical ideology, which seeks "to wipe out infidels" has taken root.
Related Topics