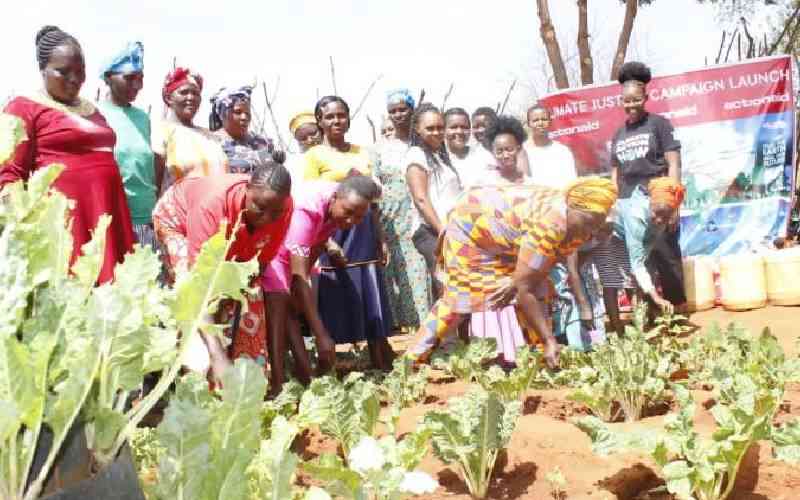 Patience Makonde naively fell into the trap of a man's beguiling words and momentary inducements but was left high and dry after she became pregnant at the age of 14 years.
In their infatuation, Ms Makonde, who is now in her 20s, was not only duped to engage in early sex but also lured into a short come-we-stay marriage by a motorbike rider in Taita sub-County.
Her boyfriend was a water vendor contracted by her parents to supply water during a drought in Kishushe.
"I easily jumped into intimacy and marriage with the rider, which did not last as it was not sustainable," she narrated her ordeal to The Sunday Standard yesterday.
Her life has been unpleasant, stressful and so hectic after she dropped out of school.
Yet Ms Makonde is one of many victims of teen pregnancies. In part, locals in Taita Taveta, where 300 cases have been reported, say climate change is fueling the problem.
ActionAid International Kenya blames poverty, drought and human-wildlife conflict in the area for the increasing cases of teen pregnancies.
We spoke with Ms Makonde at an event held at Paranga village, where women who become pregnant under the age of 18 years cited it as one of the social impacts of climate change.
Ms Makonde is among young mothers receiving livelihood support from Action Aid, whose aim is to empower them to become the architects of their destiny after dropping out of school.
Prolonged drought, blamed on climate change, leads to depletion of water sources in the area. Hence, access has become more limited, putting many at higher risk of hunger and other socio-economic hardships.
When drought sets in, access to water becomes a problem, and residents, including children, walk long distances in search of the basic, but rare, commodity.
Ms Makonde and other young mothers also blame the long distances to learning institutions for the troubles of school-going girls in rural areas, who have borne the brunt of gender-based violence.
Statistics from the Health Information System reveal that 1,929 teens fell pregnant in the county between January and August 2021 alone.
Shockingly, dozens of adolescent girls have dropped out of school without justice, while others, like Ms Makonde, got married to their malefactors.
Kangaroo courts are blamed for the soaring numbers in an area prone to wildlife invasions which are exacerbated by unrelenting drought.
Owing to rampant poverty, some parents and elders are compromised with money and livestock by offenders to not only look the other way, but also defeat the justice system.
According to victims, even when the culprits are taken to court, the cases are eventually dismissed after the girls fail to appear to testify for lack of bus fare and the tedious DNA process.
Drought, compounded by destruction of food crops and killing of livestock by wild animals, especially elephants and lions, has given rise to dependency on relief supplies from government and donors.
Ms Phylisia Wakio, another victim, also says a boda boda rider who used to give her a lift to school took advantage of her situation and sexually abused her.
"The rider used to give me a lift to school almost every day. Inevitably, we became intimate and I got pregnant. My parents later married me off to the rider, and we got two children. We later separated. The rest is history," she says.
But all is not lost for the victims after Action Aid and Sauti Ya Wanawake organisation came to their rescue.
Some of the girls are enrolled and supported at the local Vocational Training Centre, where they acquire relevant skills and successful ones are today self-reliant.
Ms Flora January, the chairperson of Sauti ya Wanawake in Kishushe says her organisation has put the young mothers in 10 support groups.
"We have put the over 300 young mothers in clusters where they have been receiving financial and material support from Action Aid," she says.
Ms January says the girls have acquired skills in hairdressing, carpentry, masonry, modern farming and table banking.
The girls are also being trained on water harvesting, dam lining and kitchen gardening techniques to improve food security.
A beneficiary of the project, Ms Evalyne Wambogho, says she was defiled while going to look for water and got pregnant. "I went to fetch water and a man defiled me, resulting in pregnancy," she says.
Each beneficiary is given financial support of Sh10,000 by Action Aid, which has also started a goat project to improve nutrition and income.
"Climate change has forced us to adopt new farming techniques and we have resorted to kitchen gardens. We cannot grow food crops or keep livestock because of the wildlife menace," Ms Wambogho says.
Ms Susan Mamji, a senior Action Aid trainer, says her organisation was working with young people and women focusing on human rights, empowerment, solidarity and social issue campaigns.
She said in working with vulnerable groups, they had witnessed a paradigm shift from climate-harming agribusiness to agroecology and other climate-resilient activities.
"We are changing the locals' mindset through modeling agroecology and green initiative as solutions and pathways out of climate change," the official says.
The campaign connects and links local struggles to national and global struggles to synergise the conversation and shift money from climate-harming agribusiness to agroecology and other sustainable alternatives led by women and young people, said Ms Mamji.
The Action Aid climate justice campaigns enable the youth, women and people living with disability to reflect on gaps in accessing climate finances and support.
Related Topics