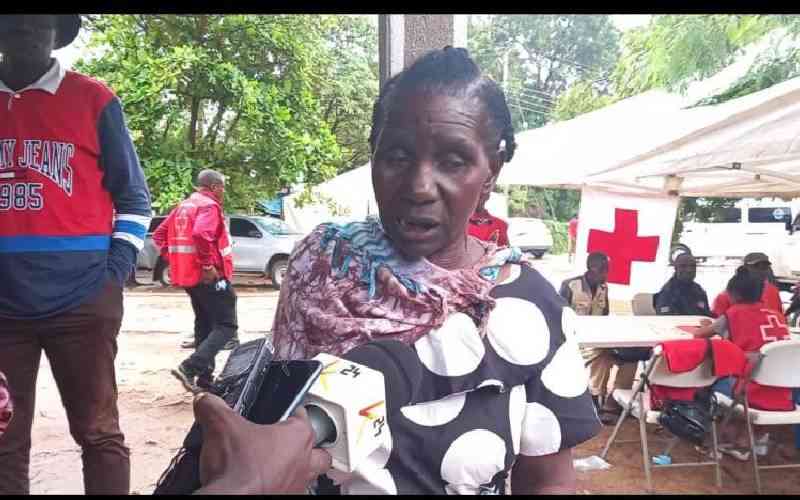 Dama Kombe is distraught but hopeful that her four sons and their wives will be found alive.
However, as the death toll from Shakahola continues to rise, she is coming to terms with the reality that they may not be alive. She has been camping at the Malindi Sub-County Hospital mortuary for days, and prays that their bodies are identified soon.
"It's a painfully long wait. I feel exhausted and angry that it is taking this long," says Kombe, who arrived in Malindi three weeks ago when the search, rescue and recovery operation started.
A resident of Msabaha in Kilifi, she says her sons' families came to Shakahola in 2021.
Last week, forest experts took her DNA samples in her quest to find the bodies to accord them a decent burial.
She is not alone.
Christine Wekesa travelled from Busia three weeks ago. Her sister Barbra, who joined the Paul Makenzi church in January 2022, and her two children are still missing.
"I'm still waiting for the results. No one is telling us anything. We cannot start preparing for the funeral until the bodies are found and released to us," says Wekesa.
But Patrick Ngumbao, whose mother and three siblings relocated to Shakahola in 2020, said his family had decided to conduct a traditional ritual if the bodies are not found in the next six days.
"The Mijikenda culture dictates the ritual we should do if our loved ones are not found. We intend to go that route because we cannot wait in perpetual. Life must go on as we have those alive to take off," says Ngumbao.
''It's a hard decision to make because we cannot mourn enough and heal. We request the experts to expedite the process.
"All this time our family has been sitting on a mat because our culture dictates that we must not use a bed until the funeral of the departed is held."
Ngumbao says his father and aunties shaved their heads as dictated by their traditions ready for the funeral.
"If the bodies are not found soon we will conduct a mock funeral that includes burying a banana stem so that we can move on," he says.
The are among more than 600 families that have registered their kin missing. Yesterday, most of them expressed outrage over the slow pace of the exercise of exhuming bodies in the Shakahola Forest.
But even the families who have found their loved ones say they are being kept in the dark.
Caroline Wanjiku says she has not met her son who was rescued a fortnight ago. "He was driven to a centre in Mtwapa for counselling. The phone number I was given to contact him is off," she says.
Her son, Stephen Ngugi, dropped out of the Moi University where he was pursuing a medical degree course and joined Makenzi in 2021.
For the last three weeks, state agencies have retrieved 240 bodies said to be of the followers of Makenzi who starved to death to meet Jesus Christ as instructed.
Since last month, families from across the country have been flocking to the hospital laboratory for DNA swabs to identify their loved ones. Government pathologists started to conduct DNA tests on May 1.
After the first phase of exhumation, autopsies on 112 bodies held in a container were conducted, but they have not been identified.
On Wednesday, there was little activity at the morgue despite promises from the state that the second phase of the postmortem was to start.
Yesterday, most relatives appeared to have resigned to the painful reality that their kin may have perished. But their pain was worsened by the agony of uncertainty.
According to Director of Homicide at the Directorate of Criminal Investigations Martin Nyaguto, the families will have to wait for at least two months before the DNA results are out.
"Because of the bodies' advanced states of decomposition, often a piece of bone is the only option," said Nyaguto.
Coast Regional Commissioner Rhoda Onyancha said 93 families had undergone the DNA testing.
She said 613 people are reported missing, 34 suspects linked to the deaths were arrested and 19 of those rescued were reunited with their loved ones. "Everyone lining up in the morgue compound has come with the bleakest of hopes to confirm a death or find a body they will be able to bury but not recognise. The Government is doing all it can to hasten the process," she said.
Makenzi is accused of urging his followers to meet Jesus through starvation. He and 17 others are still in police custody.
Related Topics